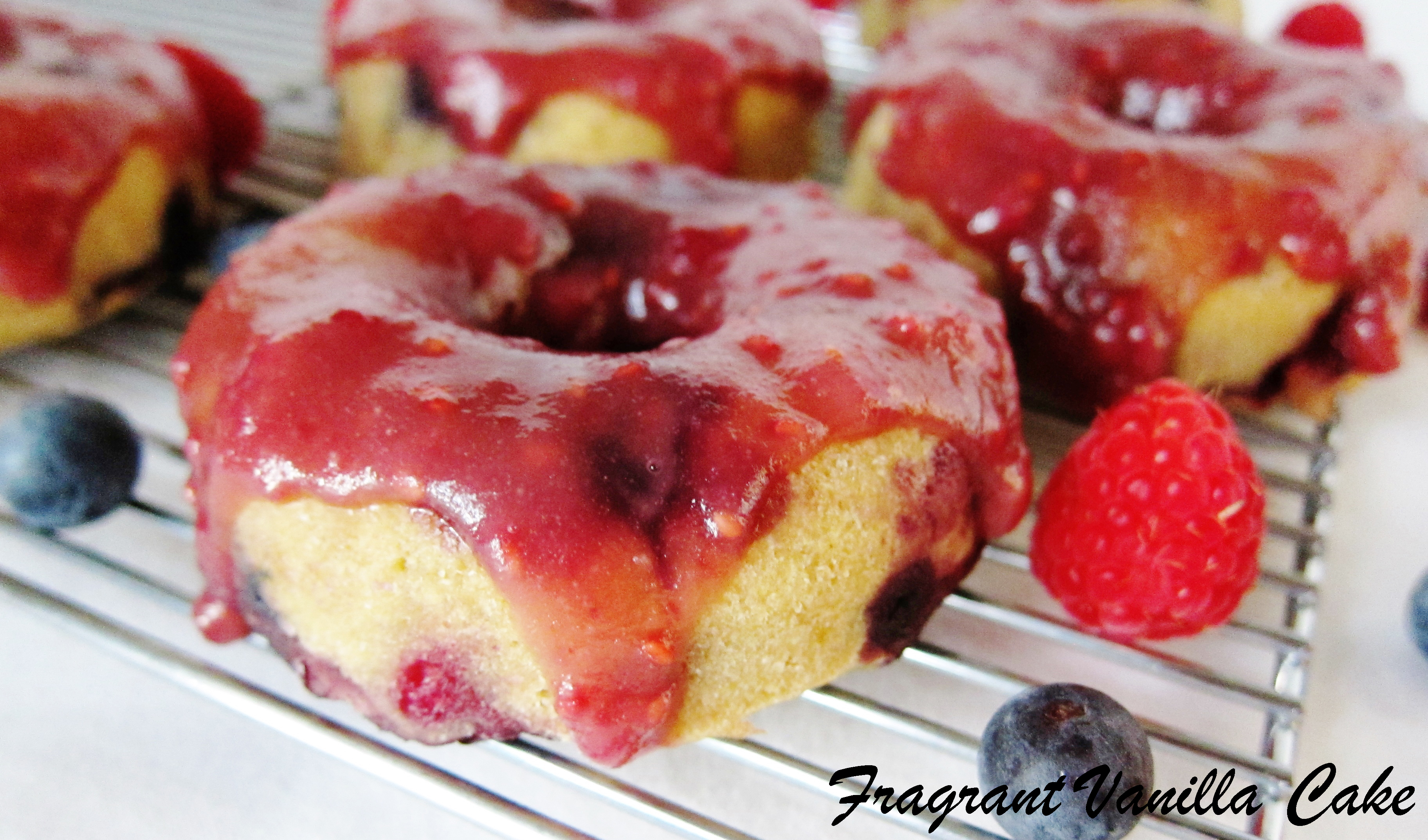 Vegan Double Berry Lemon Doughnuts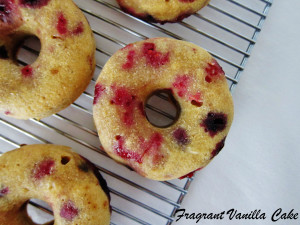 Ever since I made my German Chocolate Doughnuts last week with my new pan, I have been wanting to make more doughnuts.  Something about the idea of baking healthier doughnuts is pretty amazing in my mind.  I guess because I have never had a doughnut pan before.  So anyways, I got these beautiful berries on sale at the store this week and I decided that double berry doughnuts would be lovely.  I have never actually had real berries baked into doughnuts, just those doughnuts with the fake jam as a kid, so I was pretty excited.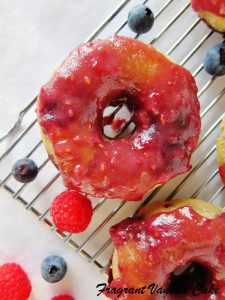 I knew these were going to be really good first off because the berries were very flavorful.  It helps that they are in season which is when I try to buy them.  Another reason why summer makes me happy, berries are my favorite fruit.  And here in Minnesota you only have a few short months when they are really good.  So I combined these fruity beauties with some tart lemon in the doughnuts and it was a delicious combination!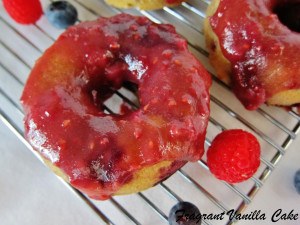 They were soft and cakey, lemony and studded with jammy little berries. So delicious as they were. But I decided to make them even better and include a raspberry lemon glaze as well.  Because why not?!  If you have some fresh berries on hand, and happen to have a doughnut pan...go for it! You will be happy you did, trust me.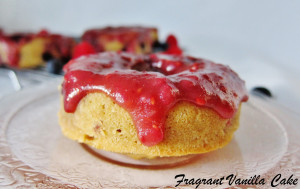 Vegan Double Berry Lemon Doughnuts
Makes 12 large doughnuts
Batter:
3 cups all purpose gluten free flour
1 cup coconut sugar
2 Tbsp ground flax seed
1/4 tsp sea salt
1 1/2 tsp baking powder
1/4 cup plus 2 Tbsp filtered water
1 cup applesauce
1/2 cup lemon juice
2 Tbsp lemon zest
1/2 cup filtered water
1/4 cup plus 2 Tbsp coconut oil, warmed to liquid
2 tsp pure vanilla extract
1 cup organic blueberries
1 cup organic raspberries
Glaze:
1/2 cup coconut butter (not oil)
2 Tbsp mashed raspberries
2 Tbsp maple syrup
1/4 cup lemon juice
filtered water as needed
Pre heat the oven to 350F degrees, and oil a standard sized doughnut pan.  In a bowl, whisk together the  flour, sugar, flax seed, sea salt, and baking powder.  Whisk in all the wet ingredients until smooth. Stir in the berries.
Spoon into the holes in the prepared pan, filling them 3/4 full.  Place in the oven and bake for 20 minutes, or until the doughnuts are cooked through. Remove from the oven and allow to cool.  Once cool, pop out of the pan.
To make the glaze, whisk together all ingredients until smooth (adding a little filtered water if too thick.  You want to be able to spoon it over the doughnuts and have a thin layer).  Spread over the doughnuts to create a thin glaze.  Allow to set up.
(Visited 93 times, 1 visits today)