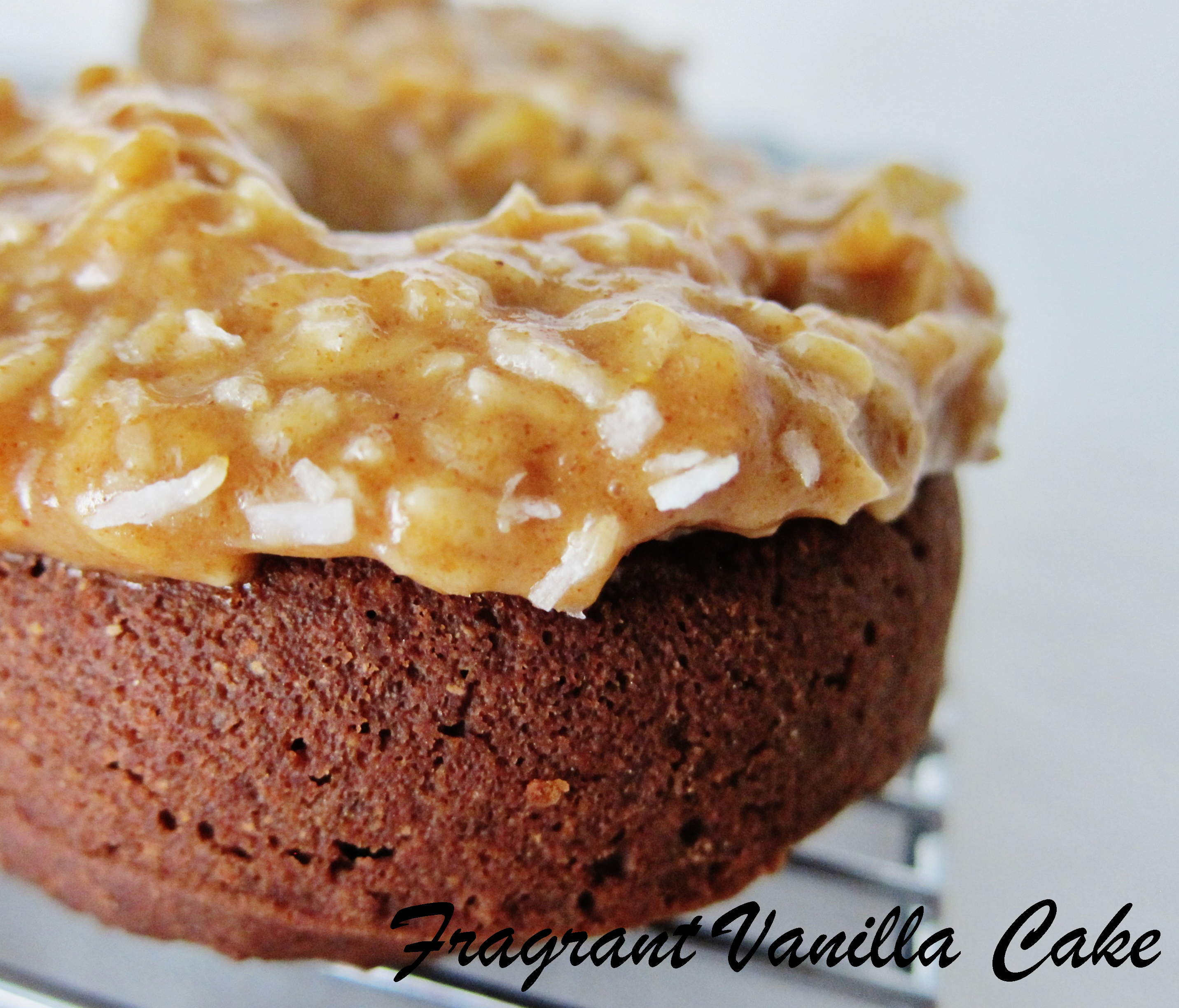 Vegan German Chocolate Doughnuts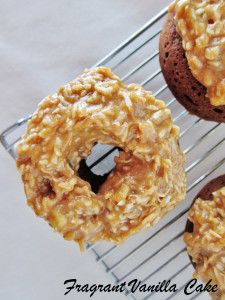 I never turned down a doughnut when I was younger. I mean come on...who doesn't think they are delicious?!  But when I started to eat healthier as I got older I didn't enjoy any knowing what is in most of the commercially made ones. I didn't really miss them or crave them, but I have made quite a few raw versions of doughnuts just because they sounded good to me at the time and that took care of any inkling of craving I might have.  They were delicious after all.  But the texture of course was nothing like a traditional doughnut. Which got me to thinking, gluten free vegan baked ones might be awesome.  I have always wanted a doughnut pan, because it seemed like a fun thing making your own healthier versions of doughnuts.  I was never one to want to break out the oil and fry them.  Too scary, too much oil and too messy in my kitchen in my opinion.  Baked suits me just fine.  So I finally ordered a doughnut pan.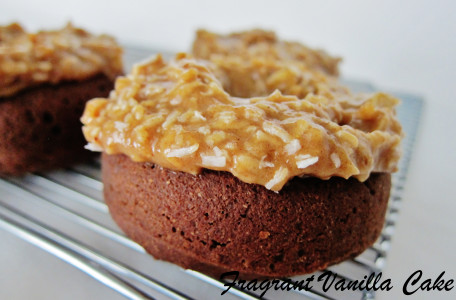 It came in the mail a few days back and I was so excited I decided that I had to make some right away.  It was national doughnut day too so very appropriate. I could actually make some instead of seeing other's photos of theirs and wishing I had one.  I decided to make something chocolaty and it evolved from there.  A chocolate based doughnut. I almost just glazed it with more chocolate, but then I realized how delicious it would be with caramel and some texture so they became German Chocolate Doughnuts after I made some caramel frosting with coconut and walnuts added.  Were these ever good!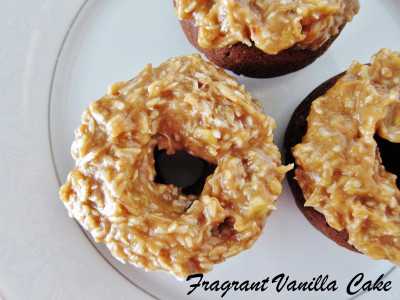 My first baked doughnuts made at home were a successful experiment!  Not so heavy like the raw ones, cakey and the chocolate doughnut was awesome with the gooey caramel coconut walnut frosting.  Perfect textures together. I cannot wait to create new and exciting doughnuts now that I have this pan! If you do not have one, and you love doughnuts...what are you waiting for?  Why not create your own healthier doughnuts at home?!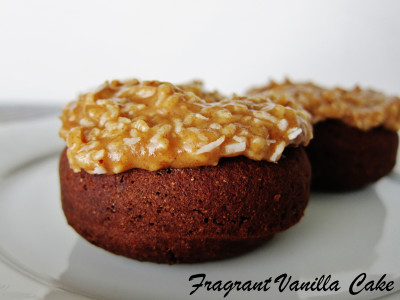 Vegan German Chocolate Doughnuts
Makes 6 large doughnuts
Batter:
1 1/2 cups all purpose gluten free flour
1/2 cup cacao powder
1 cup coconut sugar
2 Tbsp ground flax seed
1/4 tsp sea salt
1 1/2 tsp baking powder
1/4 cup plus 2 Tbsp filtered water
1 cup applesauce or pureed banana
1/4 cup plus 2 Tbsp coconut oil, warmed to liquid
2 tsp pure vanilla extract
Caramel:
1 cup soft medjool dates, pitted soaked in water and drained if not soft
3 Tbsp pecan butter, warmed to liquid
3 Tbsp maple syrup
2 tsp pure vanilla extract
1/4 cup filtered water
1/4 tsp sea salt
1/4 cup shredded coconut
1/4 cup chopped walnuts
Pre heat the oven to 350F degrees, and oil a standard sized doughnut pan.  In a bowl, whisk together the  flour, cacao powder, sugar, flax seed, sea salt, and baking powder.  Whisk in all the wet ingredients until smooth.
Spoon into the holes in the prepared pan, filling them 3/4 full.  Place in the oven and bake for 15 minutes, or until the doughnuts are cooked through. Remove from the oven and allow to cool.  Once cool, pop out of the pan.
To make the frosting, combine the dates, pecan butter, maple syrup, vanilla, water, and sea salt in a high speed blender or food processor and blend until smooth (adding a little more water if you think it is too thick).  Stir in the coconut and walnuts.  Spread the frosting over the doughnuts.
(Visited 115 times, 1 visits today)