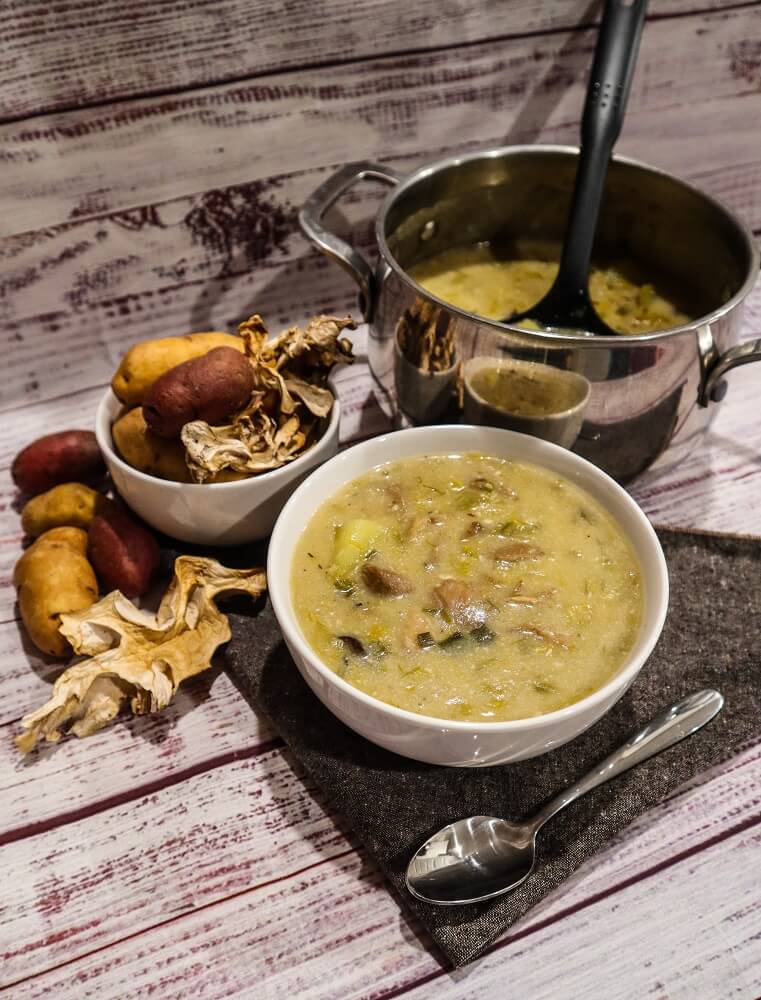 Vegan Creamy Wild Mushroom Soup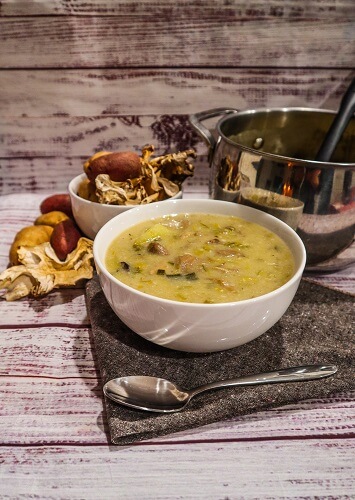 Wild mushroom foraging season is now over in the upper midwest, but a few weeks back while we were on our honeymoon to the upper peninsula of Michigan it was a great time to go foraging for mushrooms! I honestly have never seen so many varieties of wild mushrooms in my life at one time.  We live in Minnesota and there are plenty here, but while we were hiking there it seemed like the perfect mushroom growing conditions because it had just rained a lot and was fairly warm so they were popping up all over. Eric's Dad, who lives in Michigan took us mushroom hunting to the places he typically goes to pick them and we found a good haul.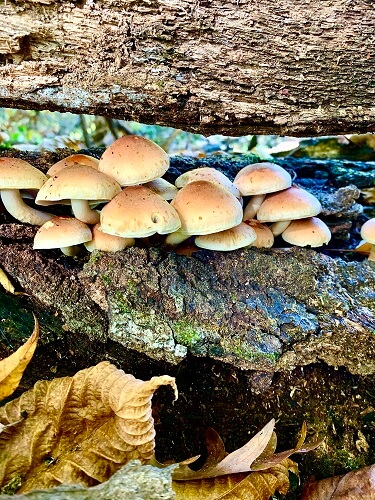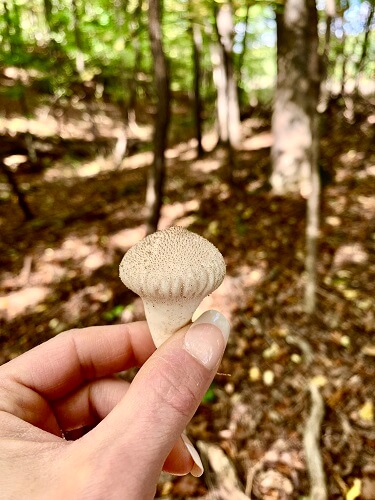 I hadn't previously done anything like this before and although I can recognize some mushrooms as edible (like oyster, puffball and chicken of the woods) I didn't really want to pick them and bring them home without a guide who could verify them as edible since some mushrooms look alike and some have to be picked at a certain point to be edible.  Also you wouldn't want to end up with something poison.  So if you are going to go mushroom hunting, bring someone who knows for sure what they are!  But I highly recommend it, it is so satisfying to pick your own and enjoy them later!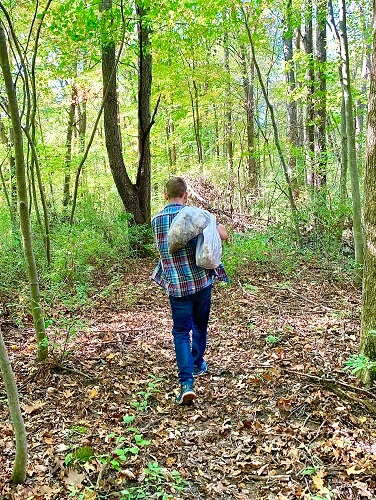 Our stash included 3 large hen of the woods mushrooms, oyster mushrooms, gem-studded puffballs, some lion's mane and bricktop mushrooms. We took the hen of the woods and dried them for later use, and vacuum packed  the rest to freeze and use later.  If you can't go mushroom hunting it seems like you can get a pretty good variety at a lot of farmer's markets lately from growers at least where I live in Minnesota. So not to worry if you want to make a dish like this Creamy Vegan Wild Mushroom Soup I am going to share the recipe for in a minute! As a side note, did you know you can make a delicious lion's mane coffee, or tea?  I found this recipe  for a lion's man coffee and tea made with dried lion's mane, and I am going to have to try with plant based milk it because I am always looking for new ways to enjoy warm drinks when the cooler weather hits! You can find it on this website: Benefits of Adding Lion's Mane Mushroom.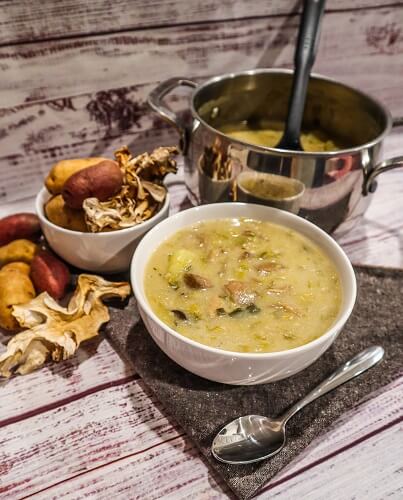 So back to that soup recipe, a couple weeks after we got back, I finally got around to making something with the mushrooms.  I wanted them to be the star, so I thought a creamy soup would be perfect!  People use a lot of cream of mushroom soup here in Minnesota for casseroles and whatnot and I have always liked it but to be honest, home made mushroom soup is best!  This one is substantial enough to be a meal alongside some crusty bread, which is what I served it with!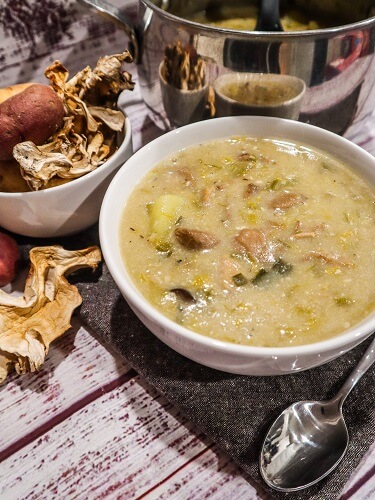 First, I sauteed some leeks, onions and garlic for the base, then added the mushrooms, stock, some thyme to make It savory (I love thyme and mushrooms together), and it made a lovely flavorful stock!  To make it substantial, I added potatoes, and of course the creamy elements, which were coconut milk, and cashew butter.  To give it a more savory flavor I added some nutritional yeast and miso.  The broth was soooo good and so flavorful!  I loved how it turned out, and me and Eric both ate large bowls of it, and there were no leftovers for the next day.  If you are a mushroom lover, give this Creamy Vegan Mushroom Soup a try!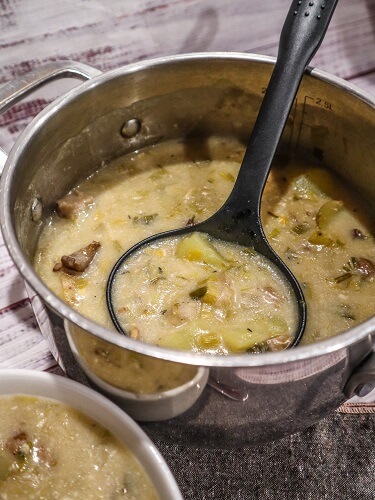 Vegan Creamy Wild Mushroom Soup 
Serves 2-4
Ingredients:
2 tsp avocado oil
2 large leeks, sliced
1 small yellow or white onion, diced
1 stalk celery, sliced
2 garlic cloves, minced
1/2 tsp dried thyme
4 cups sliced mixed wild mushrooms (if you can't get wild, just use what you can find at the store)
3 cups yukon gold potatoes, cubed
1 15 oz can full fat or lite coconut milk
1 1/2 cups veggie broth (or as needed)
1/2 tsp sea salt (or to taste)
1/4 tsp black pepper (or to taste)
1/4 cup raw cashew butter
1/4 cup nutritional yeast
2 tsp white miso dissolved in 1 Tbsp filtered water (optional)
  Instructions:
Heat the oil in a medium soup pot with a lid, and add the leeks, onions, celery, and garlic.  Sautee for a few minutes until starting to turn translucent, and add the thyme, potatoes, mushrooms, coconut milk, water, salt and pepper.
Bring to a boil, then lower to a simmer and let cook about 15-20 minutes or until the veggies are tender.
Add the cashew butter and nutritional yeast, and cook until they are well blended into the soup.
If it is too thick, add a little more broth. Enjoy!
(Visited 601 times, 1 visits today)