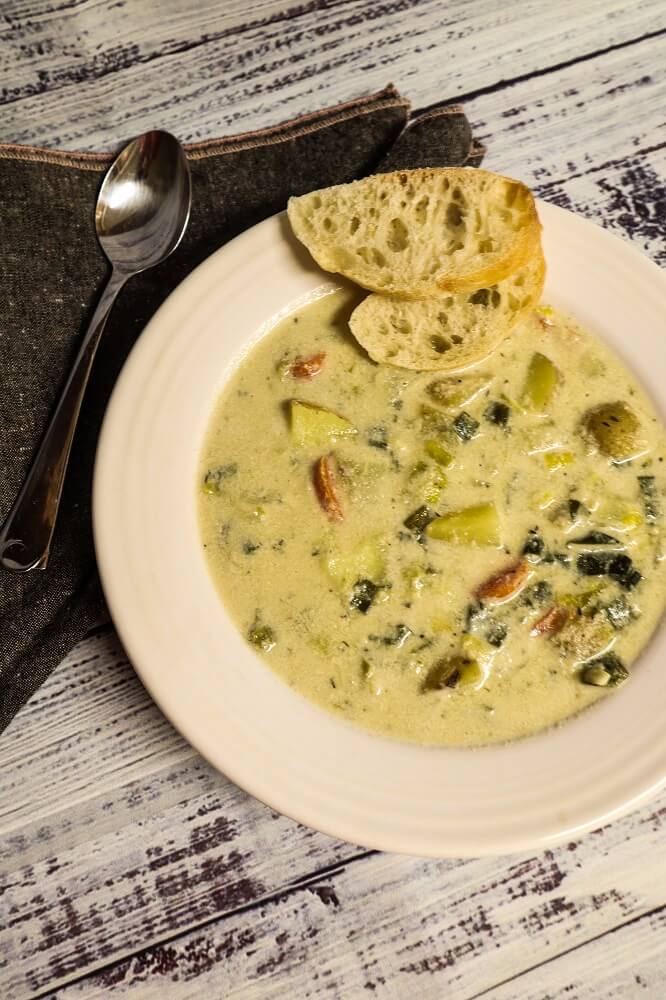 Vegan Creamy Potato Leek Soup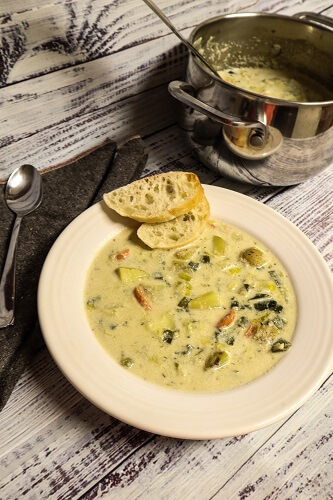 When I was little, one time when my Mom and I were out shopping on a Saturday, we stopped at this restaurant that I considered a little bit fancy at the time. Fancy was anything with ingredients I couldn't pronounce or where the wait staff wore nice uniforms.  They had a leek soup on the menu and we ordered it.  I had never heard of leeks in my life.  But I ended up liking it, because it was packed with rich flavor.  After that my Mom made a leek soup at home and it was even better.  I decided that I liked leeks.  I was making something with them the other day at work and I decided that I should cook with them more often.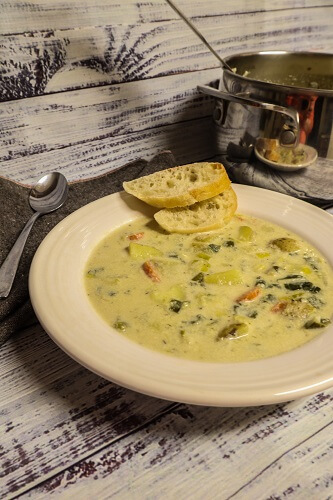 So, I decided to make a creamy potato leek soup when I got home.  I knew it would be fairly simple and easy to make which is always a win on a week night when I am tired.  The thing about leeks though, if you have never cooked with them before, is that they are very sandy.  Even when you think you have washed the outside all nicely, when you cut into them you find sand.  So I like to clean them once, then plunge them into a bowl of water, swish them around, let the sand settle, then scoop them out and use them in my recipe.  Then they will be all good and delicious in your soup.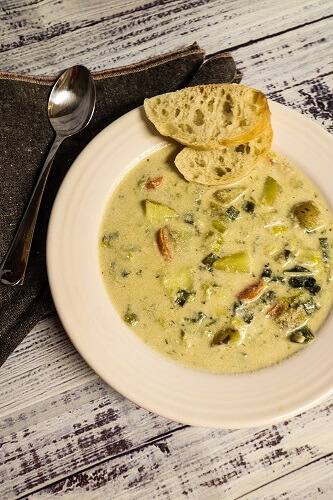 For this soup, there is no sauteeing required, and I did not use any oil for this reason.  You just add the veggies and stock to the pot, let it simmer until it is all tender, and then add the "creamy" part of it.  For that, I could have just added some coconut milk and called it a day, but instead I wanted to add a little more protein so I pureed chickpeas into the coconut milk as well as a little cashew butter.  It made for a thick cream that was perfect in the soup! 
I could not wait to try it!  It smelled amazing and tasted even better.  It has plenty of rich onion and leek flavor, a smooth rich texture and it is perfect served with crusty bread for dipping!  That is one of my favorite uses for crusty bread besides bread pudding, dunking into my soup!  If you are in need of some comfort food, give this a try!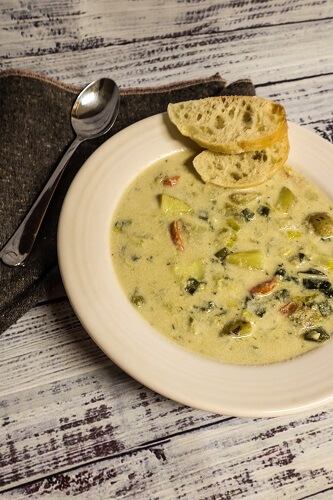 Vegan Creamy Potato Leek Soup
Serves 2-4
Ingredients:
1 small yellow or white onion, diced
1 large leek, sliced thinly (and washed very well, I like to put mine in water after cutting, then drain)
2 garlic cloves, minced
1/2 tsp dried thyme
3 cups yukon gold potatoes, cubed
1 cup carrots, sliced
1 1/2 cups veggie broth (or as needed)
1/2 tsp sea salt (or to taste)
1/4 tsp black pepper (or to taste)
1 cup full fat or lite coconut milk
1 cup chickpeas
1/4 cup raw cashew butter
1/4 cup nutritional yeast
2 tsp white miso dissolved in 1 Tbsp filtered water (optional)
1 Tbsp cornstarch
Add the onions, leeks, garlic, thyme, potatoes,  veggie broth, salt and pepper to a medium sized pot.
Bring to a boil, then lower to a simmer and let cook about 15-20 minutes or until the veggies are tender.
Add the coconut milk, chickpeas, cashew butter, and nutritional yeast, miso and cornstarch to a blender and blend until smooth.
Add the mixture to the soup, and cook until they are well blended into the soup and it has thickened.
Enjoy!
(Visited 1,490 times, 1 visits today)