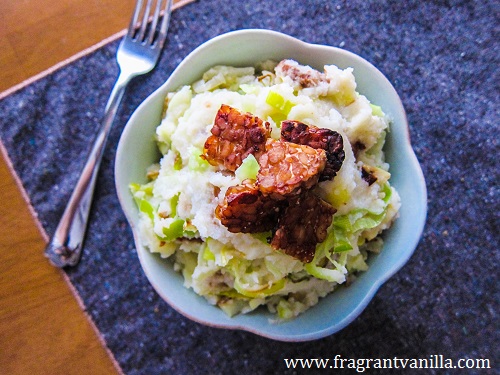 Vegan Colcannon with Tempeh Bacon
My Mom e-mailed me a recipe the other day for colcannon with bacon, asking me if I could veganize it. I have actually never had it or made it before, but I thought why not give it a go!  It sounded good to me, and like the perfect comfort food for a chilly day.  Also, since St. Patrick's Day is coming up, and it is an Irish dish, it was perfect!  If you have never heard of it before, it is a traditional Irish dish, made with mashed potatoes, cabbage, milk, and butter.  Sometimes it has leeks, and things like bacon added, which is where I went with it.  I can't believe I have never made it before, because it is the type of thing I enjoy when I want comfort food, and there are lots of veggies added which is always a plus in my book!  My Mom says that I make the best mashed potatoes, just as good if not better than my Grandma's and I know she is not just saying that because she is super picky.  So, I figured I would start this dish off with my classic mashed potato recipe.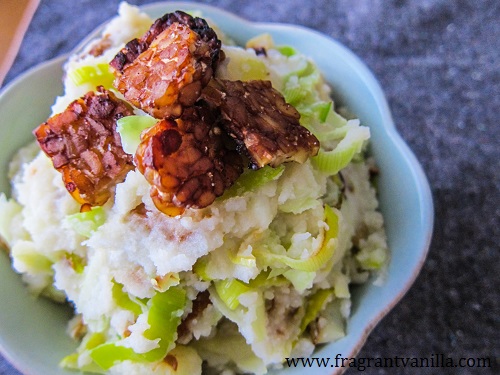 I have a secret ingredient that I put into them that makes them really good.  And that is coconut butter.  It may sound odd, but seriously, it melts into them and makes the most luscious mashed potatoes ever!  You don't even need to add any milk or other non-dairy butter or anything because they are so tasty with just that and the cooking water.  They turn out super fluffy too if you put them through a ricer.  I could eat a whole bowl of these potatoes just as they are, but it is even better adding veggies to them!  So I sauteed some leeks and cabbage with some garlic and mixed those into the potatoes and soon found out how good colcannon was.  I didn't stop there though, this dish had to have a little protein too since it was going to be a main dish.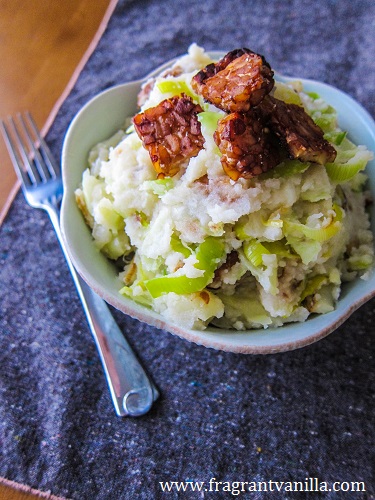 So, I had made some tempeh bacon both to stir into it and sprinkle on top.  I admit, the idea of tempeh bacon is so much more appealing to me then regular bacon because no animals were harmed in the process, and it isn't all greasy.  Once that was stirred into the colcannon it was super delicious!  I was proud to share it with my Mom, because I knew she would love it too!  If you are looking for a comfort food dish to make for St. Patrick's Day, give this a go!  It might not be the prettiest, but it is darn delicious!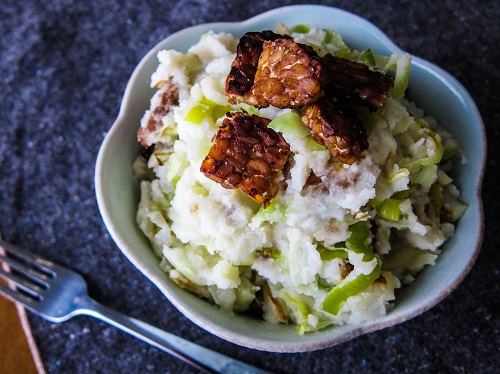 Vegan Colcannon with Tempeh Bacon
Serves 2-3
Ingredients:
For the Potatoes:
3 large russett potatoes, peeled and cut into 2 inch chunks
filtered water
sea salt
1/2 cup reserved potato cooking water
3 Tbsp coconut butter (not oil)
For the tempeh:
1 8 oz pkg tempeh, cut into 1/4 inch thick slices
1 Tbsp olive oil
2 tsp maple syrup
1 Tbsp tamari
2 tsp liquid smoke
1/8 tsp ground chipotle pepper
Veggies:
1 Tbsp olive oil
2 medium leeks, sliced
3 cups chopped cabbage
2 garlic cloves, minced
sea salt to taste
Instructions:
To cook the potatoes, place them in a pot of filtered water with about 1 tsp sea salt, and bring to a boil.  Lower to a simmer and cook until the potatoes are tender, about 10-12 minutes.  Drain, reserving about 3/4 cup of the water (you may not need all of it but just in case) and put potatoes through a ricer (or mash) into a large bowl.  Add the reserved water and coconut butter, and stir in until well combined (you may add more if you need to in order to make them fluffy and smooth).
To make the tempeh, preheat the oven to 400F degrees.
Combine all marinade ingredients in a bowl. Add the tempeh strips to it and carefully mix them around until they are coated. Place the tempeh strips on a parchment lined sheet pan, place in the oven and cook for about 20-30 minutes until starting to brown and crisp up. Remove from the oven, and cut into 1/2 inch pieces.
Meanwhile, heat the oil over medium heat in a sautee pan, and add the leeks.  Sautee until starting to get tender, about 4 minutes.  Then add the cabbage and garlic and cook until tender.
Add the cabbage and leeks to the potatoes, add sea salt to taste, and mix well.  Fold in the tempeh, and enjoy!
(Visited 117 times, 1 visits today)