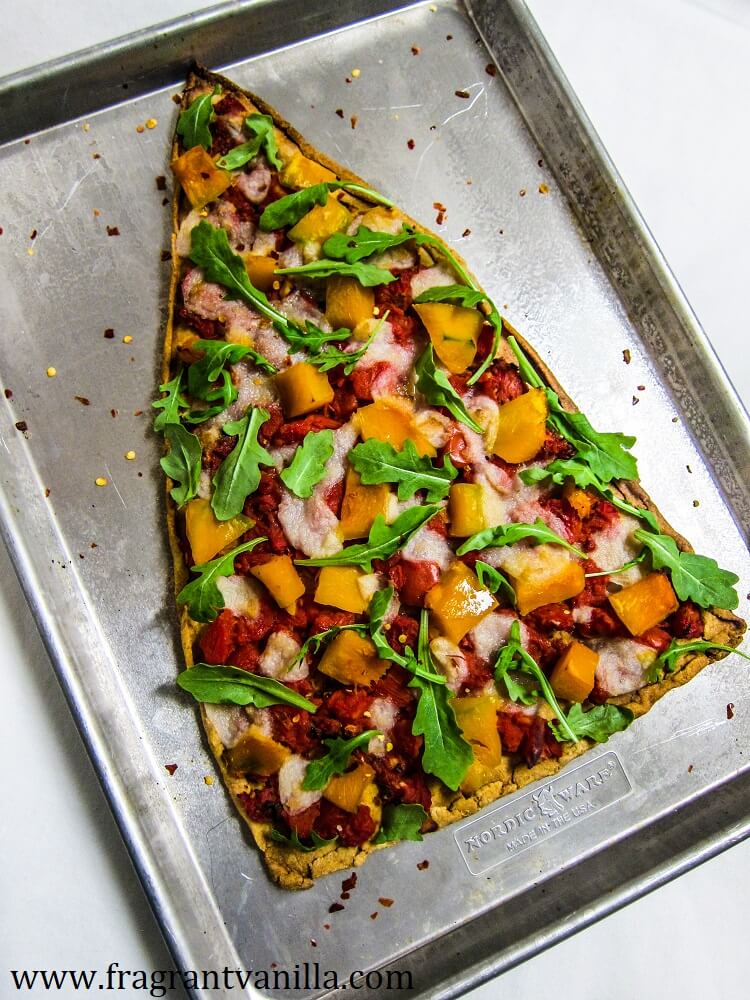 Vegan Christmas Tree Pizza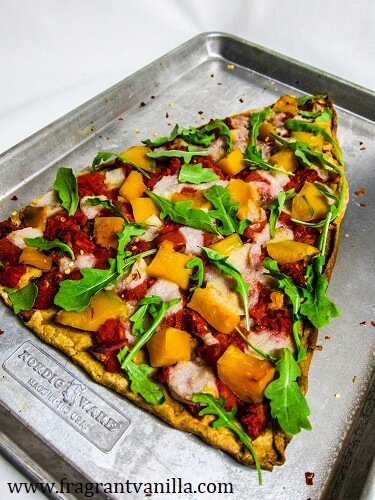 The ground is covered in snow, and I am listening to Christmas music all day at work, all of my Christmas presents are bought, but for some reason I still can't believe Christmas is almost here!  The year went by so fast, it seems like it was just Summer.  Anyways, I am trying to be festive and making fun stuff, so I decided to make a Christmas tree pizza a few nights ago on my day off.  We will get to that in a minute though.  Pizza was a big part of my life before going vegan.  There was a point in time where pizza was made every week at my house, soon after I was gifted a pizza stone.  I would choose different toppings every week, almost never repeating them to keep it interesting.  Some were just ok, but other combinations were amazing.  I learned that I liked fruit on pizza, especially strawberries and pineapple because they become sweet and delicious when roasted and it is a wonderful contrast with the salty cheese.  I also learned that I love lots of veggies on pizza. I have tried almost every kind, and one of my favorites is winter squash.  No plain cheese pizza for me, which is funny because that was my favorite as a child, with extra cheese always.  Back to that Christmas tree pizza, I made it using ingredients that I had on hand that were colorful.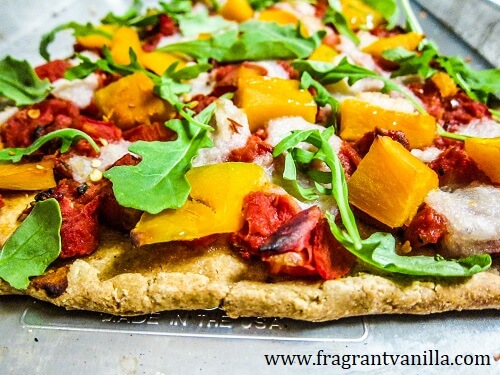 I figured I might as well include the cooked squash I had on hand, since it is my favorite.  But that wasn't enough on it's own, it needed more.  So I made a quick simple chunky tomato sauce to go on it as well.  And, I had to add something healthy and green, so I added arugula after baking.  It is my favorite green, so I always have some on hand in my refrigerator and try to eat it daily.  On a side note, it is awesome stirred into your soup just before serving.   The pizza had to have cheese as well, so I used some home made vegan mozzarella I had on hand. I often times make a batch, then freeze half and use it later.  It makes the pizza making process a little faster the second time around.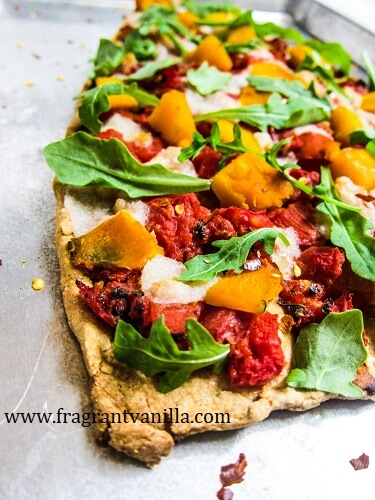 I made a simple gluten free dough, and shaped it into a tree.  It looked lovely with the red and green very festive!  But most importantly, it baked up nicely and it was super delicious.  I don't even miss regular pizza with dairy cheese, this type of pizza is so much better! Not only that, your tummy will be happier after eating it because it is easier to digest than dairy.  As a side note, if you don't prefer to make this gluten free, you can swap it with whole wheat pastry flour.  I hope you give this pizza a try, and I hope you are all having a wonderful Holiday season!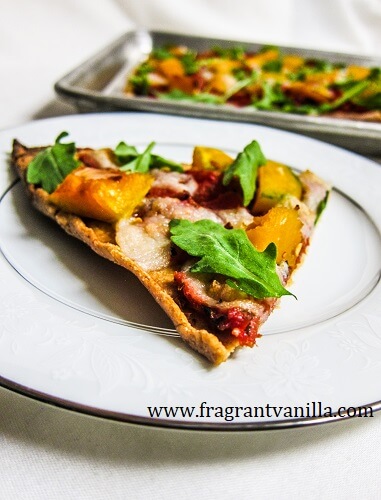 Vegan Christmas Tree Pizza
Makes one 14 inch pizza
Vegan Mozzarella Cheese:
1 15 oz can full fat organic coconut milk
2 Tbsp arrowroot starch
1/4 plus 1 Tbsp filtered water
3 Tbsp agar flakes or 1 Tbsp agar powder
1 Tbsp lemon juice
1 tsp sea salt or Himalayan salt
1 Tbsp virgin coconut oil
1 tsp guar gum
To make the cheese, heat the coconut milk in a saucepan until it comes to a simmer.  Meanwhile, dissolve the arrowroot starch in the water and set aside.Once the coconut milk has come to a simmer, add the agar flakes, and heat until they are dissolved (mine took about 8 minutes, if you are using the powder, it should dissolve within one minute). Next, add the lemon juice and sea salt to the coconut milk.  Mix the coconut oil with the guar gum so that the guar gum does not clump up.  Turn off the heat and add the arrowroot mixture, guar gum and coconut oil. Whisk for about 30 seconds, then pour into a silicone mold (I used a loaf pan, but if you had another shape you would like to use go ahead). Refrigerate for a few hours until firm, then pop out of the mold. You will need half the cheese for this recipe, reserve the other half for another use in the fridge, wrapped in an airtight container.  Shred the half you will be using into a bowl, and keep in the refrigerator until ready to use.
Tomato Sauce:
2 tsp olive oil
2 garlic cloves, minced
1 1/2 cups organic diced tomatoes (canned is fine)
1/2 tsp each basil and oregano
sea salt to taste
Heat the olive oil over medium heat in a small pan, add the garlic and allow to cook until fragrant, about 30 seconds.  Add the tomatoes, herbs and sea salt and cook for about 10 minutes until the tomatoes have started to break down.  Remove from heat and set aside.
Pizza Dough:
1 1/2 cups organic whole wheat pastry
1 Tbsp olive oil
1/2 tsp sea salt
1/2 cup plus 1 Tbsp filtered water
To make the pizza crust, combine the flour, and sea salt in a bowl, and whisk until well blended. Add the oil and water, and mix in until you have a soft dough.  Turn out onto a sheet of parchment paper with a light dusting of flour, and roll out into Christmas tree shape.  Set aside.
For Pizza Assembly:
olive oil
1 cup cooked butternut squash, cubed
fresh arugula leaves
Pre-heat the oven to 400F degrees.  Set a pan on the center rack with an upside down sheet pan, or a pizza stone set on it. Brush the crust with olive oil, sprinkle with sea salt, and slide the parchment with the crust on it onto the stone.  Bake crust for 10 minutes, then remove the crust from the oven (still on the parchment). Top with the tomatoes and squash, then the cheese, making sure it is all evenly distributed.  Place the pizza in the oven, turn up the temperature to 475F and bake for 20-25 minutes until the cheese is bubbling and starting to brown (keep an eye on it after 15 as some ovens cook faster than others). Remove the pizza and parchment from the oven, slide pizza onto a cutting board or plate, scatter arugula over the top, slice and enjoy!
(Visited 175 times, 1 visits today)