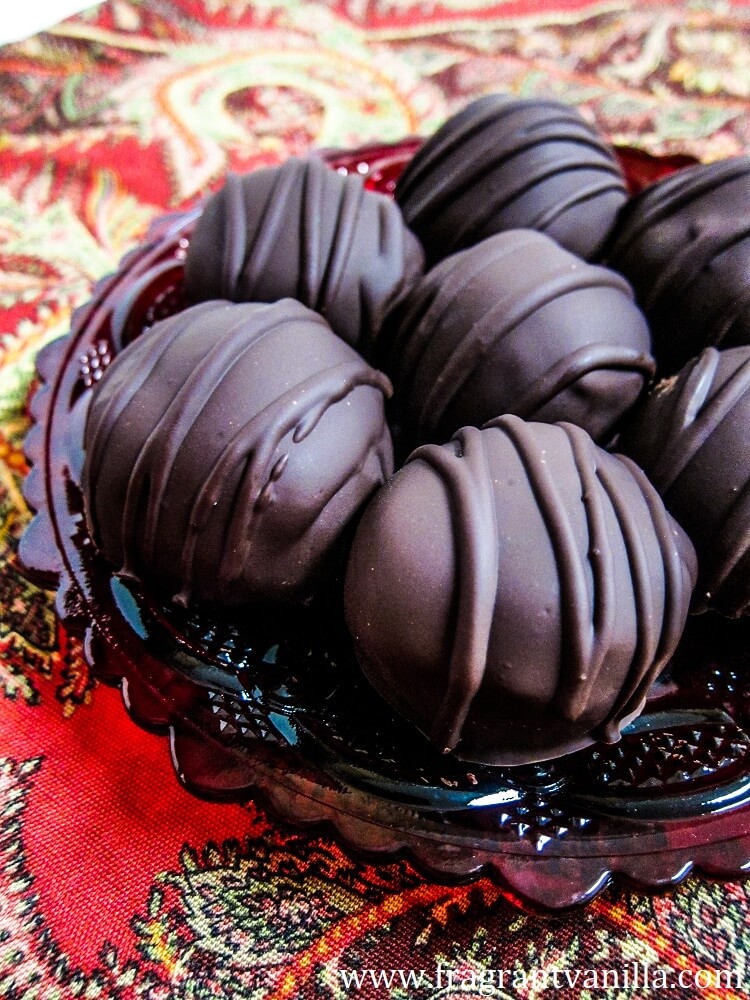 Vegan Chocolate Gingerbread Bourbon Balls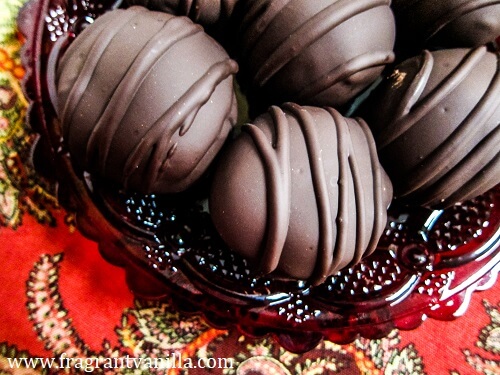 Sometimes you have those days where you are a disaster in the kitchen and in fact you should probably stay far away from it.  But unfortunately sometimes you don't have a choice, you have to get things done, even if you are a clutz or super forgetful that day because you have other stuff on your mind or maybe are just trying to work too fast.  Well, I have those days sometimes.  The ones where I spill an entire thing of protein powder on the floor, burn my quinoa, and accidentally touch part of the oven on my arm and burn it.  You know, those types.  Well, I was having a bad cooking day a few week back when I decided to make some molasses spice (or cheater gingerbread) cookies.  The dough turned out wonderful  and they were baking up beautifully but then I got distracted and they got over baked.  No, they were not burnt, simply just super hard when they cooled down.  I hate cookies that are too hard. Molasses cookies should be somewhat soft, so I was super disappointed.  But not to fret, I figured I would save them and use them for something.  And I figured out just the thing.  Bourbon balls!  Back in the day I made several different types of liquor balls around the Holidays.  You know, like rum balls, bourbon balls etc.  I even made a cherry vodka ball which was really good.  But my favorite were always the bourbon balls.  Well, it has been a really long time, like maybe 7 years since I have made them so I figured it was about time this year.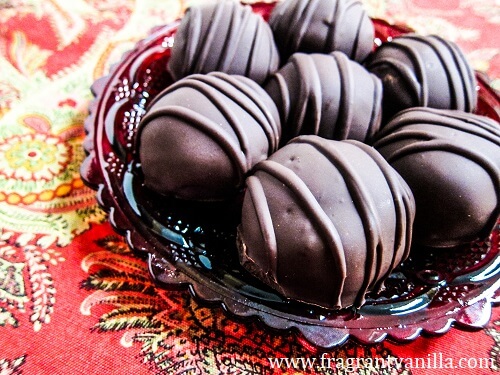 So, I blended up the cookies to a fine powder, and they were the perfect base for bourbon balls.  I decided that these needed to be chocolate bourbon balls, because those are my favorite so I added some cocoa powder too.  Plenty of bourbon, some maple syrup for a little more sweetness and the "dough" it made was really delicious. I had to have a little shot of bourbon while I was making them too, because why not?  I should have just made a hot toddy in the style my Mom used to with bourbon, because tis the season but I was feeling a little lazy.  I rolled them into little balls, chilled them for a while in the freezer and they were ready for their coating.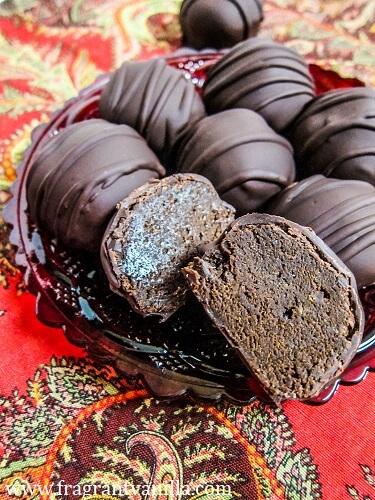 I mean, yes I could have coated them with cocoa powder, but dark chocolate is so much better. So I melted down my favorite brand and they took a bath in it.  Once they were all set, they were lovely.  They tasted wonderful too.  Boozy and rich and chocolaty with the warming spices of gingerbread.  These are very warming little treats between the bourbon and the spices.  If you over baked your gingerbread cookies, now you know what to do with them!  But even if you didn't these are delicious so maybe you should sacrifice a few for this treat.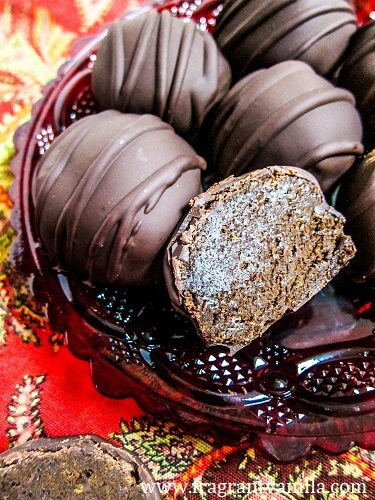 Vegan Chocolate Gingerbread Bourbon Balls
Makes 10
Ingredients:
2 cups vegan gluten free gingerbread cookie crumbs (or molasses cookie crumbs)
1/4 cup cocoa powder
2 Tbsp bourbon (make sure it is vegan on Barnivore)
2 Tbsp maple syrup
1 1/2 cups chopped vegan dark chocolate
Directions:
Place the gingerbread crumbs and cocoa powder in a food processor and process until very fine like flour.
Add the bourbon and maple syrup and blend until smooth and the consistency of dough.
Roll into balls, and place on a parchment lined tray.  Place in the freezer and freeze until firm, about an hour.
Melt the dark chocolate in the top of a double boiler, and then dip the balls one by one into it, letting the excess drain off (I like to set them on a fork to do so), then place them back on the tray.  When they are all done, place the tray in the freezer until they are set.
Store them in the refrigerator for up to 1 month.
(Visited 373 times, 1 visits today)