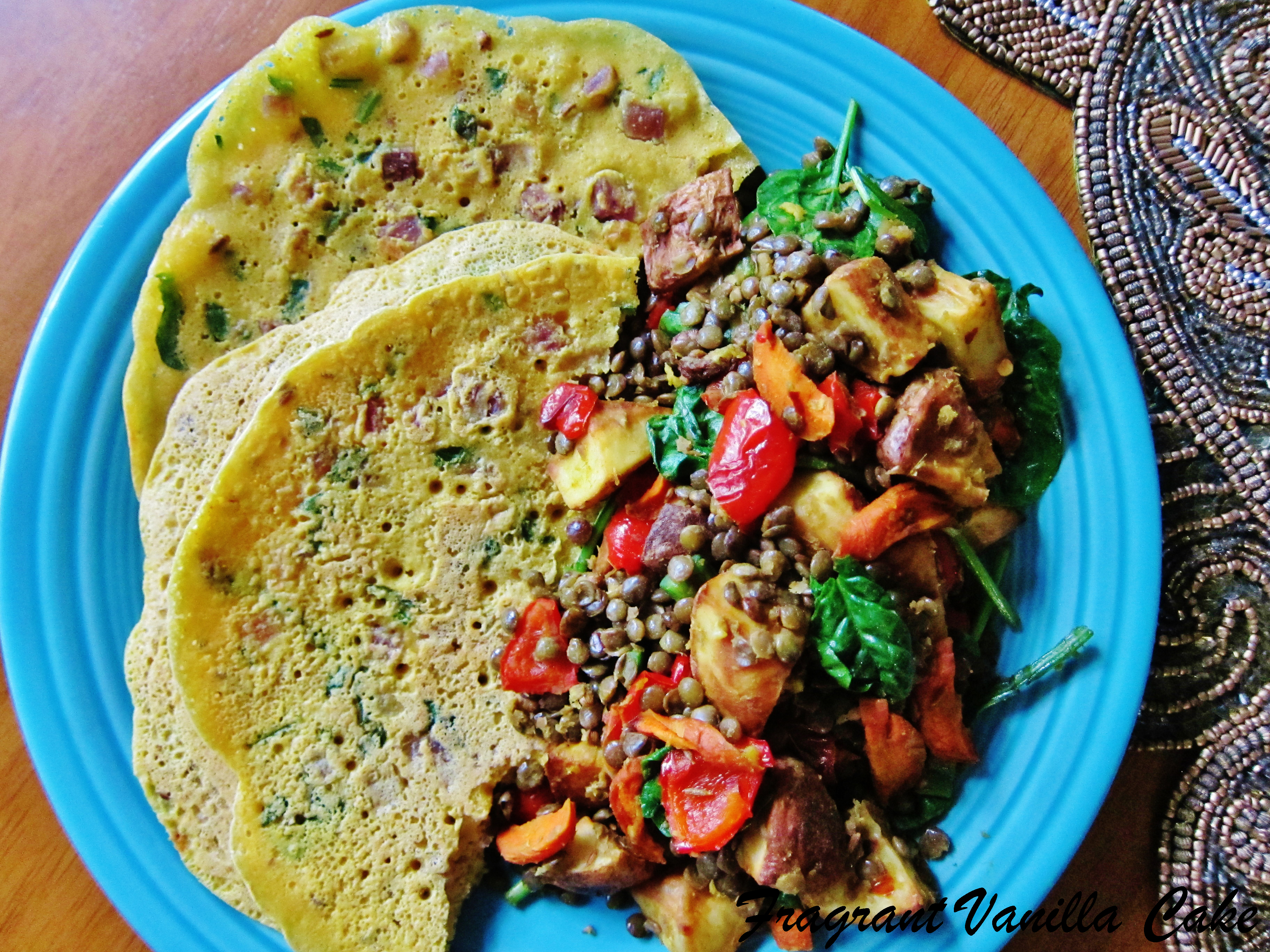 Vegan Chickpea Flour Pancakes and Spiced Lentil Potato Hash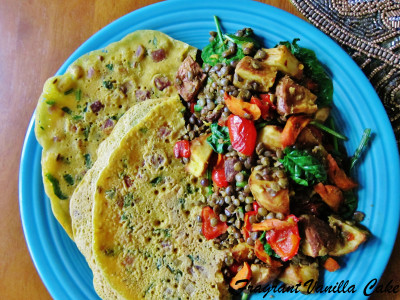 I have always loved Indian food since the first time I tried it back when I was in college.  I loved it so much I used to get cookbooks from the library and look for traditional recipes to make at home so I could enjoy it all the time, not just when I went out to eat somewhere.  There is a vegetarian Indian restaurant by my house that was always my favorite since I did not have to worry about any meat being included. I enjoyed everything I ordered there, but my favorite were always the dosa with filling, or the chana masala.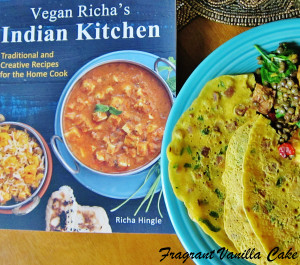 When I saw Richa Hingle of the blog Vegan Richa was coming out with a new cookbook, "Vegan Richa's Indian Kitchen" I had to get myself a copy. I am always drooling over her recipes whenever I get them in my inbox or see them on Facebook.  Everything she makes looks delicious from the desserts to the traditional Indian food so I knew this cookbook was going to be good.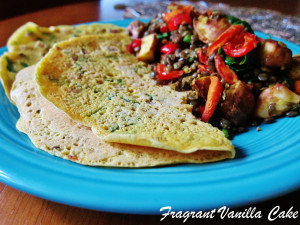 It has so many different recipes in it I could eat Indian food for a year and never tire of it.  Everything from the dosa to veggie dishes, sweets and even breakfast.  Her recipes are simple and anyone could follow them and end up with delicious results. The first recipe I decided to try was the Vegan Chickpea Flour Pancakes. I had all of the ingredients on hand so it was perfect!  They were super simple to make and so delicious.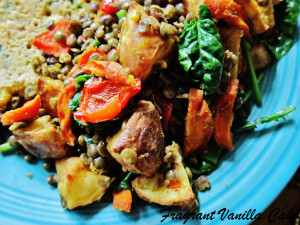 I served them with a Spiced Lentil Potato Hash I made.  I am calling it hash because I sautéed it at the end with the spices but I made it a little lower fat and deeper in flavor by roasting the veggies instead of just frying them.  They were delicious and so comforting along with the pancakes.  I am including my recipe for the hash in this post of course, as well as a link to the recipe for Richa's Vegan Chickpea Flour Pancakes. But you should definitely get yourself a copy of her book: Vegan Richa's Indian Kitchen!
Vegan Chickpea Flour Pancakes (Besan Chilla) by Vegan Richa
Spiced Lentil Potato Hash
Serves 4
4 medium red potatoes, diced
2 large carrots, sliced
2 small red bell peppers, diced
olive oil
1/2 cup French lentils
filtered water
1 garlic clove minced
1 jalapeno, minced
1 tsp corinander seeds
1 tsp cumin seeds
sea salt to taste
Preheat the oven to 400F degrees and oil 2 sheet pans.  Toss the potatoes with just enough oil to coat, and spread out on one sheet pan.  Do the same with the carrots and peppers and spread out on the other.  Roast the potatoes for about 30-35 minutes until tender and starting to brown.  Roast the carrots and peppers for about 20-25 minutes until tender and starting to brown.  Remove from the oven.
Meanwhile, to cook the lentils, cover with water in a medium saucepan, and bring to a boil.  Lower to a simmer and cook for about 20 minutes until tender but not falling apart.
Heat 1 Tbsp olive oil in a skillet and add the garlic, jalapeno, coriander seeds, cumin seeds.  Saute for a minute until the spices and garlic are fragrant.  Add the potatoes, carrots and peppers and lentils and salt to taste sauté a few minutes more until it is all well blended.  Stir in some spinach at the last minute.  Serve warm.
(Visited 191 times, 1 visits today)