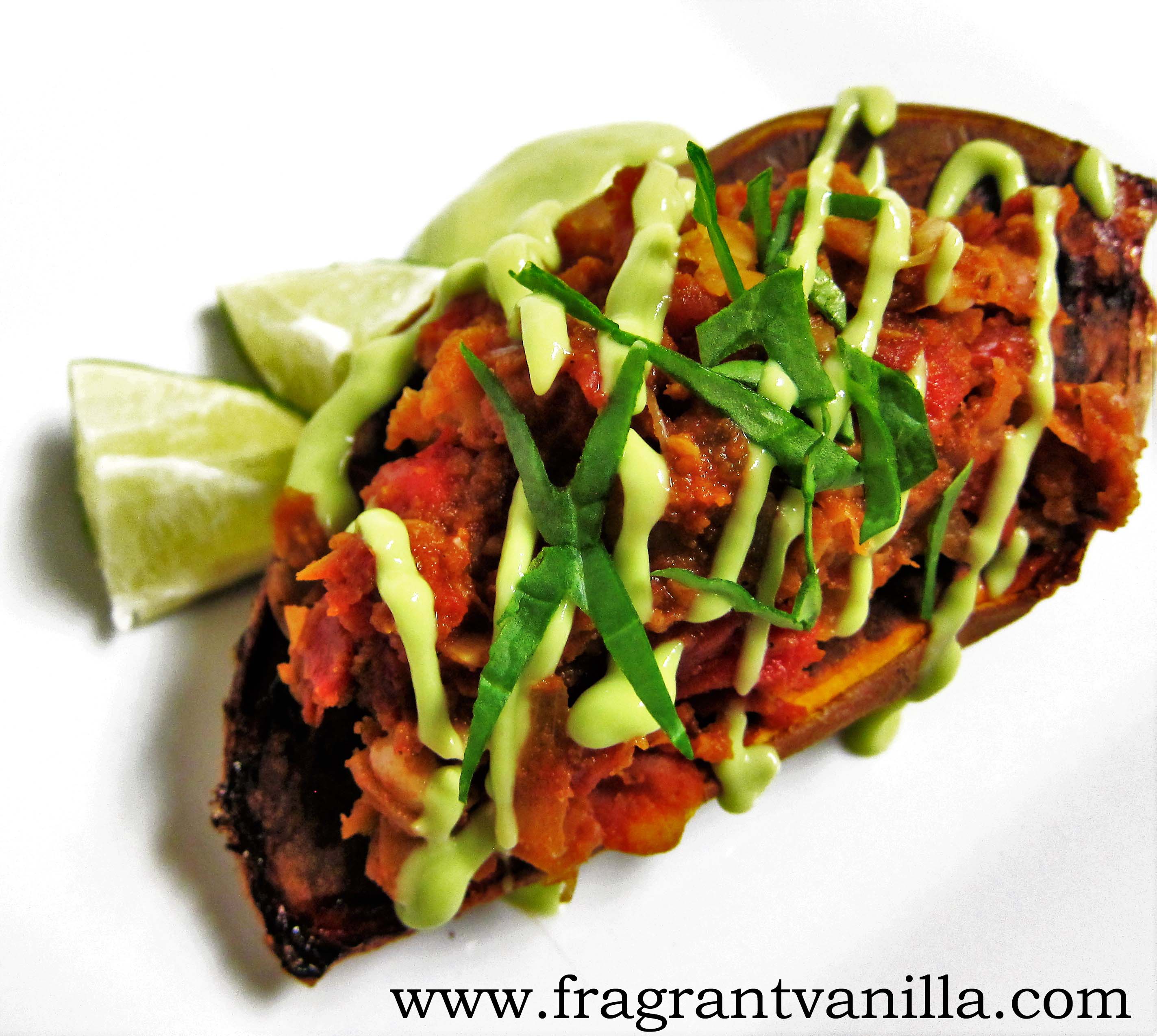 Vegan Chickpea Chorizo Stuffed Yams
I eat yams at least 4 times a week if not more.  I am addicted to them honestly, they are sooo good.  Yam fries are my favorite thing in the world, and I could live off of them if that were ok. Like for breakfast lunch and dinner and never get sick of them.  But I know it practical, and I need more in my diet than just yams.  So I try to come up with new ways to serve them or recipes to use them in.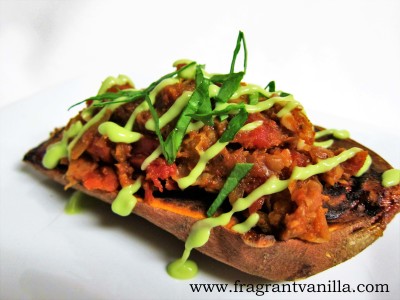 The latest recipe was chorizo stuffed yams.  Not meat chorizo, yuck.  Chickpea chorizo.  Something I have been making ever since I had a vegan tempeh chorizo at a local restaurant and loved it so much I decided to create my own version.  But using chickpeas. Because at the time I didn't have any tempeh on hand but I did have chickpeas.  I fell in love.  This is good stuff!  I used it to top off a pizza that time.  Since then I have used it for salads and tacos as well.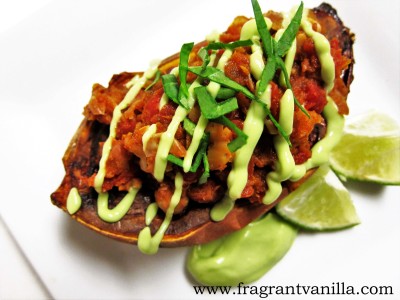 But I thought it would be especially good with roasted yams, so I used it to stuff them for dinner.  I topped it off with an avocado sauce to cool the heat of the chorizo and they were delicious!  If it were summer I would add diced fresh tomatoes and lettuce to top these off but since it isn't and I didn't have any on hand I kept them simple. And they were sooo good!  If you are looking for a new dinner idea and you love yams as much as I do, try these out!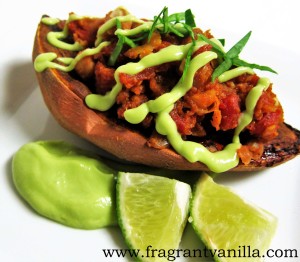 Vegan Chickpea Chorizo Stuffed Yams
Serves 2
2 medium yams, cut in half lengthwise
Chorizo:
1 medium red onion, diced
1 tsp olive oil
1 15 oz can chickpeas
1 garlic clove, minced
1 Tbsp smokey paprika
1 tsp red pepper flakes
1/4 tsp chipotle powder
1 tsp cumin
1/2 tsp ground coriander
1/4 tsp cinnamon
1 tsp oregano
sea salt to taste
1 medium organic tomato, diced
Avocado sauce:
1 medium avocado
juice of one lime
sea salt to taste
filtered water as needed
Preheat the oven to 375F. Place the yams cut side down on a sheet pan lined with parchment paper. Roast yams for about an hour to an hour and 15 minutes depending on how large they are.
To make the chorizo, heat the oil in a pan, and add the onions.  Cook, stirring often until the onions are very soft and starting to brown. Add the chickpeas, garlic, spices and tomatoes and continue to cook, stirring the whole time to prevent burning.  Mash the chickpeas up with the back of a spoon and cook until heated through and tomatoes have become mush.
Blend up all of the avocado sauce ingredients until smooth in a food processor (adding as much water is needed to make it a creamy but pourable consistency).
To serve, spoon the chorizo over the roasted yam halves, and top with the avocado sauce.
(Visited 92 times, 1 visits today)