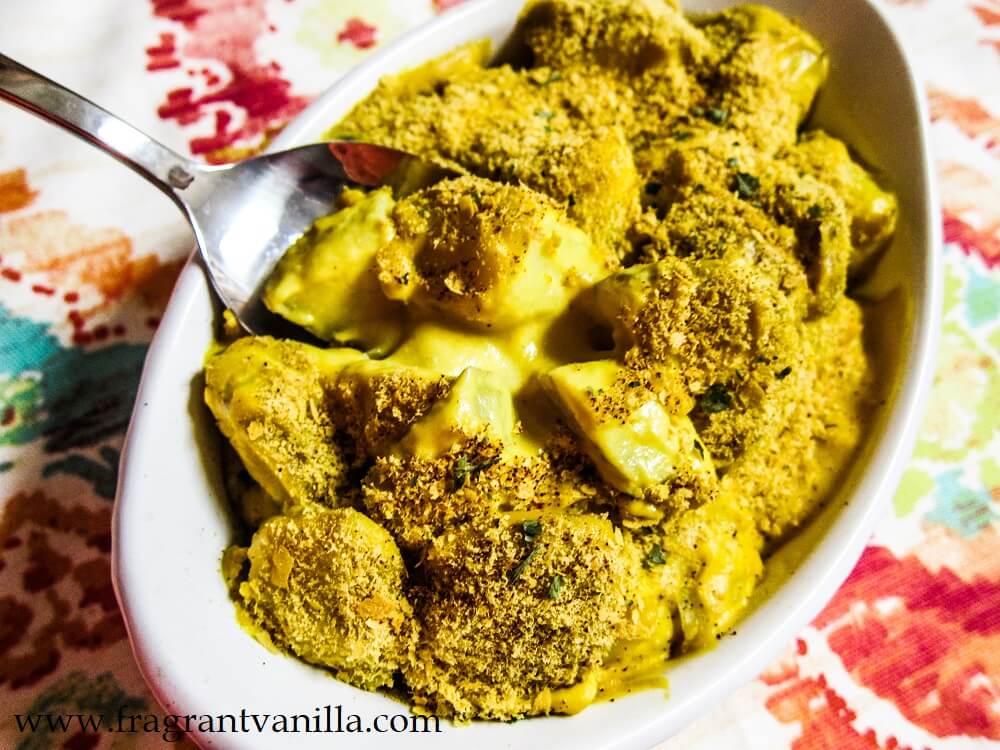 Vegan Cheesy Potato Casserole
My Mom used to make a really delicious cheesy potato casserole when I was young to serve at family gatherings. Usually brunch type occasions, like when she hosted Easter at our house, or maybe a Christmas special request from me.  I used to ask her to make it a lot because it was so good!  I think it filled most of my plate when it was served over all else.  I could have cared less about the meat of course, and I always took my token amount of veggies, and a roll, but the potatoes were the star to me.  I mean, what's not to like about layers of creamy cheese and potatoes!  I have been saying to myself for a while now, you have to make a vegan version.  So this past week, I finally got around to it.  I had extra potatoes on hand, and some cheese sauce left over from some mac and cheese that I had made, so it was perfect!  My Mom used to use frozen hash browns in hers, but I decided to be a little different with mine since I don't think I have ever bought frozen hash browns, and I had fresh potatoes to use up.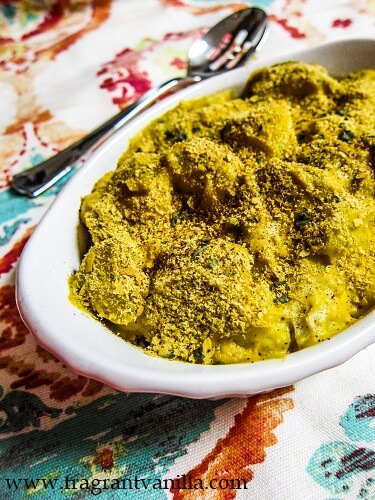 I guess this was sort of in the style of a cheesy potatoes one of my coworkers at the deli used to make, crossed with my Mom's potatoes. My coworker always just used large diced potatoes in her casserole and a little kick.  My Mom's was more mellow and just creamy and delicious.  Combining the two ended up being awesome.  Of course both of these dishes had tons of cheese, butter, flour and cream.  I think my Mom's had heavy cream in fact, because this dish was considered a treat.  But my cheesy potatoes actually have a healthy cheese sauce made from a secret ingredient that gives them their lovely yellow color.  Winter squash!  I like to hide veggies in my dishes, and lighten things up with them, so that was the idea here.  I guess I can't bring myself to make vegan mac and cheese without including veggies in the sauce, so why would I not include them with the potatoes?  Don't worry, the sauce is super delicious.  I added cashew butter to give it a little richness and volume so it has more of the texture of cheese, along with things like miso, nooch (nutritional yeast), salt, mustard and garlic to give it a wonderful savory flavor.  It may sound like a weird combo but it is so good once it is done!
Once combined with the cooked potatoes it is bomb!  I could eat a giant bowl of these potatoes (just like I used to when I was little), but I would not feel bad about doing so or get a tummy ache after because these are so much healthier than the original version.  I love recreating old dishes from my childhood and making them vegan!  Often times they turn out even better!  If you are looking for a delicious side dish, or maybe you are just craving potatoes and cheese, which is totally legit too, give these a try!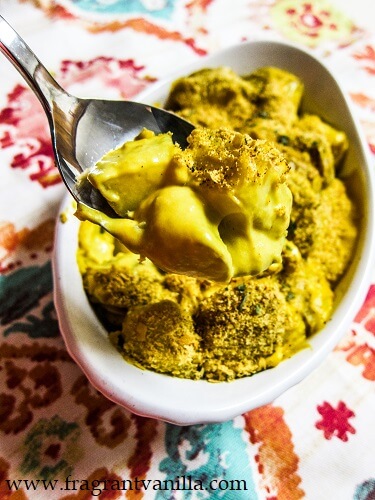 Vegan Cheesy Potato Casserole
Serves 6-8
Cheese Sauce:
2 cups mashed cooked butternut squash or sweet potato*
1 cup hot filtered water (or as needed)
1/3 cup raw cashew butter or almond butter
1 medium garlic clove
2 tsp yellow mustard or stone ground mustard
1 Tbsp apple cider vinegar
1 Tbsp white miso (optional)
1/4 cup plus 2 Tbsp nutritional yeast
1/8 tsp cayenne pepper
3/4 tsp sea salt (or to taste)
Potatoes:
3 lbs yukon gold potatoes, cut into 1 inch cubes
filtered water
sea salt
Topping:
3 Tbsp nutritional yeast
paprika for sprinkling
Instructions:
To make the cheese sauce, combine the squash, water, cashew butter, garlic, mustard, cider vinegar, yeast, cayenne, sea salt and turmeric in a high speed blender and blend until smooth and the consistency of cheese (if it is too thick add a little more water).  Set aside.
Preheat the oven to 375F degrees.
To make the potatoes, put them in a large pot, and cover with filtered water by 1 inch.  Add a few tsp sea salt to the water.  Bring to a boil, and then lower to a simmer.  Allow the potatoes to cook until tender, about 10-12 minutes.  Drain, then add back to the pot.
Stir in the cheese sauce, then pour into a baking dish.
Sprinkle the potatoes with the nutritional yeast, and place in the oven for about 15 minutes.  Sprinkle with paprika and serve!
*To cook the squash, I like to roast them in the oven.  Cut one medium squash in half top to bottom, and remove the seeds.  Place cut side down on a sheet pan lined with parchment and bake for about an hour at 400F degrees or until tender.  Remove from oven and let cool before removing the skin and mashing.
(Visited 251 times, 1 visits today)