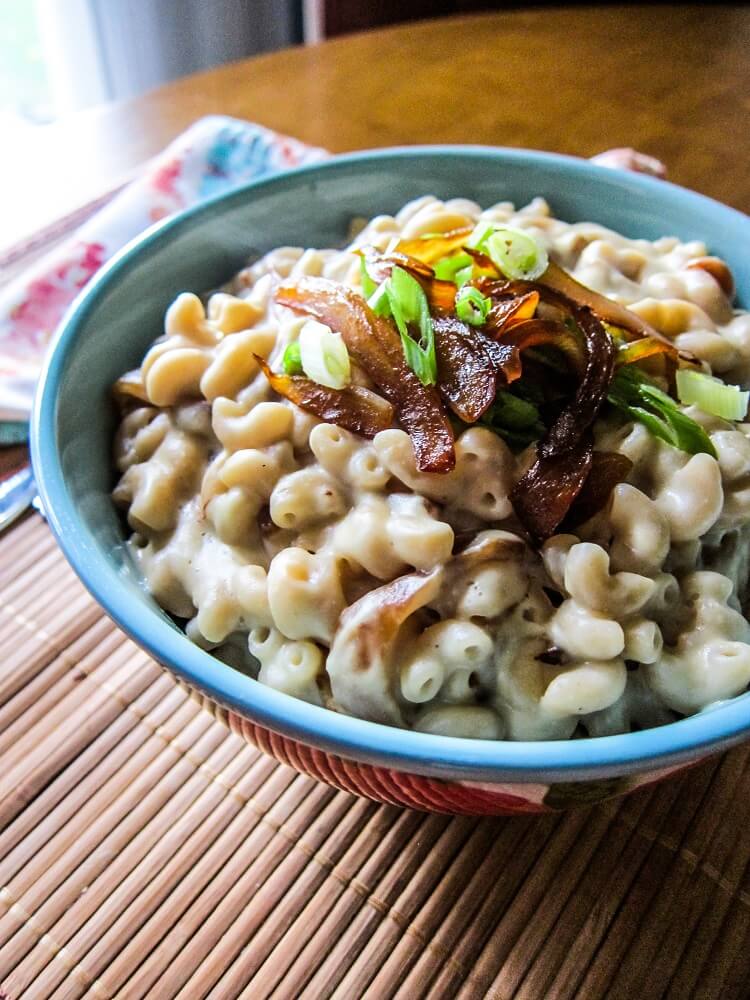 Vegan Caramelized Onion Mac and Cheese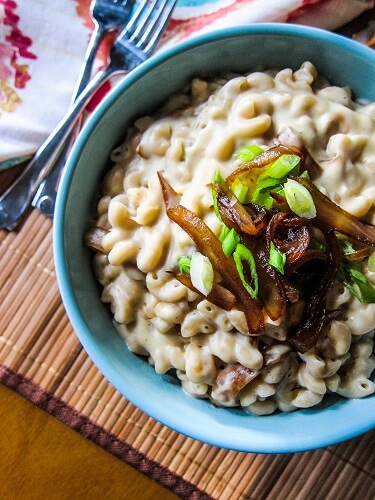 As I was chopping some super strong onions at work and trying not to cry as my eyes burned I began to think about how it is funny you never become immune to them, even when you are someone like me who chops them just about every day. I also started to think about how good caramelized onion dip, or french onion dip is and how good those flavors would be in a mac and cheese. So, I decided that I needed to make some vegan mac and cheese when I got home.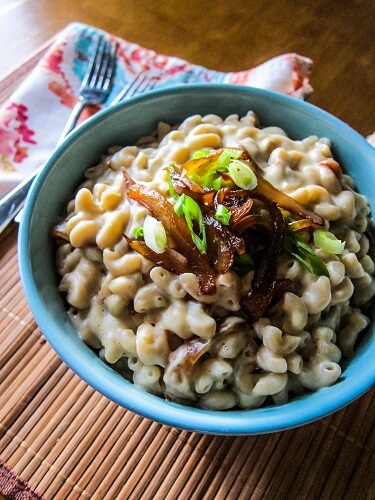 It was perfect! I already had onions, elbow macaroni and my secret sauce ingredient on hand. Oooh sounds exciting doesn't it? But really my secret ingredient is just white fleshed sweet potatoes, or Japanese sweet potatoes. They have a more mellow flavor than the orange variety and they are perfect for blending up in things to get some extra veggies in them without anyone noticing. The thing that always bothered me about traditional mac and cheese was that there weren't enough veggies in it.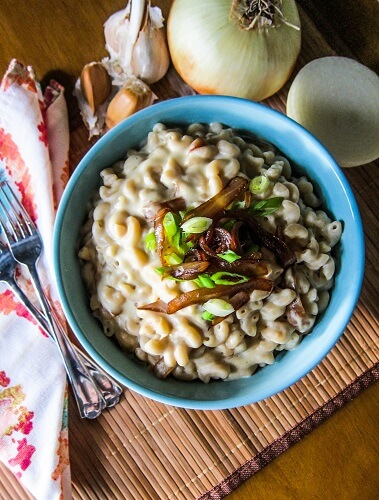 Well, I have fixed that with my mac and cheese recipes. The sauce for this is just a little bit of nut butter and mostly veggies. Honestly, this comes together in about 30 minutes too and is easier to make than any dairy mac and cheese I made from scratch back in the day. For this one I caramelized onions until they were golden brown, then combined them with the already delicious mac and cheese.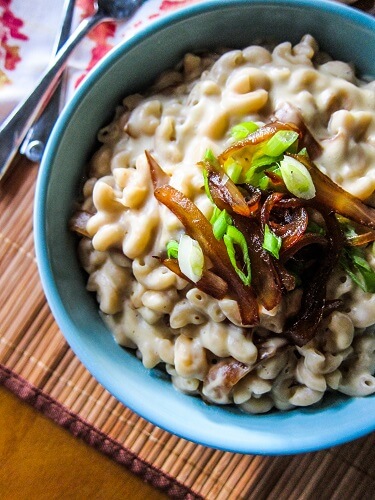 The sauce has a few ingredients that may sound odd to you, like miso, white balsamic vinegar, stone ground mustard and nutritional yeast, but trust me on this one, they give it that amazing cheesy flavor! This is sooo good! The sauce is rich and flavorful almost like a mellow white cheddar, and the sweet caramelized onions are the perfect pairing with it! If you are in the mood for some somewhat healthy comfort food, give this a try!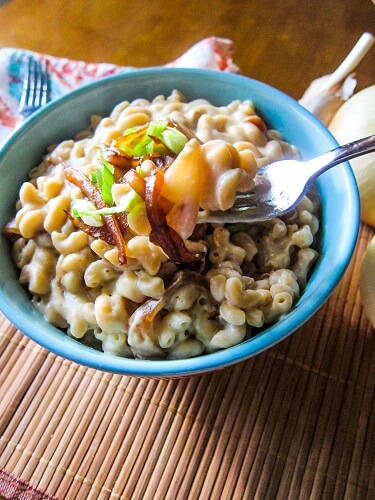 Vegan Caramelized Onion Mac and Cheese
Serves 4
Ingredients:
1 large sweet yellow onion, sliced thinly
2 tsp avocado oil
2 cups mashed cooked sweet potato* (the white fleshed variety)
1 cup hot filtered water (or as needed)
1/3 cup raw cashew butter
1 medium garlic clove
2 tsp stone ground mustard
1 Tbsp white balsamic vinegar
1 Tbsp white miso (optional)
1/4 cup plus 2 Tbsp nutritional yeast
3/4 tsp sea salt (or to taste)
Instructions:
Heat a pan over medium heat, and add the onion and oil. Cook, stirring often until the onion caramelizes, about 15 minutes. You may need to add a splash of water now and then to prevent it from sticking on the bottom. Remove from heat once golden brown and tender. Set aside.
Next, combine the sweet potato, water, cashew butter, garlic, mustard, vinegar, yeast, and sea salt in a high speed blender and blend until smooth and the consistency of cheese (if it is too thick add a little more water). Set aside.
Cook pasta according to package directions, drain, then place back in the pot, add the cheese and onions, and stir to coat. Pour into a serving dish, and serve!
*To cook the sweet potatoes, I like to roast them in the oven. Take a large sweet potato, poke a few holes in it, and cut in half lengthwise. Place cut side down on a sheet pan lined with parchment and bake for about an hour at 400F degrees or until tender. Remove from oven and let cool before mashing.
(Visited 1,133 times, 1 visits today)