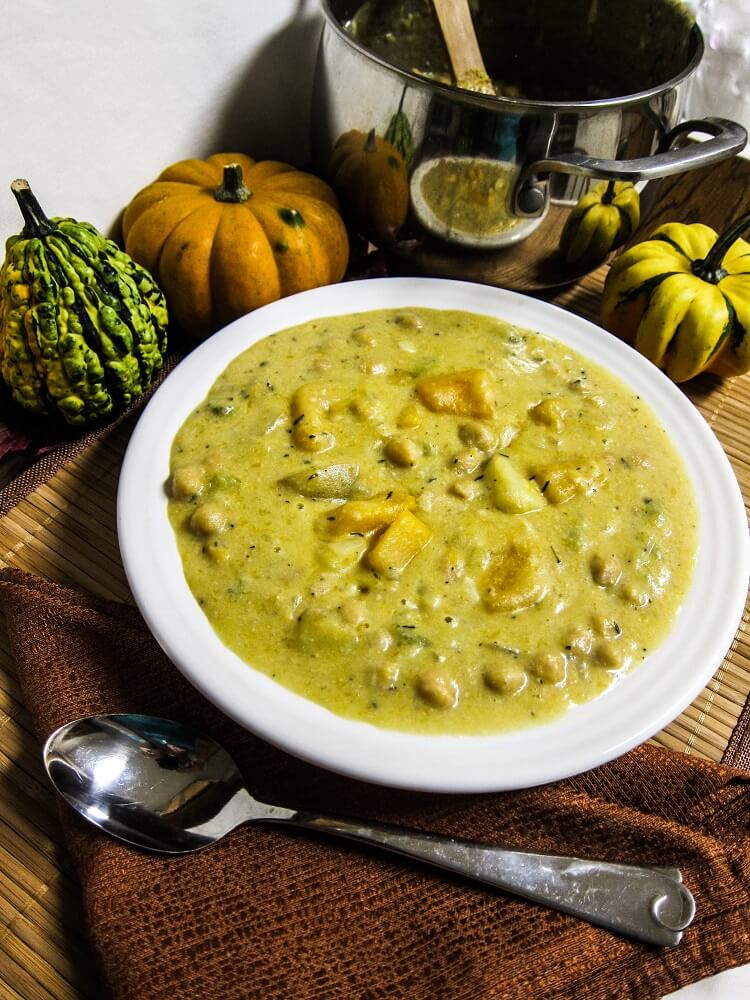 Vegan Butternut Squash and Chickpea Chowder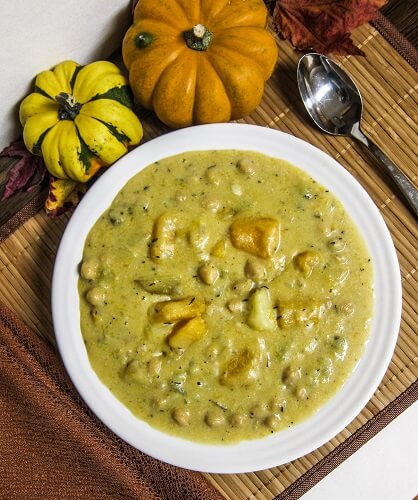 We are full swing into soup season, and in the deli I work in it is just flying out of the pots because it is the most popular thing we have right now.  I mean, I don't blame people, I go home and eat warming soup too this time of the year most nights.  You would think that I would get tired of making soup at work and not want to make it at home, but that actually isn't the case.  I love warming soup!  I was going through our box of recipes the other day at work and I came across a soup that I used to enjoy but can't eat anymore because it isn't vegan.  Well, I might just have to go home and make it I thought to myself. It was a butternut squash parmesan chowder and I remember it being really delicious.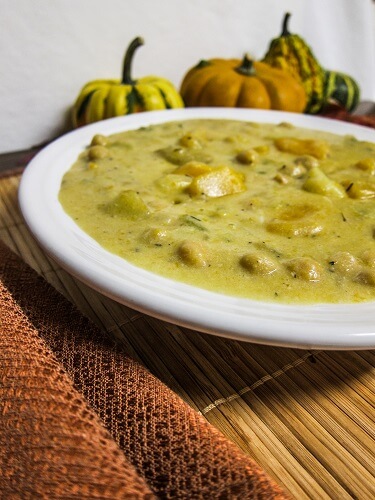 I have been there 13 years, but it was 7 years ago I went vegan so I haven't had it since then.  I do remember how it tasted though, enough to recreate it!  I had some butternut squash and all of the ingredients at home already so it was the perfect thing to make!  Don't you just love when you don't have to shop to make a recipe you are craving?! The original one was loaded with heavy cream, cheese, butter and refined flour.  I wanted to make mine a bit healthier while veganizing it.  I think I succeeded pretty well.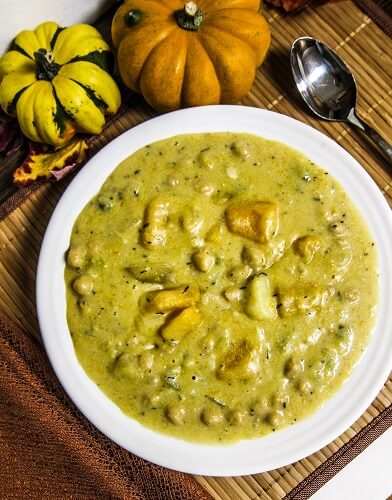 For the creamy base, I used a mixture of coconut milk, broth and a little cashew butter instead of the cream.  It was just as thick and creamy as the original and I didn't need to even add anything to thicken it, it was pretty thick on its own. To give it a cheesy flavor, I added some nutritional yeast and miso and it tasted as if I had added parmesan which is exactly what I was going for. For the veggies, it had to have butternut squash of course, but I also added in potatoes since it was a chowder, and celery and garlic for flavor. I figured it didn't need carrots since it already had the sweet squash. Lastly, I added in some chickpeas for protein.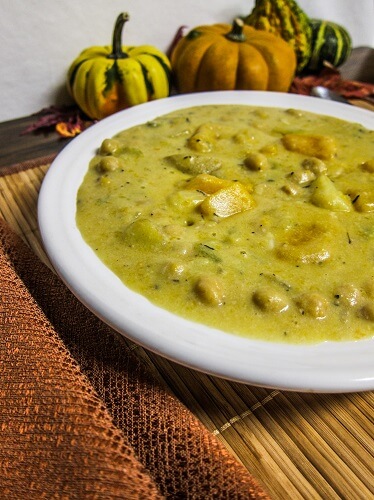 It smelled amazing and I couldn't wait to try it!  It was soooo good!  Rich and creamy with a cheesy flavor, aromatic thyme and tender sweet squash and potatoes!  I only wished I had some crusty bread to dip in it.  Because I love doing that with soup!  If you are in the mood for comfort food, give this a try!  It is pretty quick and easy to make!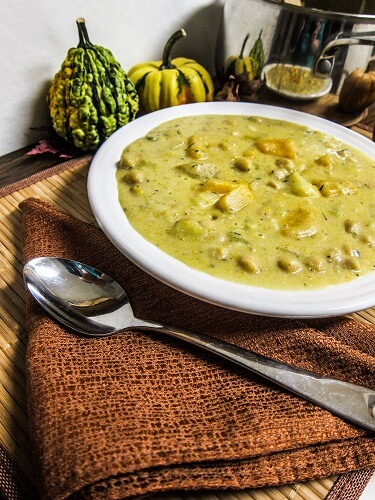 Vegan Butternut Squash and Chickpea Chowder
Serves 2-4
Ingredients:
2 tsp avocado oil
1 small yellow or white onion, diced
1 stalk celery, sliced
2 garlic cloves, minced
1/2 tsp dried thyme
2 cups butternut squash, cubed
2 cups yukon gold potatoes, cubed
1 15 oz can full fat or lite coconut milk
1 1/2 cups veggie broth (or as needed)
1/2 tsp sea salt (or to taste)
1/4 tsp black pepper (or to taste)
1/4 cup raw cashew butter
1/4 cup nutritional yeast
2 tsp white miso dissolved in 1 Tbsp filtered water (optional)
1 1/2 cups cooked chickpeas
Heat the oil in a medium soup pot with a lid, and add the onions celery, and garlic.  Sautee for a few minutes until starting to turn translucent, and add the thyme, potatoes, squash, coconut milk, water, salt and pepper.
Bring to a boil, then lower to a simmer and let cook about 15-20 minutes or until the veggies are tender.
Add the cashew butter and nutritional yeast, and cook until they are well blended into the soup, then add the chickpeas and cook until heated through.
If it is too thick, add a little more broth. Enjoy!
(Visited 731 times, 1 visits today)