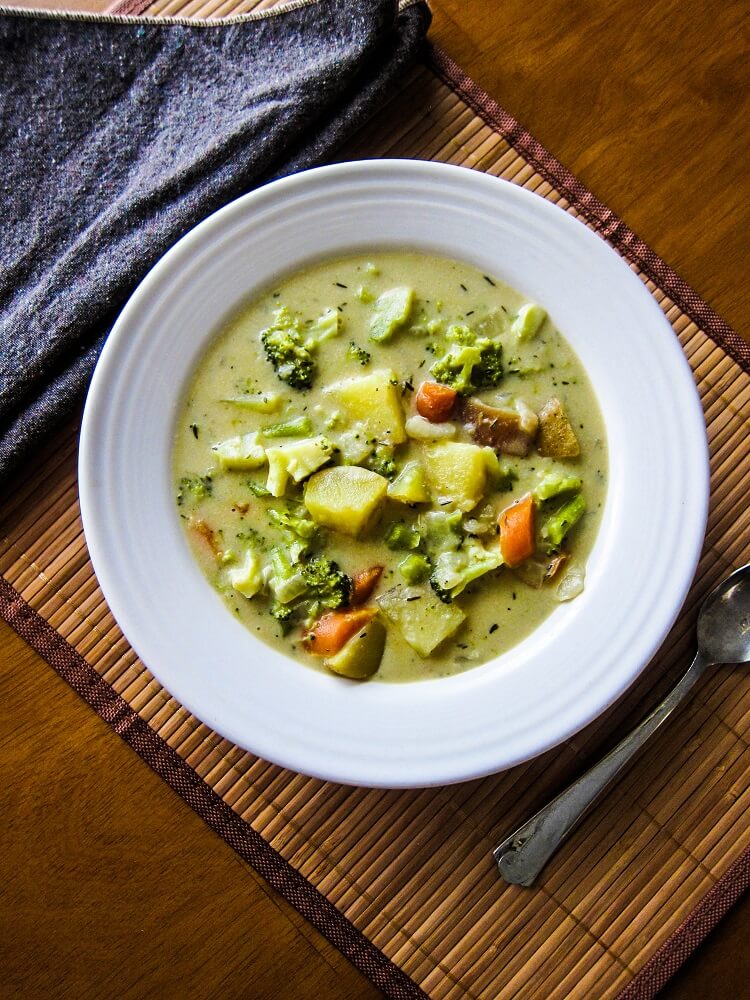 Vegan Broccoli Cheese Chowder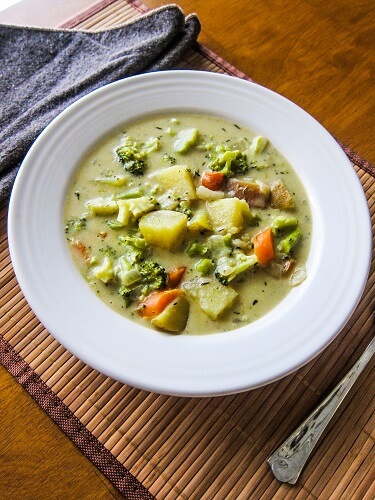 Growing up, I used to eat a lot of canned soup and I thought nothing of it. That is, until me and my Mom started to make our own soups at home when I was in high school from a soup cookbook we had bought and when I later started working in a deli that makes its own soup. I never went back to the canned. It just tasted tinny to me and just over all inferior to the home made stuff. I guess I am just sort of s soup snob, or have been for a while.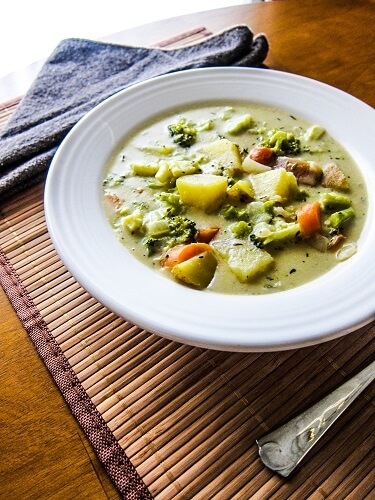 I am even super picky if I order soup in a restaurant and it is sub par because I make so many soups at my work and they have to taste good. So, one time (before I was vegan) I decided to order a broccoli cheese soup at a restaurant that was supposed to be good and I was really disappointed. It was really bland, and too thin, and cooked to oblivion. There has to be a better way to make this at home I thought, and I ended up making a version that was really good that I later made at work and the customers loved it! I hadn't really made a veganized version of it yet, that is until last weekend. I decided it was time I make some because it used to be so good and I was sure I could come up with an even better animal product free version.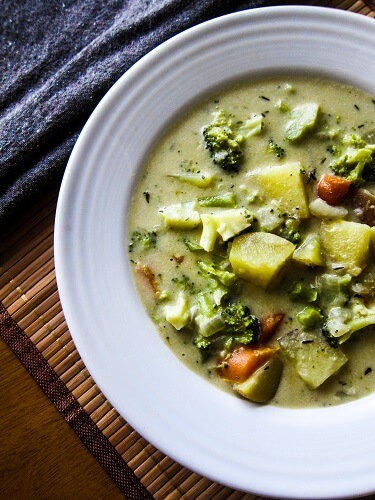 I wanted it to have plenty of veggies in it, not be just pureed broth with a cheesy flavor. So, I added in broccoli, carrots, onions, potatoes, and garlic. Really I guess it was more of a chowder, which is why I am calling it that. I made a silky creamy broth with coconut milk, cashew butter and nutritional yeast to give it a cheesy flavor and it was so good you would swear it has dairy in it.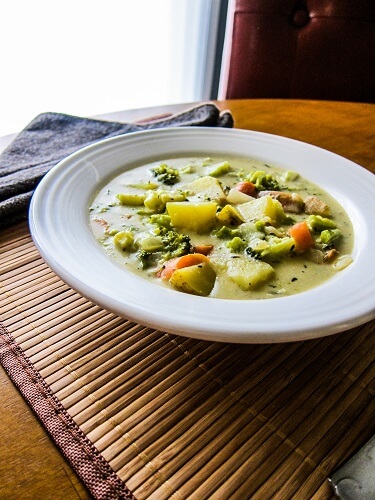 I think I like this version even better than the original, and it is much better for you instead of the loads of cheese in the other soup. Even my boyfriend Eric likes it and he is not vegan, so that counts for something! If you are looking for a soup that is pure comfort food but still filled with veggies, give this a try!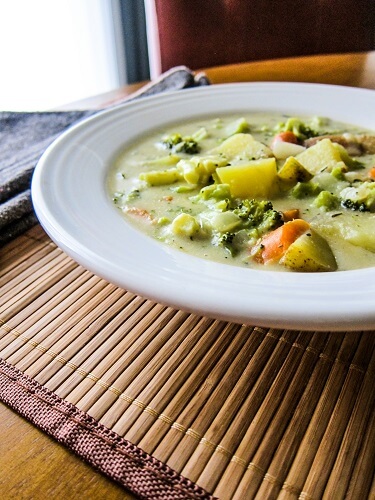 Vegan Broccoli Cheese Chowder
Serves 2-4
Ingredients:
2 tsp avocado oil
1 small yellow or white onion, diced
2 garlic cloves, minced
1/2 tsp dried thyme
2 cups potatoes, cut into cubes
1 large head broccoli, flowrettes removed and stem peeled and diced (cut off the tough end)
2 medium carrots, cut in half and sliced
1 15 oz can full fat or lite coconut milk
1 1/2 cups veggie broth (or as needed)
1/2 tsp sea salt (or to taste)
1/4 tsp black pepper (or to taste)
1/4 cup raw cashew butter
1/4 cup nutritional yeast
Heat the oil in a medium soup pot with a lid, and add the onions and garlic. Sautee for a few minutes until starting to turn translucent, and add the thyme, potatoes, broccoli, carrots, coconut milk, water, salt and pepper.
Bring to a boil, then lower to a simmer and let cook about 20 minutes or until the veggies are tender.
Add the cashew butter and nutritional yeast, and cook until they are well blended into the soup.
If it is too thick, add a little more broth. Enjoy!
(Visited 1,211 times, 1 visits today)