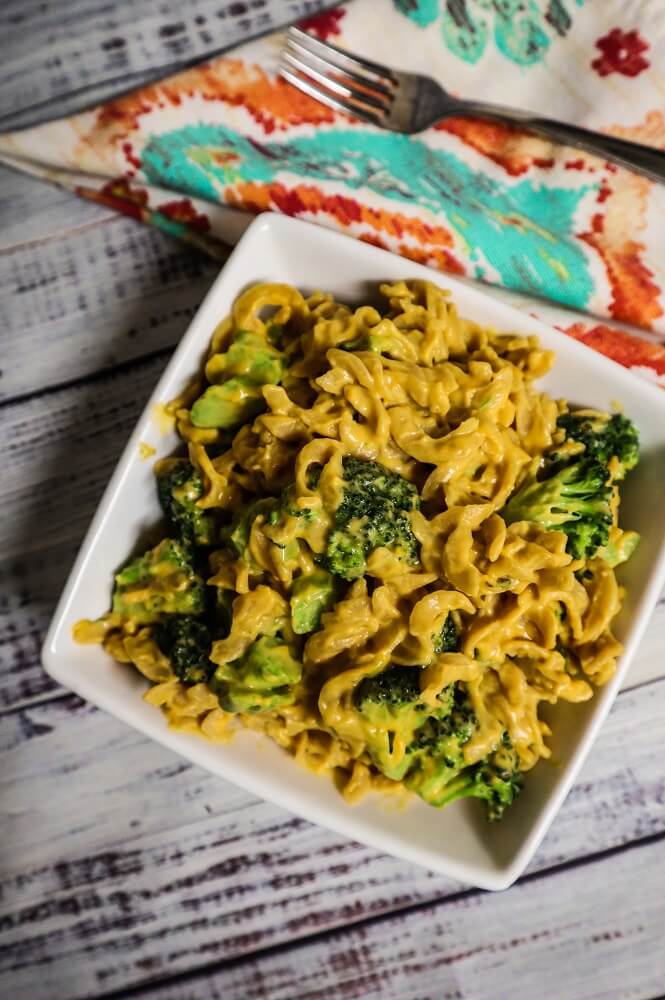 Vegan Broccoli Cheddar Mac and Cheese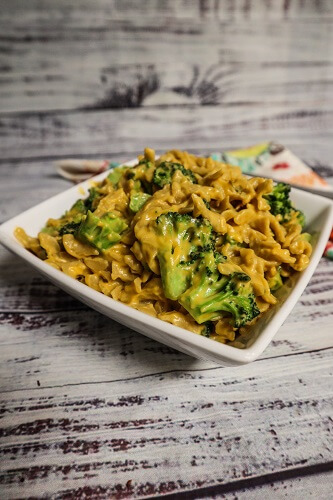 Who doesn't love mac and cheese?!  Growing up, I pretty much lived off of things with cheese like grilled cheese, or mac and cheese.  Not that I was picky or anything, but I just loved them so much and would ask my parents if I could have them often.  I can still enjoy mac and cheese now as an adult, even if I am vegan, because making vegan mac and cheese that tastes delicious actually isn't difficult at all!  I have perfected my own cheese sauce recipe that is to my liking, and it is even good on potatoes if you are not in the mood for pasta. Or even poured over steamed broccoli, like my Grandma used to do. Except she used Cheese Whiz.  But I thought it was the greatest thing ever when I was little. Which got me to thinking, why not just put broccoli in my mac and cheese?!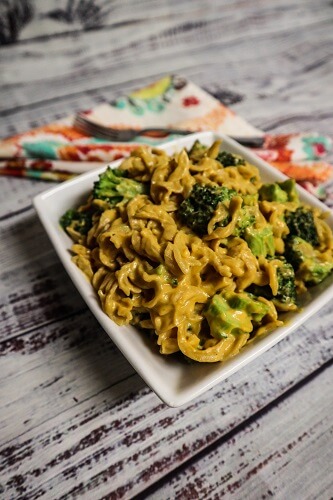 So I made some broccoli mac last week.  I had some lentil based fusilli pasta on hand, so it was perfect!  I know lentil pasta might sound a little weird, but it is actually quite delicious and tastes pretty much like regular pasta but much higher in protein so it is a complete meal.  For my cheese sauce, I use a mostly veggie base. I have seen other people use a combination of potatoes and carrots, and I have tried that one, but it isn't my favorite. I use roasted sweet potatoes for the bulk of my base.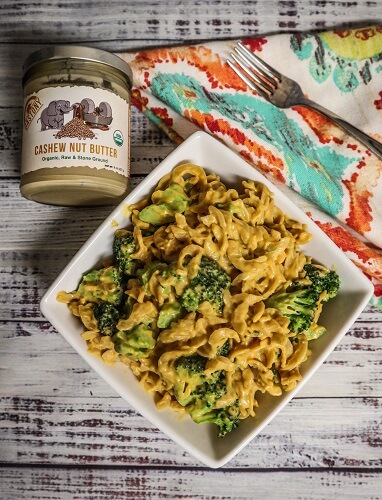 You can use orange or white fleshed variety, but I used the white. I just like their flavor slightly better in mac and cheese. I used a little Dastony raw cashew butter from Raw Guru along with it, just enough to make it creamy. I find that some mac and cheeses that use only cashews as their base can get a little too heavy and I don't digest them well.  This sauce is creamy, rich tasting and sooo good!  I have even added some chipotle to it to make a nacho cheese sauce and that is delicious as well.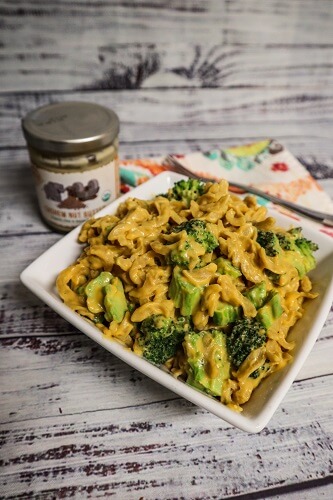 I just threw some broccoli into the pot about 2 minutes before the pasta was done cooking and it was tender and cooked just right!  This mac and cheese turned out bomb!  If you think you can't have delicious mac and cheese as a vegan, give this one a try, I think it will change your mind!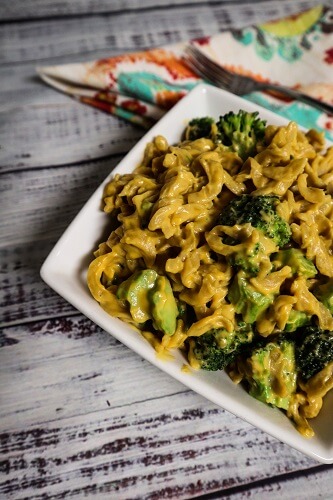 Vegan Broccoli Cheddar Mac and Cheese
Serves 4
Ingredients:
2 cups mashed cooked sweet potato* (the white fleshed variety)
1 cup hot filtered water (or as needed)
1/3 cup Dastony raw cashew butter
1 medium garlic clove
2 tsp stone ground mustard
1 Tbsp cider vinegar
1 Tbsp white miso (optional)
1/4 cup plus 2 Tbsp nutritional yeast
3/4 tsp sea salt (or to taste)
16 oz organic lentil pasta
1 large head organic broccoli, cut into florettes and stem peeled and cut into small pieces
Instructions:
Combine the sweet potato, water, cashew butter, garlic, mustard, vinegar, yeast, and sea salt in a high speed blender and blend until smooth and the consistency of cheese (if it is too thick add a little more water).  Set aside.
Cook pasta according to package directions, and when there is 3 minutes left, add the broccoli and cook until it is bright green and tender.  Drain, the pasta and the broccoli then place back in the pot, add the cheese and and stir to coat.
Pour into a serving dish, and serve!
*To cook the sweet potatoes, I like to roast them in the oven.  Take a large sweet potato, poke a few holes in it, and cut in half lengthwise.  Place cut side down on a sheet pan lined with parchment and bake for about an hour at 400F degrees or until tender.  Remove from oven and let cool before mashing.
(Visited 489 times, 1 visits today)