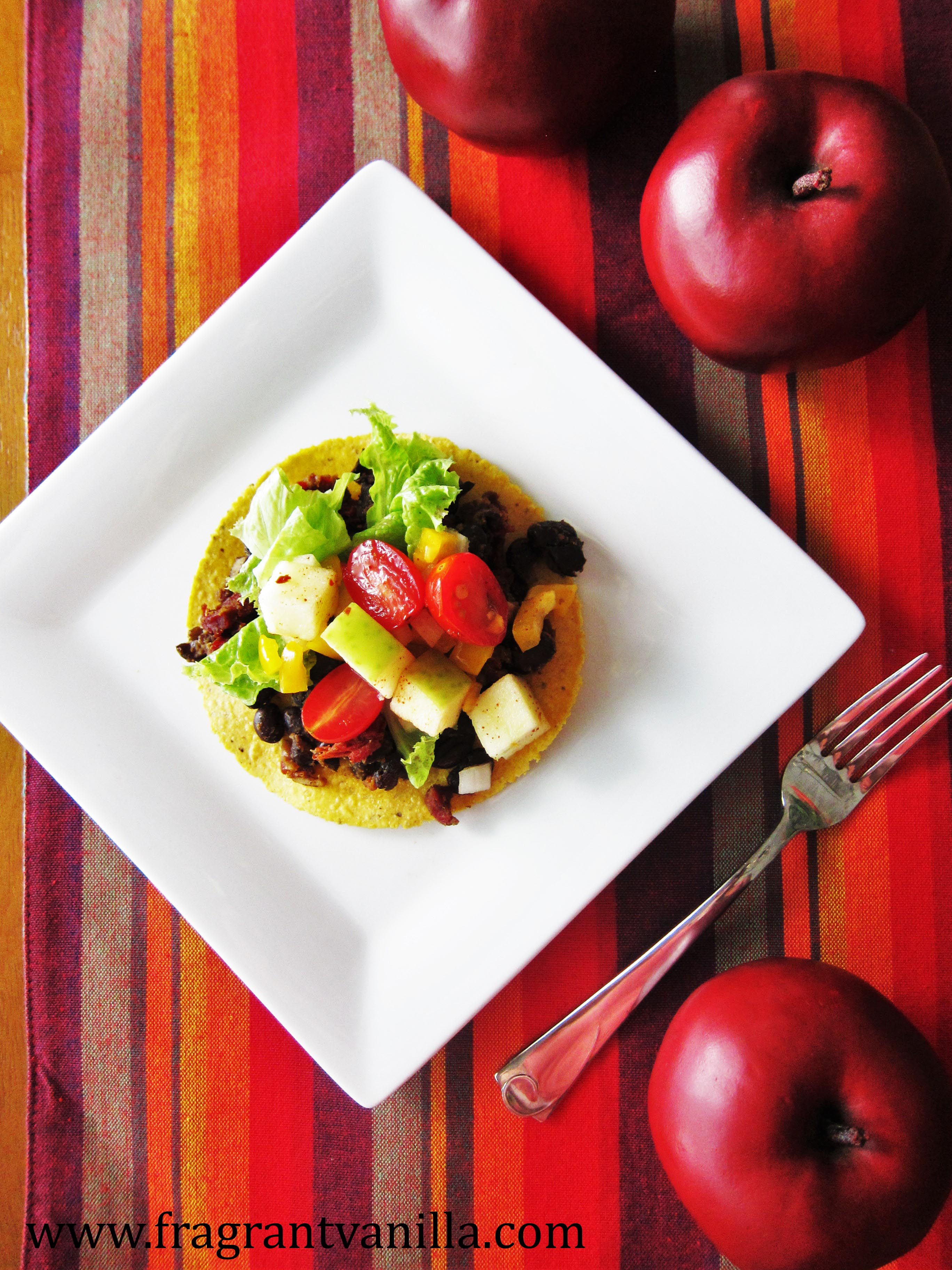 Vegan Black Bean Tostadas with Apple Salsa
What do you do when you have a hungry boyfriend who has had one of those terrible horrible no good very bad days arriving at your house and you have nothing made?  You improvise and raid the pantry and make a random delicious recipe.  I guess I am a softie when it comes to hungry people and I usually end up making them food.  And I know he would do the same for me if he had time to cook (but it's ok, he does other nice things for me).  After all, a good meal always makes one feel better, am I right?!  Well for me it does.  So, I started to raid my pantry yesterday for this quick meal.  Eric loves Southwestern type food since he is from there so I decided to make tostadas.  Not traditional or authentic though.  These were kind of seasonal fusion due to using ingredients I had on hand.  I had some lovely honeycrisp apples, because they are wonderful this time of the year, so I made a quick salsa including them.  Apple salsa is actually pretty delicious and goes awesome with savory food.  Along with the usual salsa add ins like tomatoes, bell peppers, onions and garlic, I added some apple cider and a touch of maple syrup.  It was refreshing and delicious!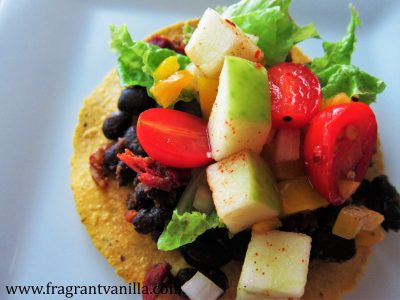 For the protein filling on the tostadas I kept it simple with black beans sautéed with sun dried tomatoes, alliums and spices.  Having a big bag of cooked black beans in your freezer always comes in handy when it is meal time.  I find myself grabbing them often for everything from salads, to hummus to this recipe.  I topped off some toasted tortillas with the flavorful beans, some lettuce and the salsa and it was a light and delicious lunch!  Eric scarfed it down in no time, and it boosted his mood a little.  If you have some apples from the local orchard that you want to use in something other than dessert try out this salsa recipe! It is also good for spooning over greens in a salad, which is what I did the next day in my lunch along with some sautéed tempeh.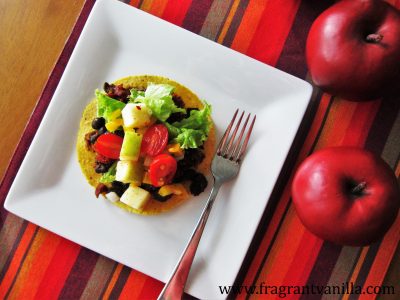 Vegan Black Bean Tostadas with Apple Salsa
Serves 4
Salsa:
1 large sweet apple (honeycrisp or pink lady work well) diced
1 cup halved organic cherry tomatoes
1 yellow or red bell pepper, diced
1 small red or white onion, diced
1 jalapeno, minced
1 clove garlic, minced
juice and zest of 1 lime
1 Tbsp cider vinegar
sea salt to taste
1 tsp red pepper flakes
2 tsp maple syrup
Combine all ingredients together in a bowl, cover and refrigerate for a few hours (or overnight) to let the flavors combine.
black beans:
2 tsp olive oil
1/2 cup minced onion
1 garlic clove, minced
2 tsp chili powder
1 tsp ground cumin
1/4 tsp sea salt
1/2 cup sun dried tomatoes, soaked in water until soft (3 Tbsp water reserved), drained and chopped
2 cups cooked black beans
In a pan, heat the olive oil over medium heat, and add the onions. Sautee for about 5 minutes until softened, then add the garlic, chili powder, cumin, and sea salt. Sautee a minute more until the spices are fragrant, then add the tomatoes, beans and reserved water.
For assembly:
8 sprouted corn tortillas
1 1/2 cups shredded lettuce
hot sauce (optional)
Heat the tortillas in a 400 degree oven until toasted and crisp. Set on a plate. Spoon some of the bean mixture over the tortillas, top with a little lettuce, a little salsa, and some hot sauce. Enjoy!
(Visited 40 times, 1 visits today)