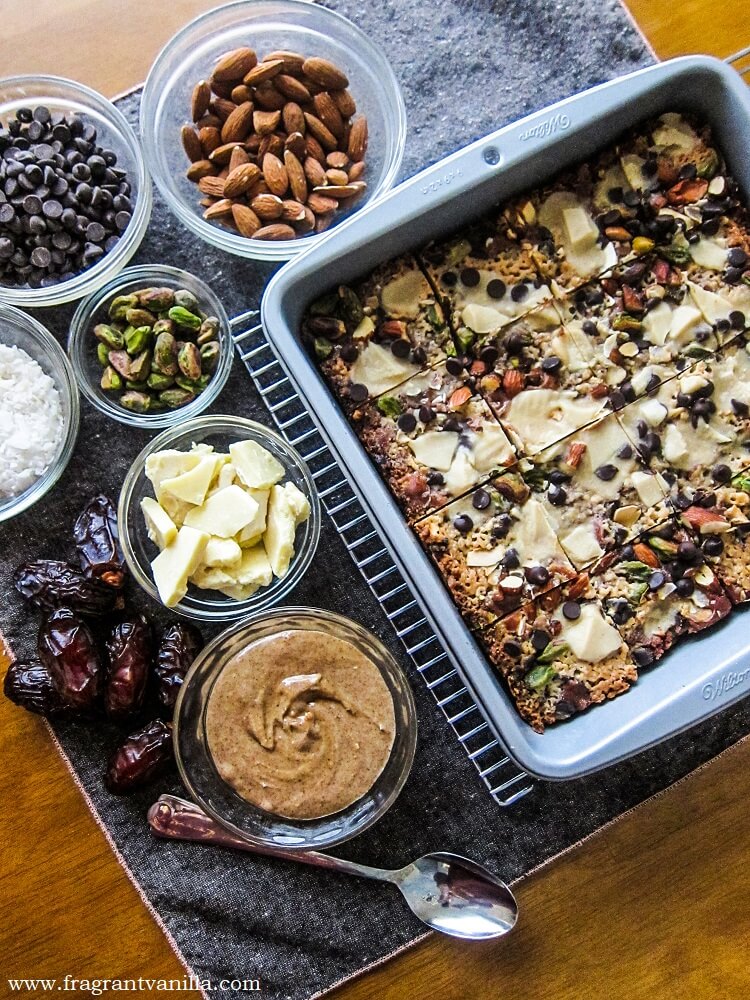 Vegan 8 Layer Bars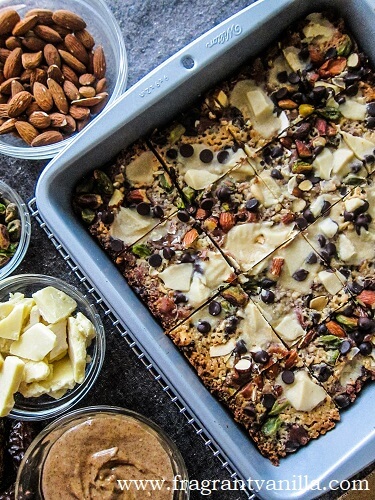 Magic cookie bars, seven layer bars, five layer bars 8 layer bars.  They are all similar, and I loved them all growing up because they were all delicious.  If you aren't sure what I am talking about, they are typically made with a graham cracker crust topped off with coconut flakes, chocolate chips, peanut butter chips (or butterscotch chips, I have seen both), white chocolate chips, walnuts and sweetened condensed milk.  It is then baked to perfection until all bubbly and cooled until it is all set.  My Mom calls them candy bars, but there is no denying that they are delicious.  They are pretty much a staple at any potluck or picnic in Minnesota (and probably other states in the US too).  A while back I made a raw version, but my Mom recently asked me if I could make a baked version more similar to the original bars.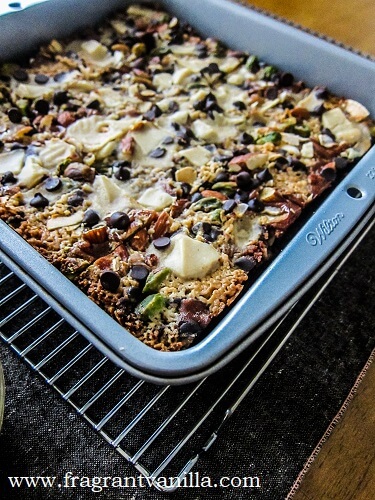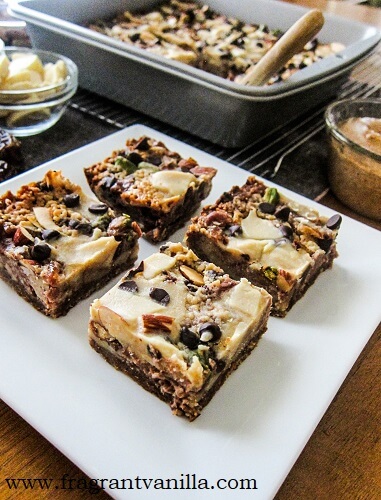 Of course I was game!  I loved those bars growing up, and I knew I could create something just as delicious.  I decided to make the 8 layer version, but tweak it slightly with what I had on hand, and what I wanted in it.  For the crust, instead of using store bought graham crackers, I made my own.  Because I am not a store bought graham cracker person.  I made an almond butter cookie crust instead and it was delicious with all of the toppings.  For a vegan replacement for the sweetened condensed milk, I blended up coconut milk with medjool dates to create a caramel flavored gooey mixture that was even better than sweetened condensed milk if you ask me.  For the add ins I chose coconut flakes, peanut butter white chocolate chunks, white chocolate chunks, dark chocolate chips, almonds and pistachios.  I made the white chocolate and peanut butter white chocolate, because I love my home made versions and I didn't want to have to buy it.  I had to make the bars slightly different than the original version, layering the ingredients and milk because it is slightly less runny and my white chocolate chips melt, but the end result was the same as the old style ones.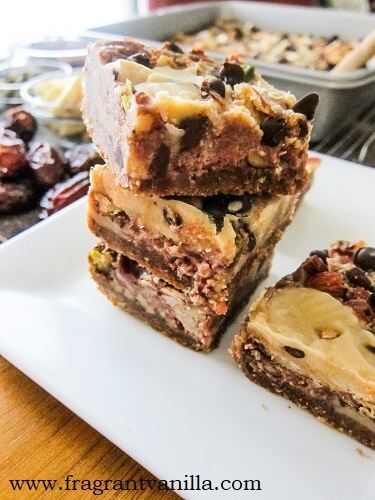 They smelled amazing while baking, like a candy factory.  That is part of what I love about baking, all of the heavenly aromas!  They had to chill overnight, but it was well worth the wait to taste them.  They were sweet and delicious like the original version, but not just sugary, packed with the flavors of caramel, the chocolates, and crunchy nuts.  They were heavenly!  If you were ever a fan of these type of bars, give them a try!  It is a little more work making your own chocolate and all, but so worth it.  I made mine a day ahead so that I had it on hand.  I hope you all have a wonderful week!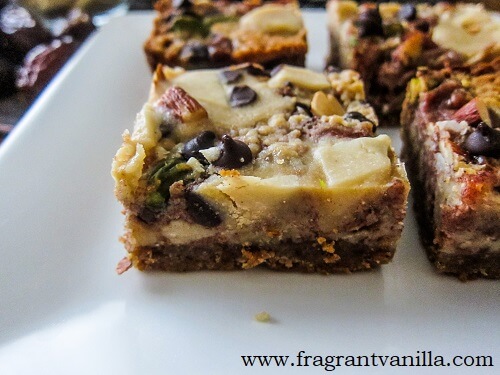 Vegan 8 Layer Bars
Makes 16 bars
Ingredients:
Crust:
2 Tbsp coconut oil, warmed to liquid
1/4 cup plus 2 Tbsp coconut sugar
1/2 tsp pure vanilla extract
1 1/2 Tbsp filtered water mixed with 1/2 Tbsp ground flax seed
1/2 cup almond butter
1/4 cup plus 2 Tbsp all purpose gluten free flour
1/4 cup plus 2 Tbsp almond meal*
1/4 tsp baking powder
1/4 tsp sea salt
Topping:
1 cup plus 2 Tbsp thick coconut milk (from the top of the can)
1 cup soft, pitted medjool dates (if they are not soft, soak them in filtered water first, and drain well before using)
1/2 tsp pure vanilla extract
1/8 tsp sea salt
1 cup chopped almonds
3/4 cup pistachios
3/4 cup large flake coconut
1 cup vegan dark chocolate chips or dark chocolate chunks
1 cup vegan white chocolate chunks (recipe follows)
Instructions:
Preheat oven to 350F degrees with the rack set in the center position. Line a 9x9 inch square pan with parchment, and/or grease it with coconut oil.
Whisk the coconut oil and sugar together in a bowl with the vanilla and flax mixture until the sugar starts to dissolve. Then add the pecan butter and mix until combined.
Add the flour, baking powder, sea salt and stir in until well blended.
Spread this mixture over the bottom of the pan, pressing it to the edges with your fingers. Set aside.
Combine the coconut milk, dates, vanilla and sea salt in a high speed blender or food processor and process until smooth.  Set aside.
Sprinkle the crust with 3/4 cup almonds, 1/2 cup pistachios, 1/2 cup coconut, 3/4 cup dark chocolate chips, 3/4 cup white chocolate chunks, and 3/4 cup peanut butter chunks distributing it all evenly. Pour the coconut milk mixture over it, making sure it is evenly covering the whole thing.  Sprinkle the remaining nuts, dark chocolate and coconut over the top (but hold off on the white chocolate and peanut butter white chocolate until it is done baking so they don't melt on top) press in slightly with your hands.
Place in the oven. Bake for about 45 minutes until lightly browned and set.  Remove from oven and scatter with remaining peanut butter white chocolate chunks and white chocolate chunks.
Let cool completely before cutting into bars.
Vegan White Chocolate
Makes 40 chocolates
Instructions:
Combine cacao butter, coconut butter, cashew butter, vanilla, maple syrup,  and sea salt over a double boiler, and whisk until smooth.
Pour into silicone molds, and place in the freezer until firm (about 45 minutes or so).
Pop out of molds and enjoy!  Store any extra in the refrigerator in an airtight container.
*If you don't prefer to make your own vegan peanut butter white chocolate, you can find some HERE.
*If you don't prefer to make your own vegan white chocolate you can find some HERE.
(Visited 1,890 times, 1 visits today)