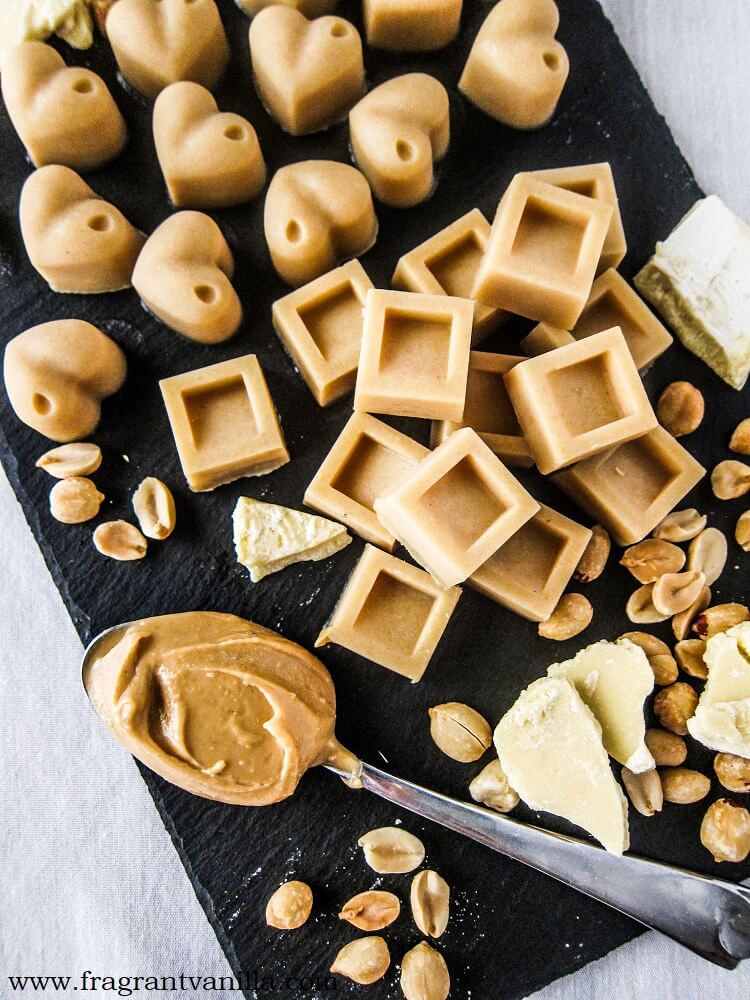 Vegan Peanut Butter White Chocolates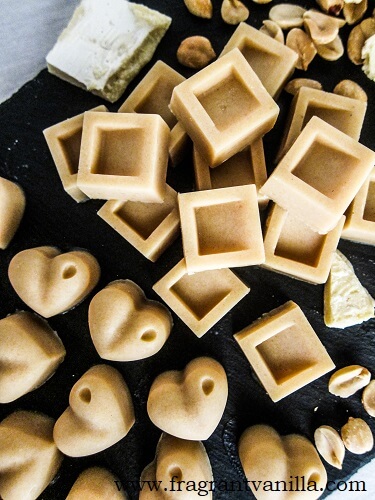 I love white chocolate and I love peanut butter, so I figured, why not make some peanut butter white chocolate?!  I mean, yes I could have just made white chocolate peanut butter cups, and I did make those recently.  But I had another motive for making these.  My Mom recently requested that I make some vegan 7 layer bars, and I needed peanut butter white chocolate chunks (I was not going to make chips, too much work).  So I figured I could make a batch of peanut butter white chocolates, and have some to enjoy and just eat as is, and some for the 7 layer bars recipe.  If I like something I like to make extra and I knew these would be pretty amazing the big peanut butter lover that I am.  Peanut butter is something that I make a big jar of every week because I go through it that much.  It is as good as dessert to me if I just eat a few spoonfuls.  So that is why I try and find ways to work it into so many recipes.
These chocolates are really simple to make, with very little hands on time which is always a win as far as I am concerned.  They only have 6 ingredients!  You just melt everything together in the top of a double boiler, pour it into molds, and let it set up and chill in the freezer for a while.  I knew they were going to be good when I taste tested the mixture before pouring it into molds. It was sooo good!  They were even better once they had set up.  Luscious white chocolate with the rich peanut butter included is a heavenly combination.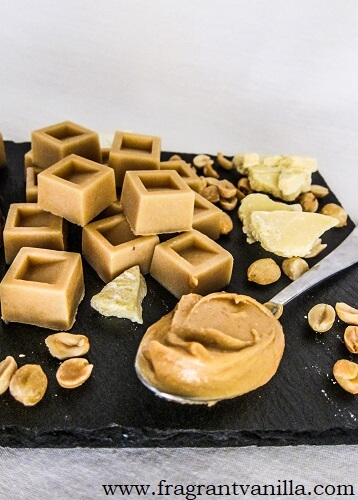 They are good just for eating alone, but I think they would be really good in cookies if chopped up (just press them in at the end of baking, because they will melt too much in the oven). Or stirred into or served on top of ice cream, or chopped up and stirred into brownies.  I am pretty excited about trying them in my 7 layer bars.  I just have to figure out what other ingredients I need to include in them.  If they turn out I will share the recipe for those too, but for now these peanut butter white chocolates are pretty bomb, so I know this recipe is worth sharing!  If you love peanut butter too, give these a try!
Vegan Peanut Butter White Chocolates
Makes 40 chocolates
Instructions:
Combine cacao butter, coconut butter, peanut butter, vanilla, maple syrup,  and sea salt over a double boiler, and whisk until smooth.
Pour into silicone molds, and place in the freezer until firm (about 45 minutes or so).
Pop out of molds and enjoy!  Store any extra in the refrigerator in an airtight container.
(Visited 787 times, 1 visits today)