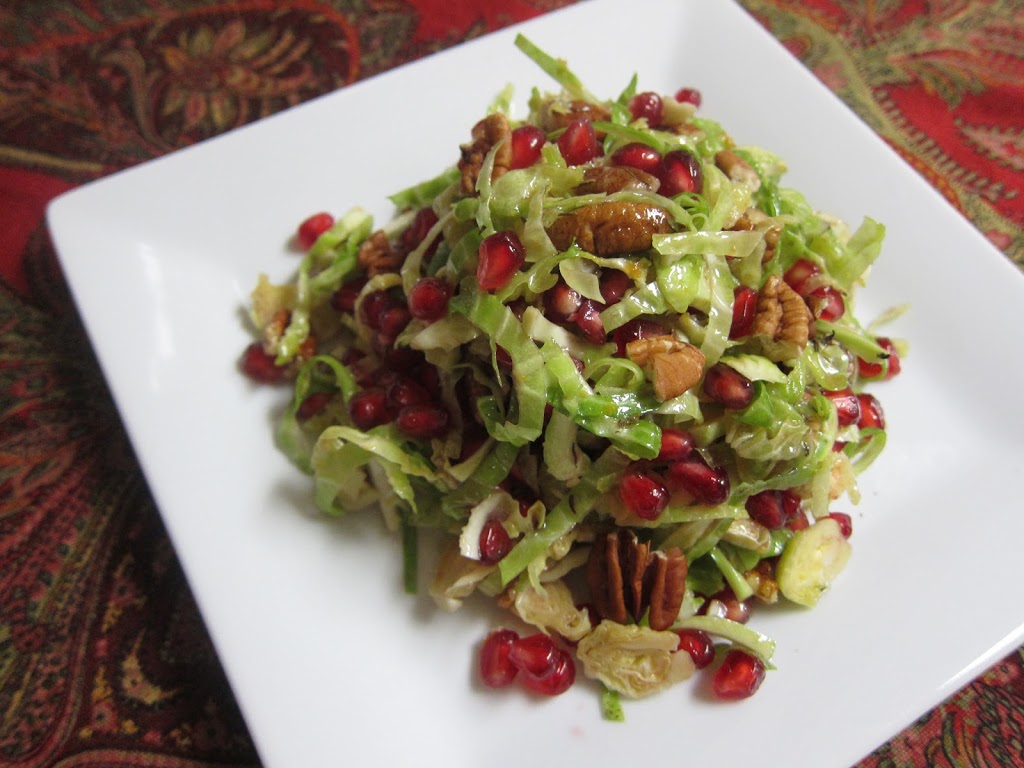 Two Winter Salads…
On the contrary to popular belief, I do eat things besides desserts.  Lots of raw salads are a staple for dinner or accompanying a main dish.  I recently made two that I thought were worthy of sharing with you, one very savory and one a little sweet!
The first was a raw kale salad with a little bit of an Asian twist.  The truth is enjoyed this one as a main dish (and have made it a few times since then) because I had tried to make a savory loaf and had to throw it out because I didn't care for it and this salad was what I made with the ingredients I had on hand.  The kale part was delicious in a flavorful Asian dressing and sesame seeds with mushrooms and shallots, but the walnut topping and avocado I added made it more substantial for a my dinner. I was happy that my first dinner was ruined because if it hadn't been I may not have made this deliciousness!  I know you can't always get what you want...but sometimes the alternative is better.
The second salad was created because I had a bag of brussels sprouts I wasn't sure what to do with and extra pomegranate seeds from my cheesecake I had made.  So I thought, why not shave the brussels sprouts thin and combine them with the seeds in a delicious winter slaw!  I dressed it with citrus, and added chopped pecans and it was quite tasty!  It would be wonderful on a Holiday table with the ruby red pomegranate seeds.  So there it is...proof that I eat more than just desserts. I hope you enjoy the recipes!
Kale Mushroom Salad with Walnut Crumble and Avocado
Serves 2-4
4-6 cups kale, chopped
6 shiitake mushrooms, thinly sliced
6 crimini mushrooms, sliced
1 raw shallot, sliced
1 tablespoon olive oil
1 Tbsp sesame oil
2 Tbsp rice vinegar
1 Tbsp tamari
2 tsp raw coconut nectar
1/4 tsp red pepper flakes
1 tsp thyme
1 garlic clove, minced
2 tablespoons sesame seeds, toasted
1 cup walnuts
1/4 cup nutritional yeast
1/4 tsp sea salt
1 clove garlic
1 tsp thyme
2 Tbsp water
1 avocado, sliced
In a large bowl, combine kale, mushrooms, and shallot.  In a small bowl, whisk together olive oil, sesame oil, rice vinegar, tamari, agave nectar, red pepper flakes, thyme, garlic, and sesame seeds.  Pour dressing over kale mixture and toss to combine.  Set aside.
For the walnuts, combine walnuts, nutritional yeast, sea salt, garlic and thyme in a food processor and process until finely chopped.  Add a couple Tbsp of water and pulse until it holds together in clumps.
To assemble, place kale on a large plate, top with avocadoes and walnuts and serve!
Shaved Brussels Sprout and Pomegranate Salad
Serves 4
2 cups thinly sliced organic brussels sprouts
1 cup pomegranate seeds
1/2 cup toasted pecans
Dressing:
2 Tbsp walnut oil
1 Tbsp cider vinegar
2 tsp raw coconut nectar
2 Tbsp orange juice
1 Tbsp organic orange zest
sea salt to taste
1 tsp dried thyme
In a large bowl, combine brussels sprouts, pomegranate seeds, and pecans.  In a small bowl whisk together dressing then pour over salad and toss to coat. Place in a serving bowl, and enjoy!
(Visited 29 times, 1 visits today)