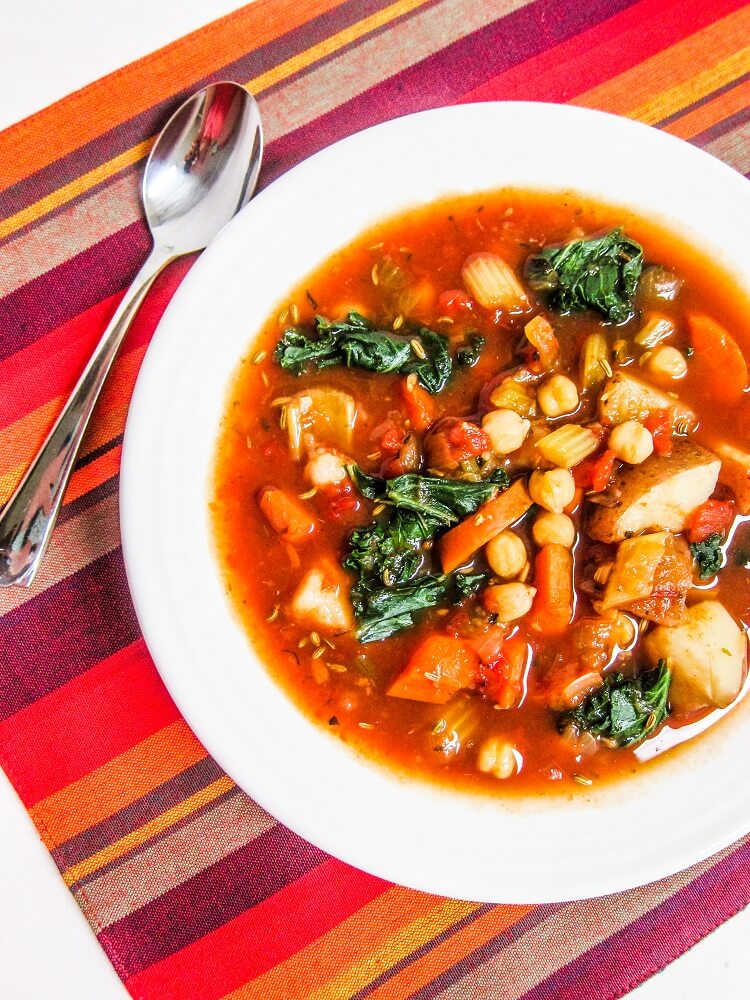 Tuscan Chickpea Vegetable Soup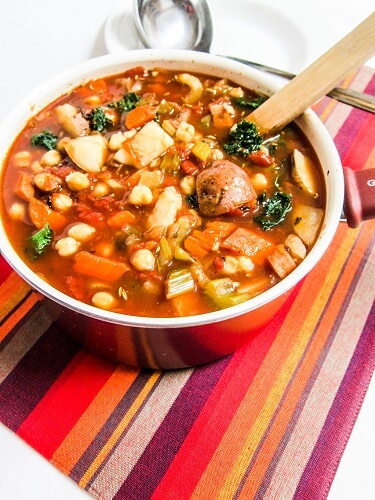 We make soup like crazy in the deli I work in this time of the year, so you would think I would hate making soup at home. But that is not the case at all!  I love soup just as much as the customers do, I just prefer to make a big batch for myself and eat it for a few days (less work to get dinner on the table later in the week is always a good thing).  I tend to be boring and monotonous with my soup that I make though, often times it is the same two soups every week.  What can I say, I know what I like.  But This week I decided to be a little different and make a soup very similar to one that I make at work, a Tuscan bean soup. It is actually my recipe that I make at work, that I first made at home back when I was just out of college, but I haven't made it in a really long time and I have never shared it on my blog before surprisingly.  I decided to make it this week mostly because I was making dinner for me and Eric and I think he is getting just a little sick of chili every week.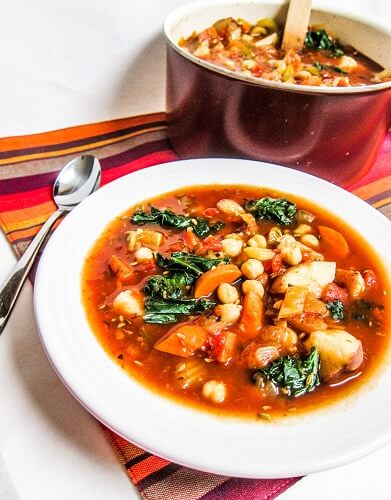 This soup is actually pretty easy to make too.  It requires a little cooking time, but it is ready to enjoy in under an hour.  I have to say too, it is even better the next day if you let it all sit together overnight.  I love that this soup is loaded with good veggies!  Although I consider it essential for my soups to be mostly veggies.  I am not a fan of soups that are mostly completely broth, or just a cream base and pureed. I have to have chunky veggies in there!  This soup is so aromatic while it cooks, the scent of Italian herbs, basil, oregano, and rosemary fill the air along with sweet tomatoes and garlic.  I know some people hate garlic but I love it, and we all need it to stay healthy this time of the year.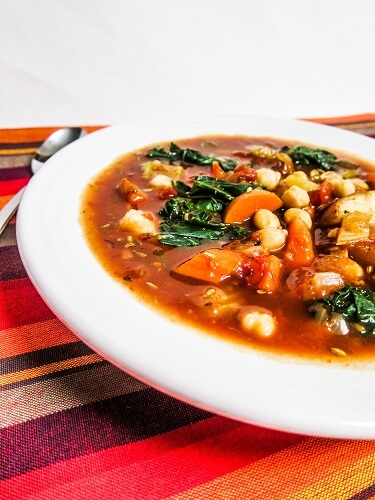 This soup always turns out super delicious.  Not only that, I love the heartiness of it, without it being heavy at all.  At the end, I even stirred in kale because I like to try to get greens with at least once of my meals every week.  And stirring them into your soup at the last minute when you pull it off the stove (so they don't get over cooked) is a great way to get a bunch in (since they wilt and you can fit more).  If you are in need of some healthy comfort food, give this a try!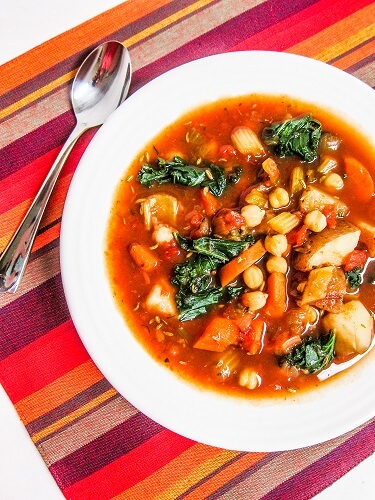 Tuscan Chickpea Vegetable Soup 
Serves 3-4
Ingredients:
1 tsp olive oil
1/4 cup diced red onion
2 stalks celery, sliced
2 large carrots, cut in half and sliced
2 garlic cloves, minced
1 tsp dried basil
1/2 tsp fennel seed
1 tsp dried oregano
1/4 tsp red pepper flakes
1/2 tsp sea salt
1 Tbsp balsamic vinegar
3 cups crushed canned tomatoes or fresh roasted*
2 cups flavorful vegetable stock
sea salt
3 cups diced potatoes
2 cups cooked chickpeas
2 cups fresh kale, torn into small pieces
Instructions:
Heat the olive oil in a medium pan.
Add onions, carrots and celery and sauté until tender.
Add the garlic, tomatoes, herbs, sea salt, pepper, vinegar, and filtered water.
Bring to a simmer, and allow to cook until the tomatoes are very soft and the flavor has melded, about 30 minutes.
Add the potatoes to the pot, and let cook for about 10-15 minutes.
When the potatoes are tender, stir in the chickpeas and kale until kale has just wilted.
Serve!
*To roast the tomatoes, cut them into 2 inch wedges, and spread them out on a parchment lined baking sheet.  Place in a 400F degree oven and roast for about 30-45 minutes until tender and starting to brown at the edges. Remove from oven and you are ready to use them in this recipe.
(Visited 522 times, 1 visits today)