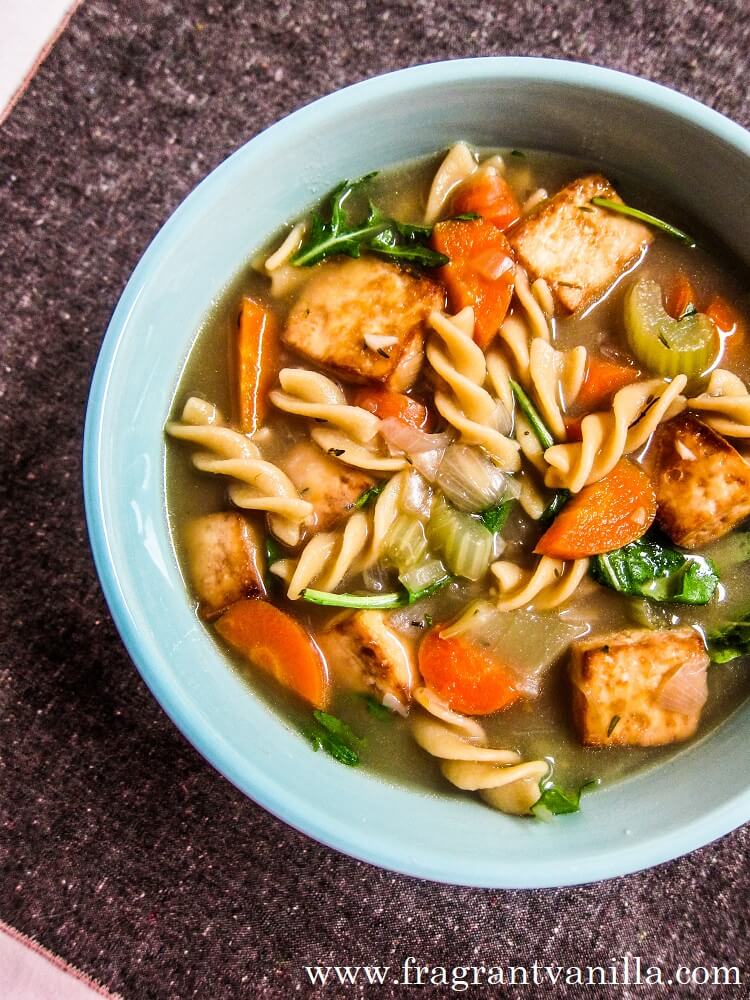 Tofu Vegetable Noodle Soup
I feel like everyone around me (including myself a few weeks ago) has been sick lately.  The cold and flu are going around like no other.  At least I just had a cold and it went away fairly quickly.  But others around me are not over it yet, and so I thought I would make some soup to share.  Because warm brothy soup and netti pots are your friend when you have a cold.  Of course the classic that my Grandma always made is chicken noodle, and I think that is the most popular thing that people buy at the store.  But this girl is vegan, and I think you can be just as healthy without chicken in your soup!  So, I made the classic, but my way.  Tofu vegetable noodle soup!  I was never a fan of chicken growing up anyhow, but I would have gladly eaten a bowl of tofu noodle.  To start off, I used a bunch of veggie scraps to make a flavorful stock for the soup.  It is important to start out with a flavorful base when your soup is going to be brothy.  Plus home made vegetable stock is healthier than store bought.  Many store bought brands have artificial flavors or sugar in them.  So, I make my own.  It is really easy and a good way to use veggie scraps.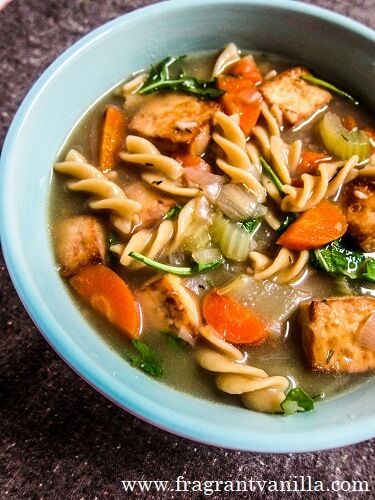 If you would like to make your own, you need about a cup of onion ends (or just 1 onion), about 2 cups of celery (or 3 stalks), about 1 cup green onion trimmings (or 1 bunch), and about 5 cloves of garlic, crushed.   Throw it all into a pot, cover with water, bring to a boil, then lower to a simmer and cook it slowly for at least 4 hours.  I make this at work a lot from scraps from my other dishes, which is why I say use onion butts etc.  But I know not everyone has that many left over if they have not been saving them in a bag in the freezer, so you can just use veggies that are not scraps if you wish.  Anyways, it made a great base for my soup.  I went with the classic carrots, celery, garlic and onions for my veggies, and my favorite Winter herb, thyme. It smelled amazing while it cooked on the stove!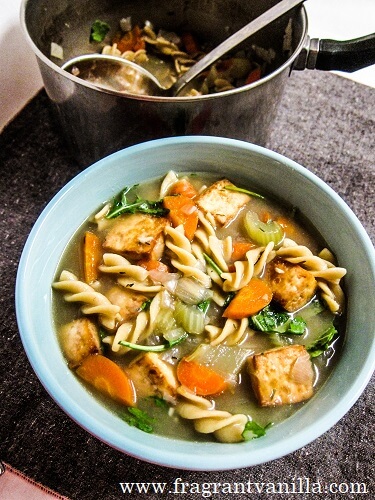 I added in some gluten free chickpea pasta for the noodles.  I know it is not traditional, but I love to add extra protein, and so gluten free bean noodles are a life saver!  I cooked my tofu in the oven and it was ready by the time the soup was ready.  Once it was added in and the soup came together, I could not wait to try it!  It was way better than any chicken noodle soup I ate as a child.  Rich with flavor, loaded with veggies and packed with protein.  So it was a win all around!  If you are feeling under the weather, give this soup a try!  The warm flavorful broth will definitely make you feel better!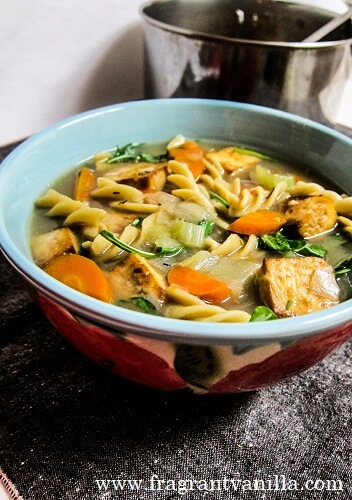 Tofu Vegetable Noodle Soup
Serves 2-3
Ingredients:
Tofu:
16 oz organic extra firm tofu, cut into cubes
3 Tbsp sesame oil
3 Tbsp tamari
Soup:
1 16 oz block 4 cups vegetable stock
3 celery stalks, sliced
1 small onion, diced
2 carrots, sliced
2 garlic cloves, minced
1/3 tsp sea salt or to taste
1/2 tsp dried thyme
4 oz Explore Asian chickpea fusilli or other bean based pasta
Directions:
Preheat the oven to 400F degrees.
Toss the tofu with 3 Tbsp sesame oil, and 3 Tbsp tamari in a bowl until the tofu is coated, and spread out on an oiled sheet pan.  Place in the oven, and bake until the tofu is starting to brown, and get crisp at the edges, about 45 minutes.  Set aside.
Meanwhile, to make the soup, combine the stalk, celery, onion, carrots, garlic, sea salt, and thyme in a pot and bring to a boil.  Lower to a simmer and cook for about 20 minutes until the veggies have softened, then add the pasta and continue to cook until it is tender, about 10 minutes more.
Add the tofu.  Remove from heat, and serve!
(Visited 1,162 times, 1 visits today)