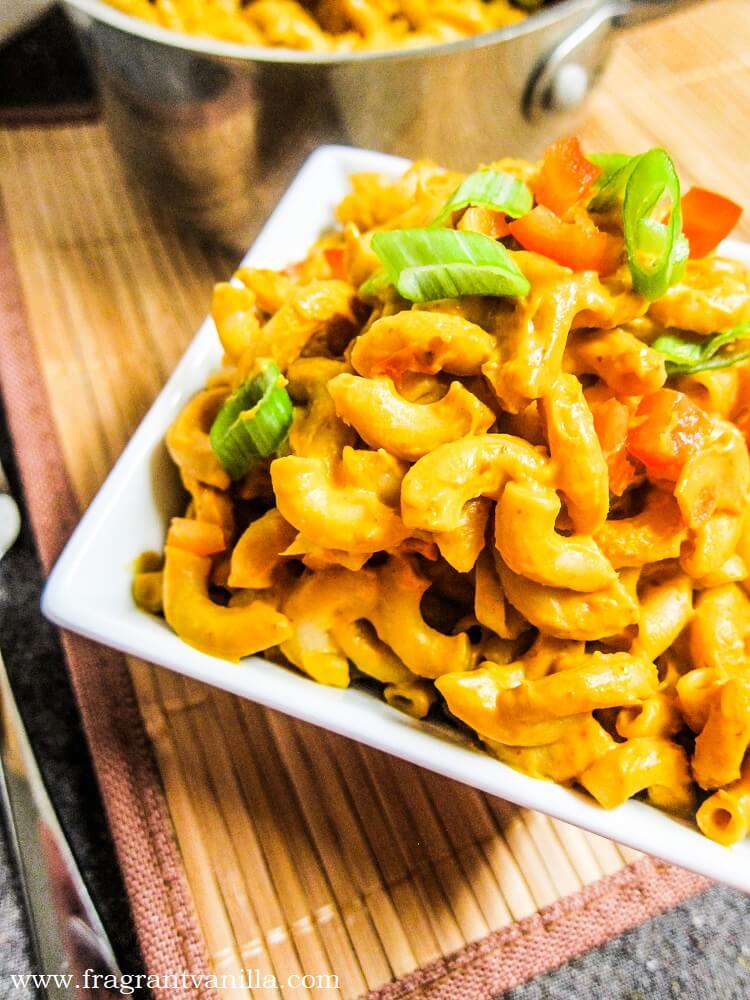 Thai Red Curry Vegan Mac and Cheese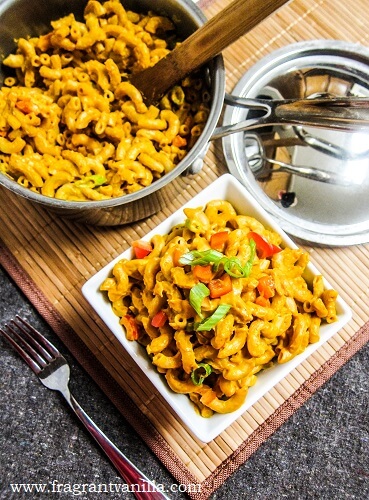 When Eric and I were at Twin Cities Veg Fest last Sunday, the Herbivorous Butcher food truck had some Thai Red Curry Mac and Cheese that sounded good, but we didn't get any because we had already spent our money.  It sounded good really though, good enough to inspire me to make my own at home.  I loved mac and cheese growing up, but after a while when I got older and started learning more about nutrition I realized that it really wasn't that good for me.  So I didn't eat any for a really long time.  That is until I became vegan.  I couldn't justify to myself eating that much cheese and refined flour (from the noodles) and no vegetables for dinner.  I guess I tended to go more unhealthy in the form of dessert if I wanted to indulge back then. But when I became vegan I discovered making mac and cheese with healthy things that I wanted to put into my body that would make it feel good.  The mac and cheese that I make now is loaded with veggies in the sauce!  Now don't let that deter you, you don't really notice that it is there, it just tastes good.  In fact, I pretty much nailed the mac and cheese my Mom made out of a box when I was little.  Yes, I liked that box stuff.  My secret ingredient for the sauce?  Sweet potatoes! Or sometimes butternut squash too!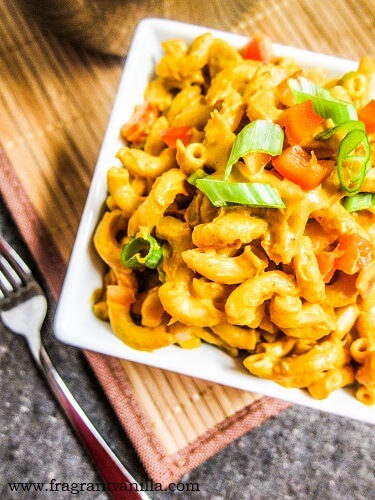 I always have sweet potatoes on hand anyhow, so I thought one day, why not use them to make a cheese sauce?  I had seen other people make it with potatoes and carrots and I have tried that and it wasn't my favorite but the sweet potatoes are perfect! I didn't want a completely fat free sauce because I still wanted the rich mouthfeel of actual cheese for my mac and cheese, so I added in some raw cashew butter.  That combo was a winner!  Of course I add in other seasonings as well, some of which may sound odd like the vinegar, miso and nutritional yeast, but just trust me on this one, it is delicious!  I made this batch with plenty of Thai red curry paste, and a bit of cayenne for a little kick, plus some green onions and red bell pepper for color.  The sauce was super delicious, like cheese but it didn't leave me feeling heavy or yucky after eating it.  Probably because I was getting a serving of veggies instead of just cheese like in non vegan mac and cheese.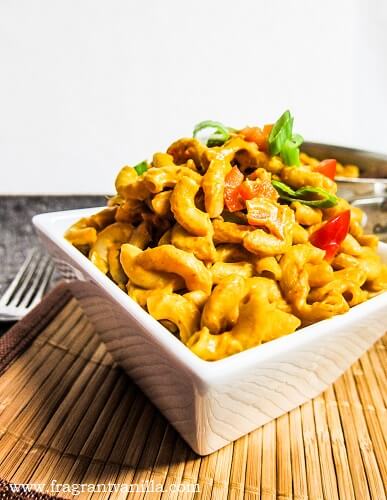 For the pasta I actually used a gluten free elbow pasta made from quinoa and brown rice.  It actually tastes just like traditional pasta too!  If you are looking for a healthier mac and cheese packed with flavor, give this one a try!  It is actually really quick and easy to make too so perfect for a weeknight when you are in need of some comfort food!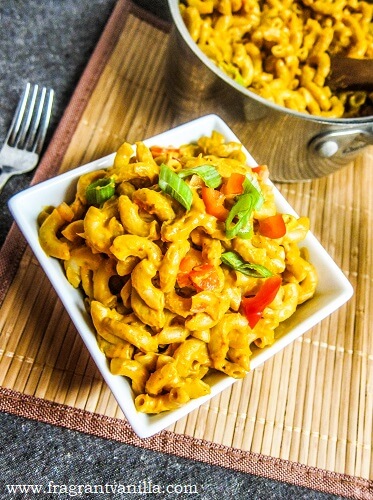 Thai Red Curry Vegan Mac and Cheese 
Serves 4
Ingredients:
2 1/2 cups mashed sweet potato*
1 cup hot filtered water (or as needed)
1/2 cup raw cashew butter
2 medium garlic cloves
1/4 cup Thai red curry paste
1 Tbsp apple cider vinegar
1 Tbsp white miso (optional)
1/4 cup plus 2 Tbsp nutritional yeast
1/8 tsp cayenne pepper
3/4 tsp sea salt (or to taste)
1 red bell pepper, cut into small dice
2 green onions, thinly sliced
Instructions:
Combine the sweet potato, water, cashew butter, garlic, Thai red curry paste, cider vinegar, miso, yeast, cayenne, and sea salt in a high speed blender and blend until smooth and the consistency of cheese (if it is too thick add a little more water).  Set aside.
Cook pasta according to package directions, drain, then place back in the pot, add the cheese, red peppers and green onions, and stir to coat.  Pour into a serving dish, and serve!
*To cook the sweet potatoes, I like to roast them in the oven.  Take a large sweet potato, poke a few holes in it, and cut in half lengthwise.  Place cut side down on a sheet pan lined with parchment and bake for about an hour at 400F degrees or until tender.  Remove from oven and let cool before mashing.
(Visited 213 times, 1 visits today)