Thai Red Curry Noodles
We sell vegan Thai peanut noodles at my work, and they just seem to fly off the shelf!  I feel like we are always making them.  For good reason, what's not to like about noodles in a creamy savory peanut butter sauce?!  Well, I have made similar ones at home for a while and they are always delicious.  Not only that, wallet friendly, and super fast to make as well!  In 20 minutes, you can be enjoying a comfort food dinner! Noodles are comforting, at least to me.  I recently made a variation on my peanut pasta, one using Thai red curry paste, and it was so good I had to share the recipe with you all.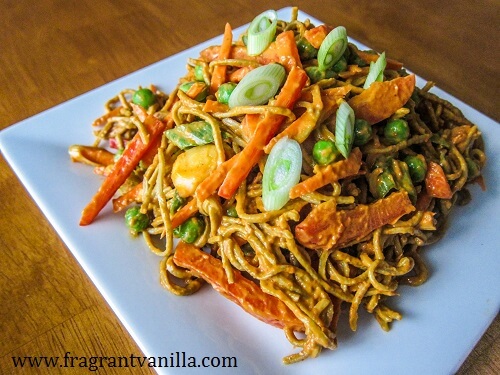 For most of my pasta recipes I use a bean based pasta because not only it it gluten free, but packs protein as well, so I don't have to worry about adding another protein source to the recipe.  My favorite is either a mung bean and edamame fettuccine or an edamame spaghetti. In this case I used the spaghetti because it was what I happened to have on hand.  That is usually how I cook, I look in the pantry and the fridge and figure out what would be good together!  For the sauce, I used a silky almond butter.  There used to be a raw pad thai recipe that I made, and the dressing was almond butter based and it was sooo good!  That is how I knew this would be too!
The sauce is pretty simple, just the nut butter, tamari, Thai red curry paste, water and garlic.  Just whisk together and voila!  A rich and delicious sauce!  It is also good on tofu by the way, which is how I first discovered it a few weeks ago when I was experimenting. Just toss the cooked pasta with some veggies, and this sauce and dinner is ready!  It is perfect for a weeknight when you don't want to mess with making anything time consuming or complicated, and it is satisfying.  Bookmark this for next time you need a quick and delicious dinner!  Or, if you are just making it for yourself like I did, save the other half for lunch the next day.  It is good chilled as well as warm.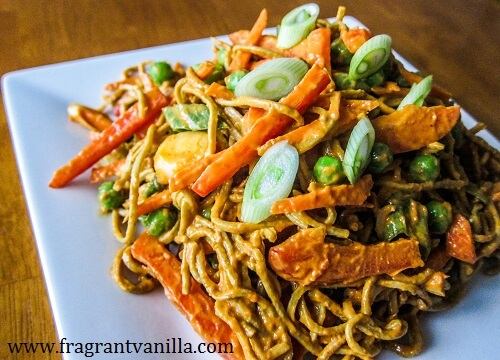 Thai Red Curry Noodles
Serves 2
Ingredients:
2 small organic carrots, cut julienne
1/2 cup fresh or frozen organic peas
2 scallions, sliced
Sauce:
1/2 cup almond butter
1 Tbsp Thai red curry paste
1 Tbsp tamari
1/3 cup filtered water (or as needed)
1 garlic clove, minced
Instructions:
Cook the pasta according to package directions.
Meanwhile, in a bowl combine the veggies, and when the pasta is done cooking add that as well.
Whisk together the sauce ingredients (if you want it thinner add a little more water), then toss with the pasta and veggies.
Enjoy!
(Visited 96 times, 1 visits today)