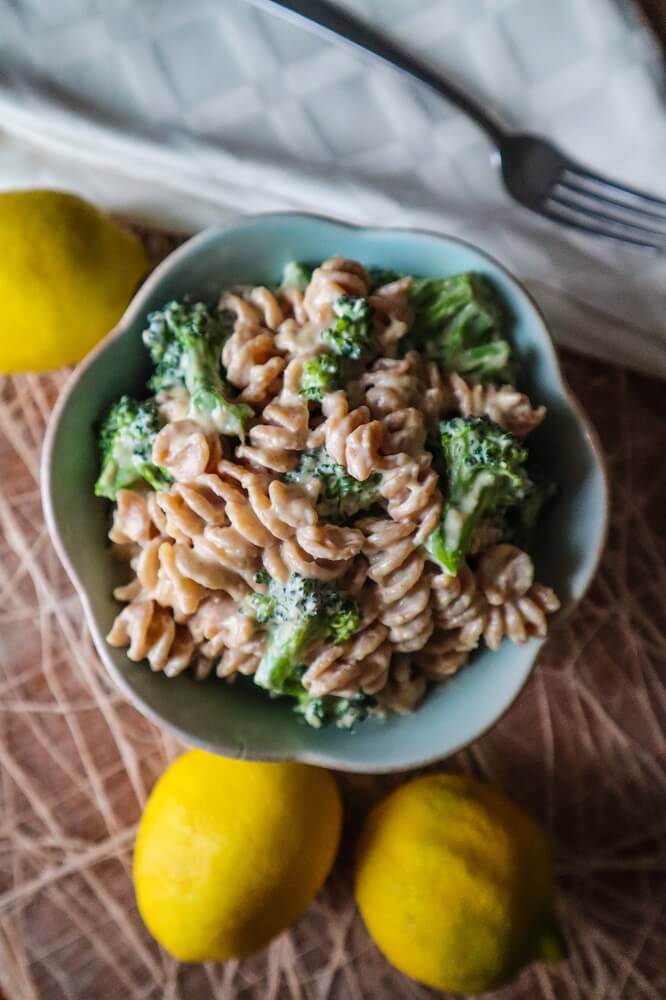 Tahini Lemon Broccoli Pasta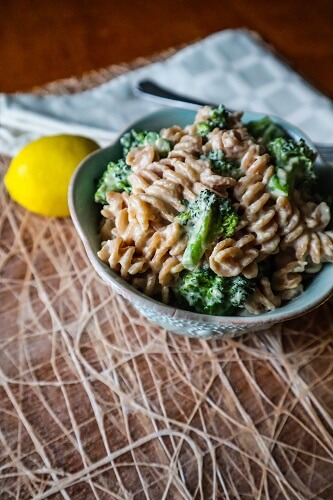 I know a lot of people are ordering takeout with the whole Coronavirus going on, but that hasn't been the case with me.  We usually do takeout instead of delivery if we are going to do something like that, but only for a special occasion like my Mom's birthday coming up, since we can't go out for it.  Otherwise on weekdays, and most of the time, after work I just prefer quick recipes.  I had a lovely jar of Dastony tahini on hand that Raw Guru had recently sent me, and I thought it would be perfect in a pasta recipe as a creamy sauce.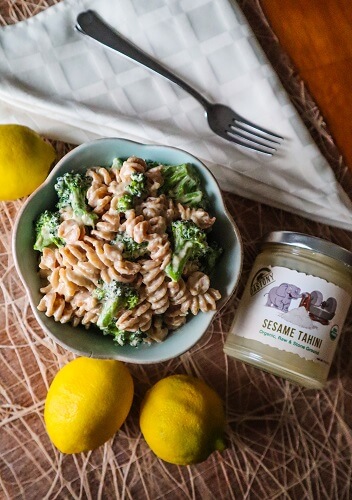 Most people think of using tahini in hummus, or maybe as a dressing, but it is good on pasta as well!  Kind of like the way thai peanut noodles are made with peanut butter (I love those too), but a nut free version with a different flavor.  I love tahini with a bit of lemon.  This local restaurant that my Mom and I used to go to when I was little had a tahini lemon salad dressing that we loved, so I use the combo often because I have not gotten sick of it in the last 20 years.  I had some whole wheat pasta on hand, as well as some broccoli, so I thought I would combine them with the tahini.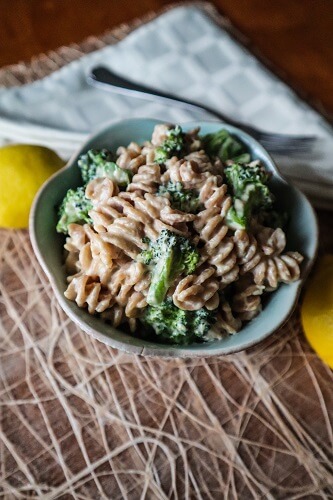 This is really simple to make!  While the pasta is boiling, you make the sauce, and then add the broccoli at the end of cooking, then toss with the sauce and dinner is ready!  I like simple recipes when I get off work, and this is about as simple as they come. I combined the tahini with a bit of lemon like I mentioned earlier, some garlic, a little cumin and some red pepper flakes and it was perfect!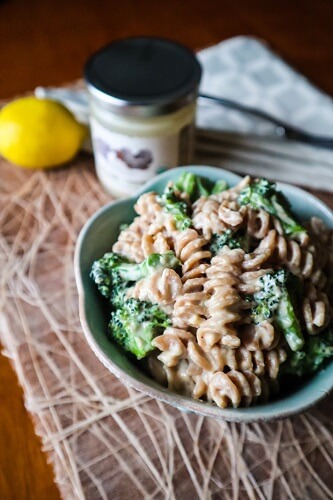 I love tahini, and this dish lets it shine!  It is super satisfying with the creamy sauce, substantial pasta and lightly cooked broccoli!  If you don't like broccoli, you could sub your favorite veggies. This would also be good with asparagus for spring!  I am going to try that when it comes into season!  I hope you are all staying well, and enjoying spring!
Tahini Lemon Broccoli Pasta
Serves 2-4
Pasta and Broccoli:
8 oz organic whole wheat fusilli pasta
2 medium heads organic broccoli, cut into flowrettes
Sauce:
1 cup Dastony tahini
1/3 cup lemon juice
1/2 cup filtered water (or as needed)
1 garlic clove, minced
1/2 tsp ground cumin
1/2 tsp sea salt
pinch red pepper flakes
Instructions:
Cook pasta according to directions in a pot of salted water.
While the pasta is cooking, whisk together the sauce.
When the pasta has about minute left to cook, add the broccoli, and cook until it is bright green and slightly tender, about a minute or two.
Drain, then place back in the pot and mix with the sauce.
Serve!
(Visited 950 times, 1 visits today)