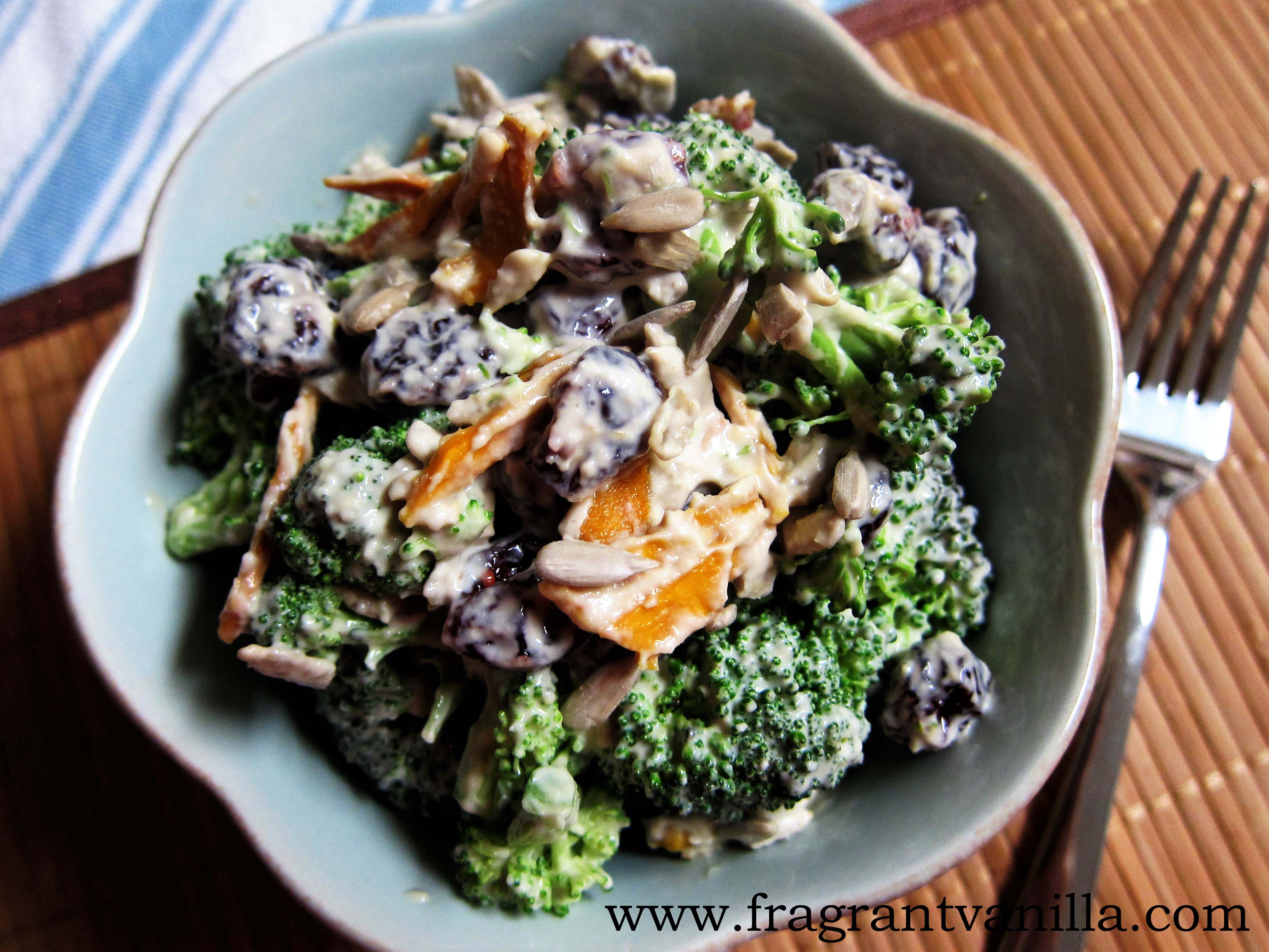 Tahini Broccoli Salad
My Mom brought me some broccoli, crasins and tahini, and asked me if I would make her a broccoli salad with it.  She was thinking, sort of like a twist on the classic broccoli salad that people make and take to picnics.  You know the one, with the bacon, mayo dressing, sunflower seeds, and raisins.  The one I jokingly call broccoli barf, because I am not a fan of  the animal products and loads of sugar used in it, I am a vegan after all.  We used to have it at our family get togethers when I was little and It was about on the level of jello salad with veggies in it for me (aka not a fan), I have always wondered where some of these combinations came from.  Or, what by definition is a salad?  It is not necessarily something healthy...as we all know.  I have never felt that meat belonged in a salad.  So, I was thrilled when my Mom asked me to make a healthy vegan version of this classic salad.  One that we would both enjoy and feel good about eating!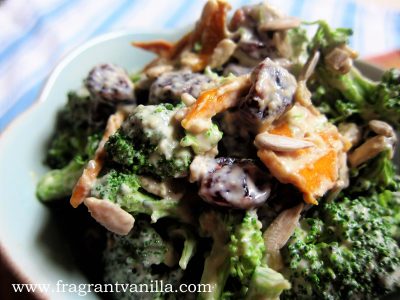 I love tahini dressing, and so does my Mom.  We used to order a salad at a local restaurant that had it on there when I was little, and now as an adult, I have enjoyed making my own version at home.  It is a simple classic tahini dressing, laced with lemon, a touch of cumin and garlic and it is so good, and so versatile.  It was really delicious on this salad.  It tastes rich, but it is just the delicious tahini!  The crasins swapped in for raisins was a great idea, they added a nice contrasting color to the broccoli and of course sweetness.  I also added in some dried mango for another sweet flavor, since the dressing was completely savory (unlike the classic broccoli salad which is super sweet).  And lastly, of course I had to add some sunflower seeds for crunch.  I have nothing against those.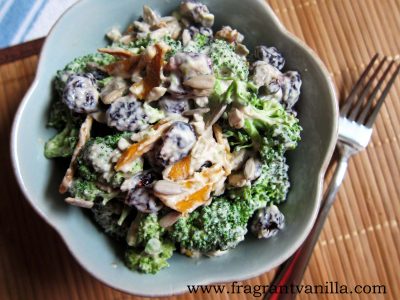 The salad was delicious! It was savory, with just enough sweetness coming from the dried fruit.  I am not a person who likes super sweet salads, and a little sweetness can go a long way for me.   I of course shared it with my Mom, who loved it as well, which meant a lot since she is my biggest food critic.  If you are looking for an easy and delicious salad to make ahead for lunches, or to share at a picnic, this would be awesome.  It doesn't spoil as fast as mayo salads would.  And of course, no need to tell your guests it is healthy and good for them.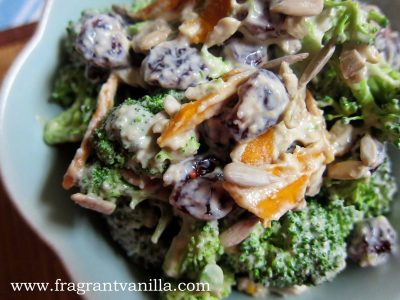 Tahini Broccoli Salad
Serves 3-4
4 medium sized heads broccoli, torn into bite sized pieces
1/2 cup sunflower seeds
1/2 cup unsweetened dried mango, sliced thinly
1/2 cup dried cranberries
1/2 cup tahini
1/3 cup filtered water
1/4 cup cider vinegar
1/2 tsp cumin
1 small garlic clove, minced
1/3 tsp sea salt or to taste
Place the broccoli flowrettes, sunflower seeds, mango, and cranberries in a bowl. Whisk together tahini, water, cider vinegar, cumin, garlic, and sea salt in a bowl (if it is too thick add a little more water, if too thin a little more tahini). Toss the dressing with the salad, and serve!
(Visited 236 times, 1 visits today)