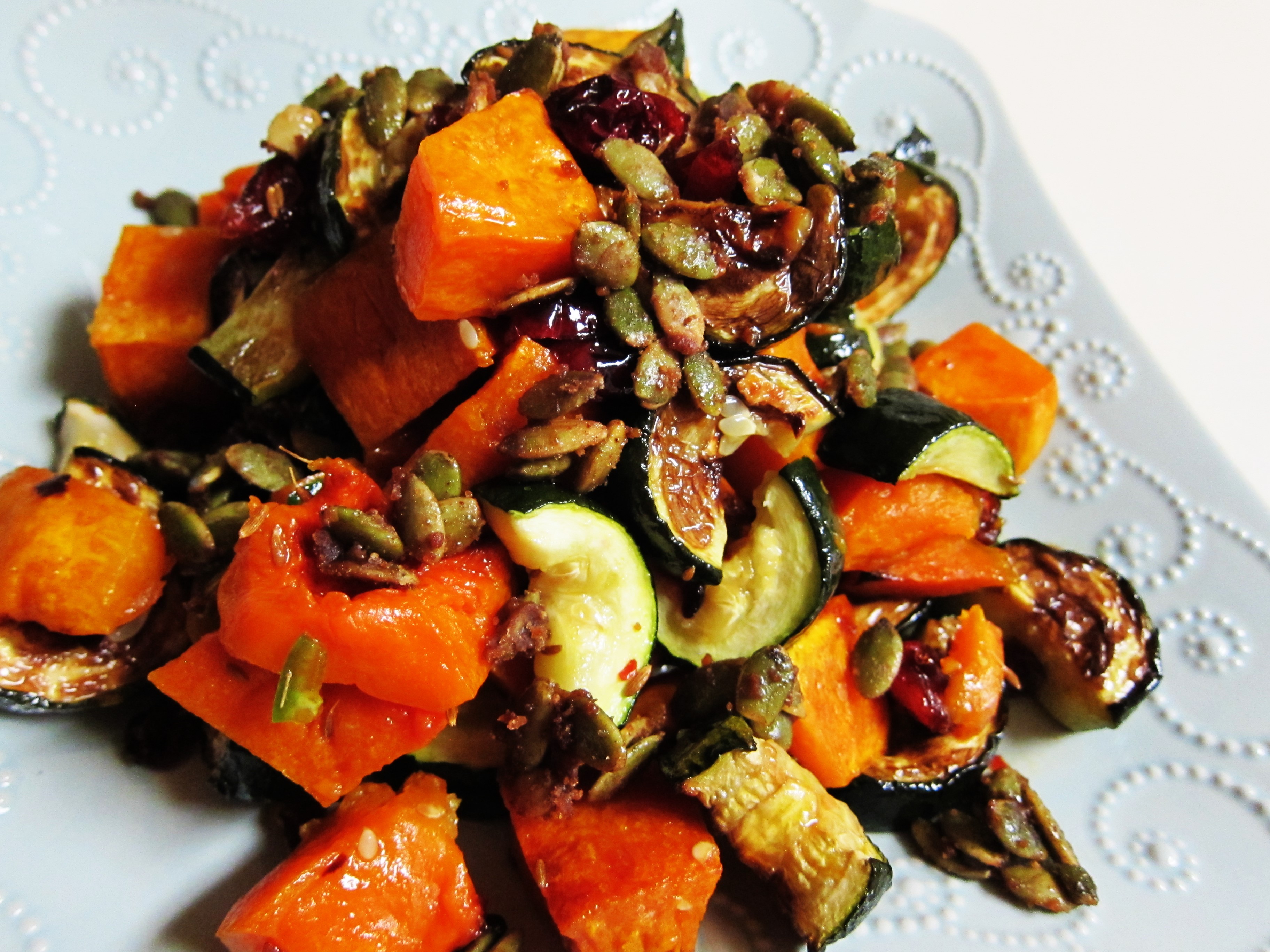 Sweet and Spicy Double Squash Salad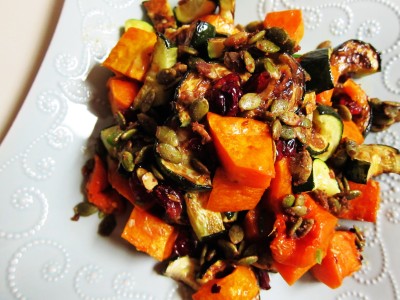 I can never get enough of squash when it comes into season. It is so good roasted especially, and butternut and buttercup are so sweet that they almost taste like dessert to me.  So I eat it about as much as I can while I can get the local varieties.  It is kind of addictive.  One year, when I was younger, my Mom said I had a squash tan, because I ate so much it tinted my skin a little orange.  I did not mind though.  I try to be a little more balanced with my veggies now, getting a variety of different ones, but if I had to pick one veggie this time of the year, it would be squash.  The other night, I decided I wanted to enjoy a simple squash salad for dinner, and it turned out so tasty that I decided I needed to share the recipe with you all.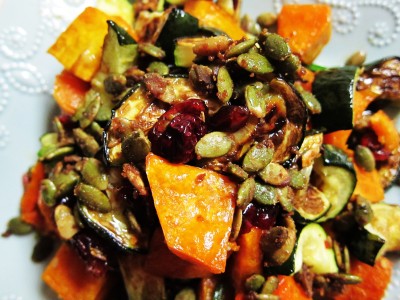 I actually had butternut squash and zucchini, so it ended up being a double squash salad!  I roasted them both to deliciousness, then tossed them with cranberries, a sweet and spicy dressing with jalapeno, maple syrup, citrus and toasted cumin.  lastly, I made some spiced pumpkin seeds to sprinkle over it all.  Was it ever delicious!  I served it with grilled tempeh on the side, and it made the perfect autumn dinner!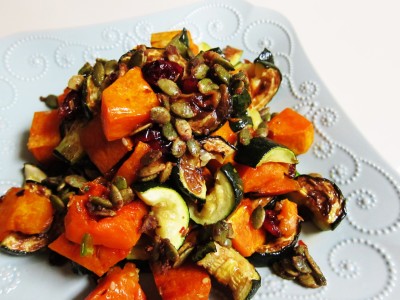 Serves 2-3
1 large (or 2 smaller) butternut squash, peeled, seeded and cubed
4 medium zucchini, cut into thick half moons
olive oil
sea salt
Spiced Pumpkin Seeds:
1/2 cup pumpkin seeds
1 Tbsp maple syrup
sea salt to taste
1/4 tsp cinnamon
1/8 tsp ground chipotle peppers
1 Tbsp coconut sugar
Dressing:
2 Tbsp lemon juice
1 Tbsp maple syrup
1 Tbsp olive oil
1 tsp toasted whole cumin seeds
1/4 tsp red pepper flakes
1/2 jalapeno, seeded and minced
sea salt to taste
1/2 cup cranberries
To prepare the squash, heat the oven to 400F degrees, and oil 2 sheet pans.  Toss the butternut squash with just enough olive oil to coat, and spread out on one of the sheet pans.  Do the same with the zucchini.  Place both in the oven and roast until the squash is tender.  About 20-30 minutes for the zucchini, and about 40-50 minutes for the squash (rotate the pans half way through).  Once they are done, let cool until just warm.
Meanwhile, to make the pumpkin seeds, add all ingredients but the sugar to a pan, and cook over medium heat until the seeds are toasted and the syrup starts to evaporate.  Add the coconut sugar and stir to coat. Remove from heat.
Whisk together dressing ingredients in a small bowl.
In a large bowl, combine the squash, the cranberries, and the pumpkin seeds, and toss together until well coated.  Serve!
(Visited 31 times, 1 visits today)