Summer Lentil Stuffed Pattypan Squash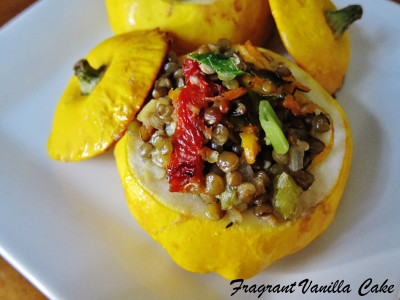 Pattypan or sunburst squash as they are also called, have to be one of the most adorable things ever!  I remember the first time I saw some at the store I had to buy them just because they were so cute, not knowing for sure how to prepare them.  Little did I know they can be used like zucchini.  They are sweet and delicious when sliced up and roasted in the oven with a little olive oil and sea salt.  Which is how I make them most of the time now.  But I decided to get a little fancy last week and stuff some.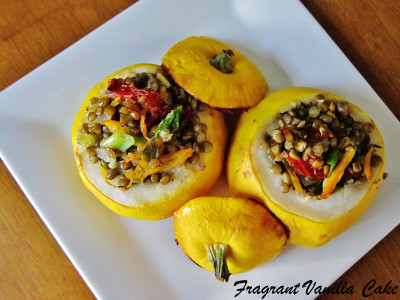 I wanted a protein rich filling, so I used French lentils along with sautéed veggies.  It was pretty simple, but so good, and I could have eaten a bowl of that filling by itself. I am obsessed with lentils lately though.  Nothing beats lentils as far as being cost effective and delicious when prepared properly. They are a staple in this girl's vegan diet!  Anyways, they made the perfect filling for the squash, and when it was roasted up all soft, sweet and delicious with the lentils inside...even better!  I had to share some with Eric and he enjoyed them too.  Sometimes I really wish I was able to have a garden and grow beautiful veggies like these!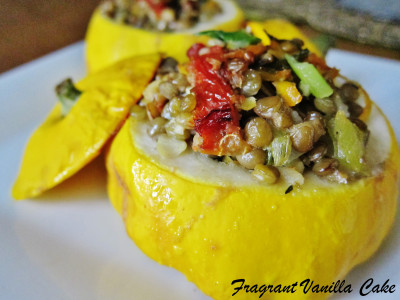 Summer Lentil Stuffed Pattypan Squash
Makes 4
1/2 cup French lentils
4 pattypan or sunburst squash
4 scallions, sliced
1 carrot, shredded
1/2 cup sun dried tomatoes, rehydrated and cut julienne
2 garlic cloves, minced
1/2 tsp dried thyme
2 tsp olive oil
sea salt to taste
Place the French lentils in a pot and cover with filtered water by a few inches. Bring to a boil, then lower to a simmer an cook for about 30 minutes until tender but not mushy.  Rinse and drain.
Meanwhile, to prepare the squash, slice the tops off, then scoop out the centers leaving 1/2 inch from the outside so you have a hollow cavity.  Set the shells aside, and chop the insides you have scooped out. Add them to a pan, along with the scallions, carrot, tomatoes, garlic and thyme. Add a few tsp olive oil and saute until they are all tender.  Once the lentils have finished cooking, stir them in as well and season to taste with sea salt.
Spoon the filling into the hollowed out squash shells, place on a baking sheet and drizzle with a little olive oil.  Cover with a piece of foil so they do not dry out, and cook at 400F degrees for about 45 minutes or until the squash is tender and heated through.
(Visited 1,502 times, 1 visits today)