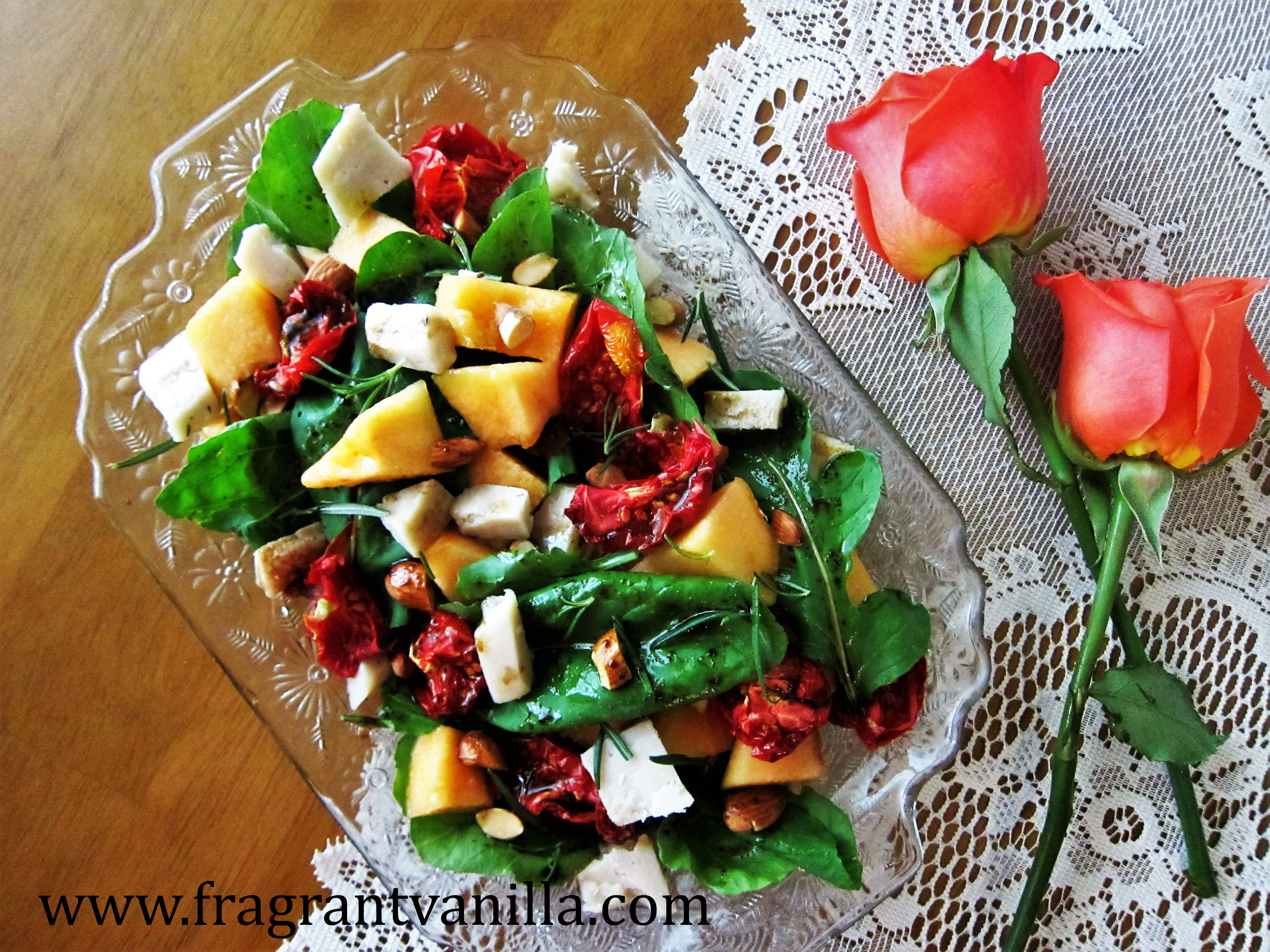 Summer Cantaloupe, Sun Dried Tomato and Macadamia Chevre Salad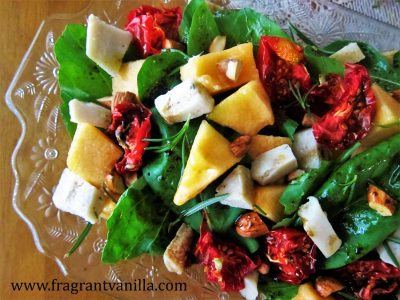 I once overheard a woman yelling at the produce guy at the grocery store because they did not have any arugula at the time.  She was mad because she wanted to make a recipe using it and nothing else would do.  I felt like telling her that she could improvise and use spinach, or maybe some dandelion if she still wanted that peppery flavor...but I decided not to get involved because she probably would not have listened.  She seemed like she was mostly complaining to complain.  But a valuable lesson could be taught here.  The ability to improvise when it comes to cooking is very important. There is usually something you can substitute  for another ingredient if it isn't available.  Also, never be rude to the produce guy, it isn't his fault that there is none of whatever you want available.  It is usually a problem with the supplier, or maybe it is out of season (I have seen that conversation as well).  Sometimes people don't realize that veggies and fruits have seasons.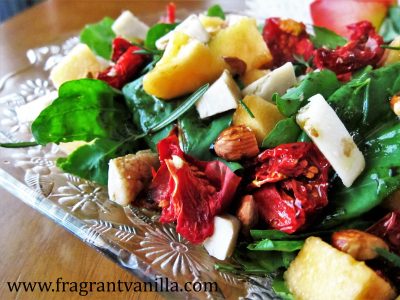 So about this improvising thing.  I feel I have it down pretty well.  Even improvising with what is in my fridge, and just cooking with that.  It helps save money too.  I always try to use what I have on hand first before going to the store and buying new stuff.  I did that last night, when I made a salad whose ingredients might seem random, but they were so good together!  I had some arugula from the farmer's market, some sun dried tomatoes, I had just made with tomatoes from my Grandpa's garden, and a ripe cantaloupe waiting to be cut up.  I decided to use them together in the salad along with some nut chevre, toasted almonds and fresh rosemary.  I tossed it all in a very simple balsamic vinaigrette and it was delicious!  It pays to raid the fridge sometimes!  I definitely recommend trying this if you have a ripe cantaloupe!
Summer Cantaloupe, Sun Dried Tomato and Macadamia Chevre Salad
Serves 2
Macadamia Chevre:
2 cups raw macadamia nuts, soaked for 4 hours, and drained
1/4 cup filtered water
1 Tbsp lemon juice
1/2 tsp sea salt (or to taste)
1/3 cup raw coconut butter, warmed to liquid
Dressing:
2 Tbsp balsamic vinegar*
2 Tbsp olive oil
sea salt to taste
Salad:
1 bunch organic arugula
2 cups diced organic cantalope
1/2 cup organic sun-dried tomatoes*, rehydrated if too tough (soak them in filtered water for 30 minutes and drain before using.
1/2 cup toasted almonds
about 1 Tbsp fresh rosemary broken into pieces
Directions:
For the chevre, in a high speed blender combine the soaked macadamias, filtered water, lemon juice, salt and coconut butter and blend until smooth. Pour into a bowl, place in the freezer for about 10-15 minutes until it is easier to work with, then scrape onto a piece of plastic wrap, and shape into a wheel while wrapping tightly. Place in the refrigerator until firm, a few hours. Store cheese in the refrigerator.  You will only need about 1/4 of this cheese for the recipe, so crumble that into pieces and set aside, and save the remaining other cheese for another use (it does freeze well when wrapped tightly or in a container).
For the dressing, whisk together all ingredients until smooth and set aside.
To assemble the salad, toss the arugula, cantaloupe, and tomatoes with the dressing, then place on a serving plate.  Scatter the almonds, crumbled chevre, and rosemary over it and serve!
*I made my own sun dried tomatoes by cutting them into wedges, and dehydrating them at 115F degrees for 24 hours.
*If you want this to be truly raw, swap out the balsamic vinegar for cider vinegar or lemon juice.
(Visited 26 times, 1 visits today)