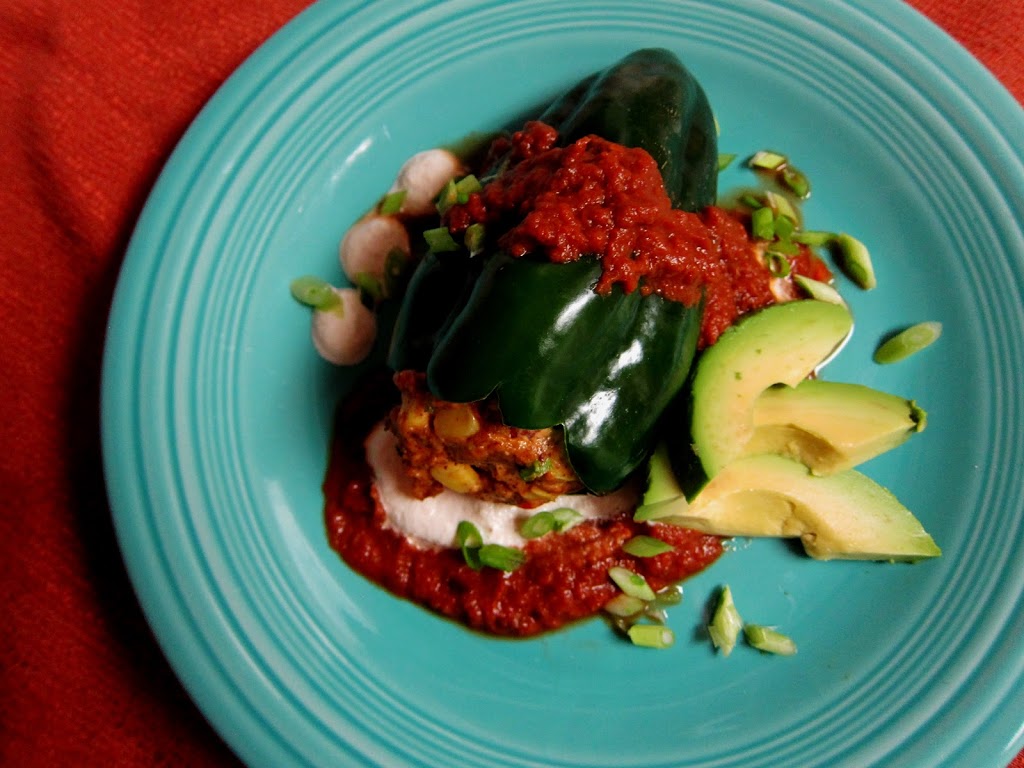 Stuffed Poblanos with Mole Sauce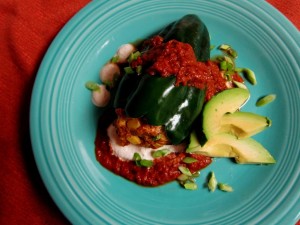 I am obsessed with Mexican food lately.  Anything with chilies, bell peppers and corn and I am making it.  Kind of funny since I live in Minnesota and we are known for having bland pallates. Not this Minnesotan.  I make a huge jar of habanero sauce every two weeks because it is an essential item.  Last Saturday, I had gotten my hands on some poblano peppers and I was quite excited to make something delicious out of them. I know a lot of people actually stuff them, but I never had, so I decided to give it a go.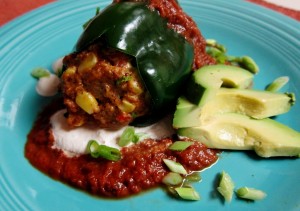 I created a hearty filling from walnuts with lots of veggies and spice and it was perfect!  I thought it deserved to be served with a delicious mole sauce and some raw sour cream, so I got to work creating those as well.  They turned out even better than I thought, and I decided that I need to be getting my hands on more poblanos soon.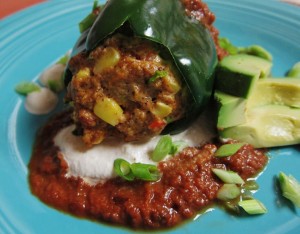 Stuffed Poblanos with Mole Sauce
Serves 4
Filling:
1 cup raw walnuts, soaked and dried
1/4 cup nutritional yeast
6 crimini mushrooms
1 clove garlic
1 tsp dried cumin
1 tsp chili powder
sea salt to taste
1 bunch scallions, sliced
1 organic red bell, diced small
1/2 jalapeno, seeded and minced
1 cup fresh corn
2 Tbsp minced cilantro
4 fresh organic poblano peppers, seeds and tops removed
Mole Sauce:
1/2 cup dried tomatoes, soaked for at least 30 minutes, and drained
2 chipotle peppers, soaked for at least 30 minutes and drained
2 tsp raw cacao powder
1/4 tsp cinnamon
1 clove garlic
3 medjool dates, pitted
1 Tbsp raw almond butter
sea salt
1 Tbsp cider vinegar
filtered water as needed
Raw Sour Cream:
1/2 cup young coconut meat
1/4 cup raw cashews, soaked and drained
2 Tbsp olive oil
1 Tbsp lemon juice
1/4 tsp sea salt
filtered water as needed
Sliceed avocado (optional) for serving
hot sauce to serve, optional
To make filling, combine walnuts and yeast in the food processor and process until finely chopped.  Add mushrooms, garlic, cumin, chili powder and sea salt, and process until well combined and mushrooms are finely chopped.  Remove from processor, place in a bowl and add scallions, bell pepper, jalapeno, corn and cilantro and stir in until well combined.  Stuff mixture into the 4 peppers, place in the dehydrator and dehydrate for 4-6 hours until the peppers have softened.
Meanwhile, to make the mole sauce, combine all ingredients in the food processor with 1/4 cup water and process until smooth, adding more water as needed to achieve a sauce consistency.  Set aside.
To make the sour cream, combine all ingredients except filtered water in the food processor and process until smooth.  Add a little water at a time to achieve a sour cream like consistency.  Set aside in the fridge until the peppers are done.
To serve, spoon a bit of the mole sauce onto each plate, then a little of the sour cream.  Place a pepper on each plate, then spoon a bit more of the mole sauce over.  Garnish with sliced avocado, and serve with hot sauce if desired!
(Visited 37 times, 1 visits today)