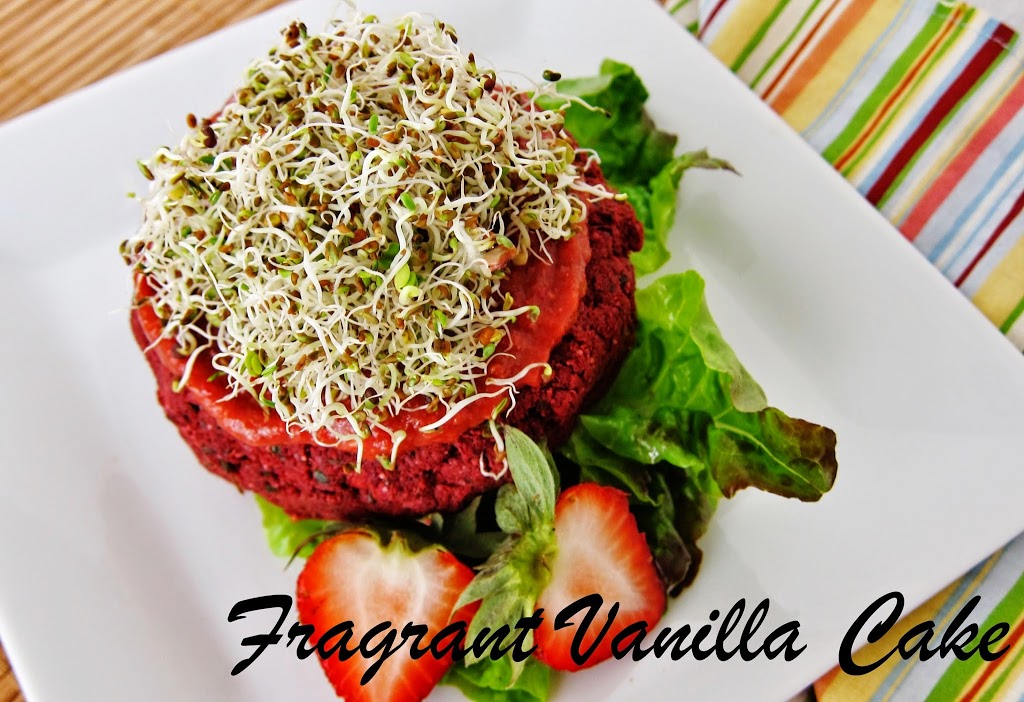 Spring Veggie Burgers with Spicy Strawberry Ketchup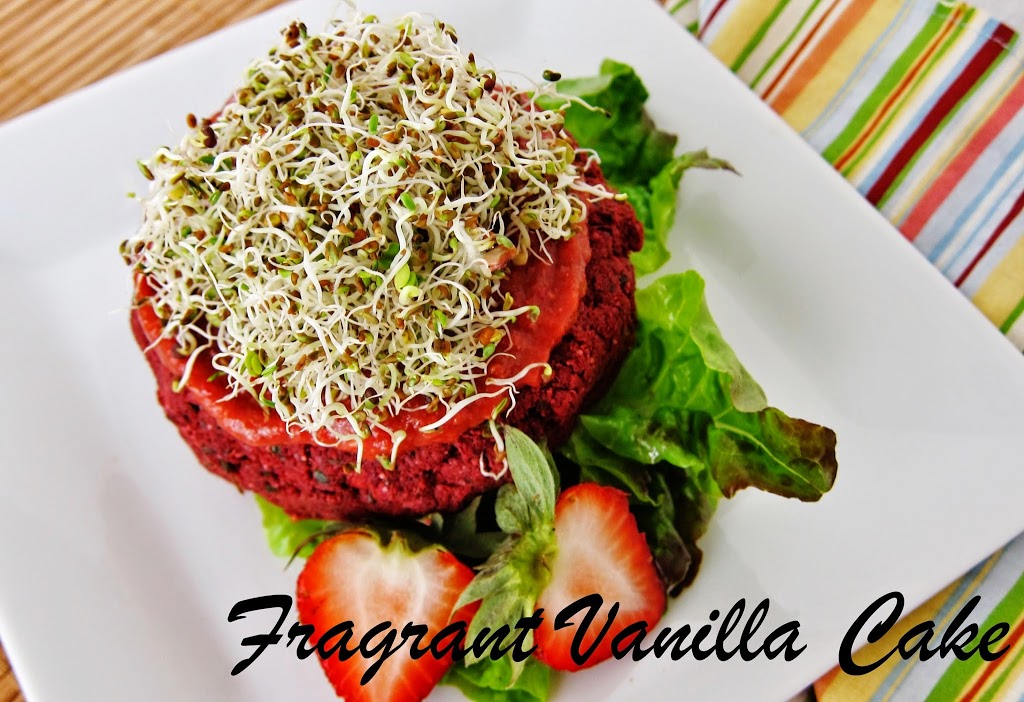 Making use of my veggie pulp from juicing, I made some incredibly delicious veggie burgers last week. I have to say too, it was nice to not have to sit and grate veggies, since the juicer had done it for me. I used beet and carrot this time, since that happened to be what I had made and it was delicious as a base for the hearty burgers! Since they were mostly fiber being pulp, I decided to add in some kale for more nutrients and fresh herbs for flavor. Hemp and sunflower seeds gave them a bit more heft.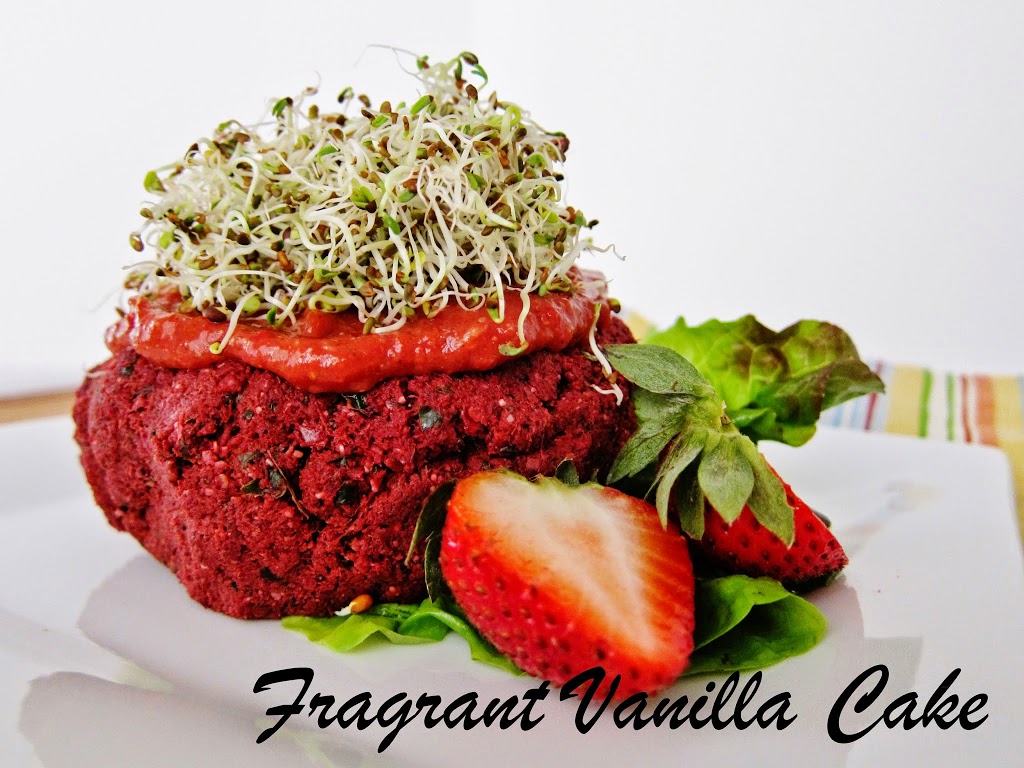 I decided that they needed an amazing ketchup. I am not sure why since I do not like traditional ketchup being a mustard girl, but I wanted a ketchup. With fruit in it. Specifically sweet strawberries. It was the most delicious ketchup I have had and it went perfectly with the burgers! I topped them off with sprouts and I was a happy camper!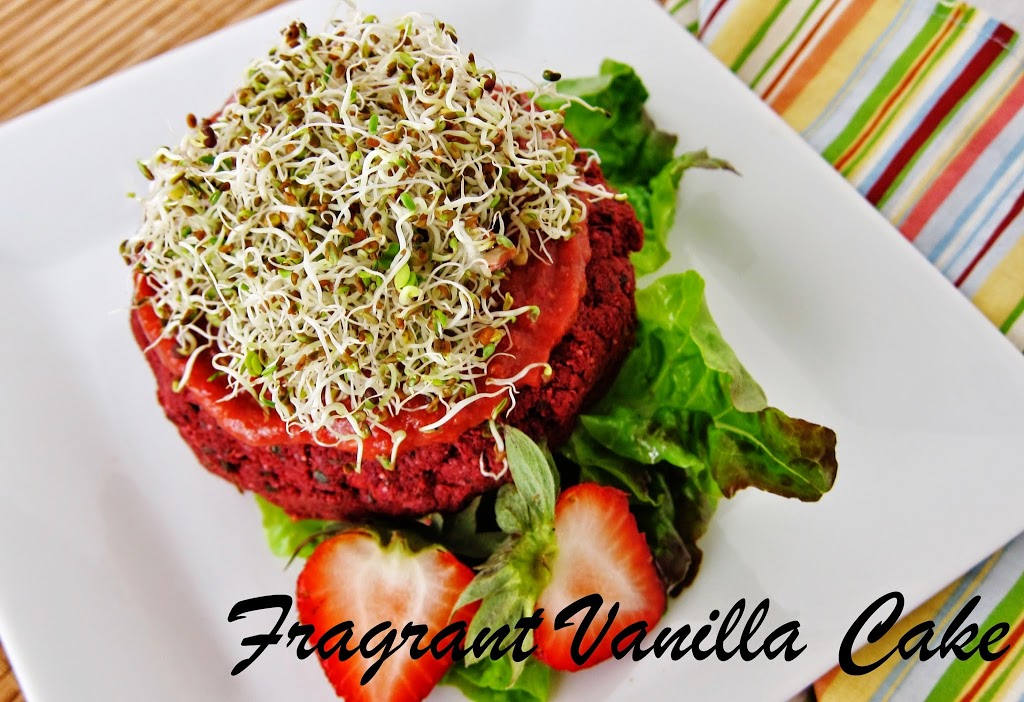 Spring Veggie Burgers with Spicy Strawberry Ketchup
Makes 2
Burgers:
2 1/2 cups beet and carrot pulp (or if you have another pulp you think would be good)
1 small bunch kale, chopped
1/4 cup raw, shelled hemp seeds
1/4 cup raw sunflower seeds
1/4 cup ground flaxseed
1 Tbsp nutritional yeast (optional)
2 Tbsp fresh thyme
2 Tbsp fresh marjoram
1 Tbsp nutritional yeast (optional)
1 Tbsp miso
1/4 tsp sea salt
Ketchup:
1 cup strawberries
2 sun dried tomatoes, soaked in water until soft and drained
1/4 cup orange juice
1/4-1/2 tsp chipotle powder (depending on how hot you want it)
1/2 tsp thyme
sea salt to taste
radish sprouts and lettuce to serve
For the burgers, combine all ingredients in the food processor and process until smooth and well combined. Shape into 2 burgers, and place on a lined dehydrator sheet. Dry for about 4 hours or until desired consistency.
Meanwhile, to make the ketchup, combine all ingredients in a high speed blender and blend until smooth.
Serve the burgers on the lettuce topped with the ketchup and sprouts (or however you like your burgers).
(Visited 162 times, 1 visits today)