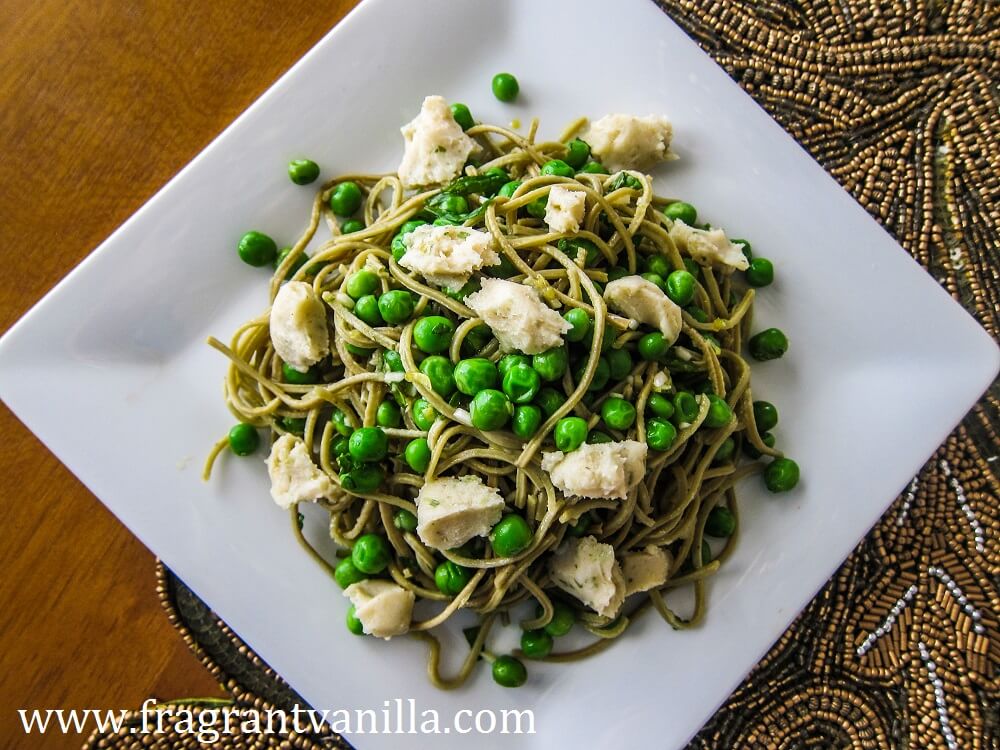 Spring Minted Pea Pasta and Vegan Garlic Chive Cheese
Before I went vegan I thought that Boursin cheese was some pretty delicious stuff.  If you have never heard of it, it is a spreadable, soft cheese filled with lots of garlic, and some herbs. It is versatile stuff.  It can be spread on crackers or used like a cream cheese, or stirred into hot pasta for a creamy sauce, or stuffed into things to be baked.  Anything with garlic and cheese always got my attention.  I saw a commercial for it recently and I thought to myself, why not veganize it?!  I could use it for the same types of things, and I have made lots of delicious nut cheeses in the past, so I knew it would turn out.  Plus, I had been looking for an excuse to make more cheese.  So, I gave it a go!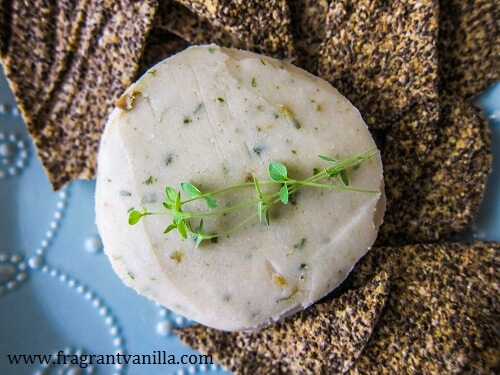 I used a mixed cashew and macadamia nut base for mine, but of course you can use either of the nuts and it will be amazing. This is my go to vegan cheese base.  I added in some lemon juice for tang, sea salt, and of course the all important garlic, chives and parsley with a touch of white pepper.  It was a delicious mixture even before chilled, and I could not stop sampling it.  Once it was chilled and shaped into classic little rounds I could not wait to try it!  It was even more delicious once the flavors had melded (I had let mine sit overnight), and I could not wait to use it in some dishes!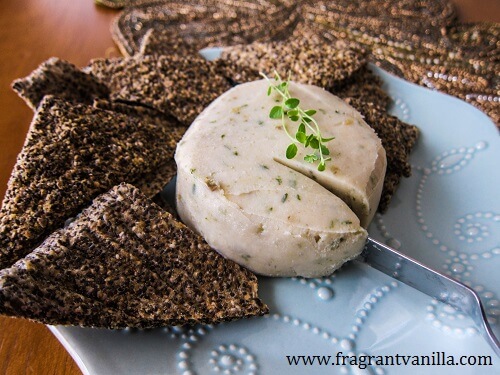 First, I decided to make a Spring pasta.  I used an edamame pasta which is gluten free, and packed with protein.  Win win all around.  Plus it is a lovely green color!  I added in some peas, greens, lemon and olive oil with a little sea salt.  Topped off with the cheese it was simply yummalicious!  Sometimes simplest is best when it comes to dinners. This came together quick and it was just what I wanted. I am sure you can think of a lot of delicious uses for the Vegan Garlic Chive Cheese too!  So, next time you are craving cheese, give it a try!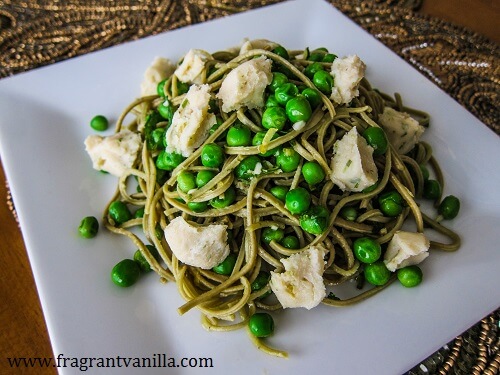 Vegan Garlic Chive Cheese
Serves 10
2 cups raw cashews (or raw macadamia nuts), soaked for 4 hours, and drained
1/4 cup filtered water
1 Tbsp lemon juice
1/2 tsp sea salt (or to taste)
1/3 cup raw coconut butter, warmed to liquid
1 Tbsp dried chives or 2 Tbsp chopped fresh chives
2 tsp dried parsley, or 1 Tbsp fresh parsley
2 garlic cloves, minced
1/8 tsp white pepper
Instructions:
In a high speed blender combine the soaked cashews, filtered water, lemon juice, salt and coconut butter and blend until smooth.
Pour into a bowl, stir in the chives, parsley, garlic, and pepper and place in the freezer for about 10-15 minutes until it is easier to work with, then scrape onto 2 pieces of plastic wrap, and shape into small wheels while wrapping tightly.
Place in the refrigerator until firm, a few hours. Then enjoy!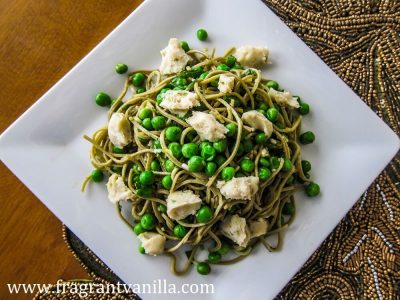 Spring Minted Pea Pasta
Serves 2
Ingredients:
1 cup fresh or frozen organic peas
3 Tbsp fresh mint, chopped
2 Tbsp lemon juice
zest of one lemon
1 Tbsp olive oil
sea salt to taste
1 round Vegan Garlic Chive Chevre
Instructions:
Cook the pasta according to package directions.
Once the pasta has finished cooking, drain it, allow it to cool for a few minutes, and toss it together with the peas and all other remaining ingredients.  Serve! Please note the chevre melts and turns creamy as the pasta sits depending on how hot it is, turning into a delicious sauce.  If you do not want it to melt, serve the pasta at room temperature (allowing it to cool completely).
(Visited 79 times, 1 visits today)