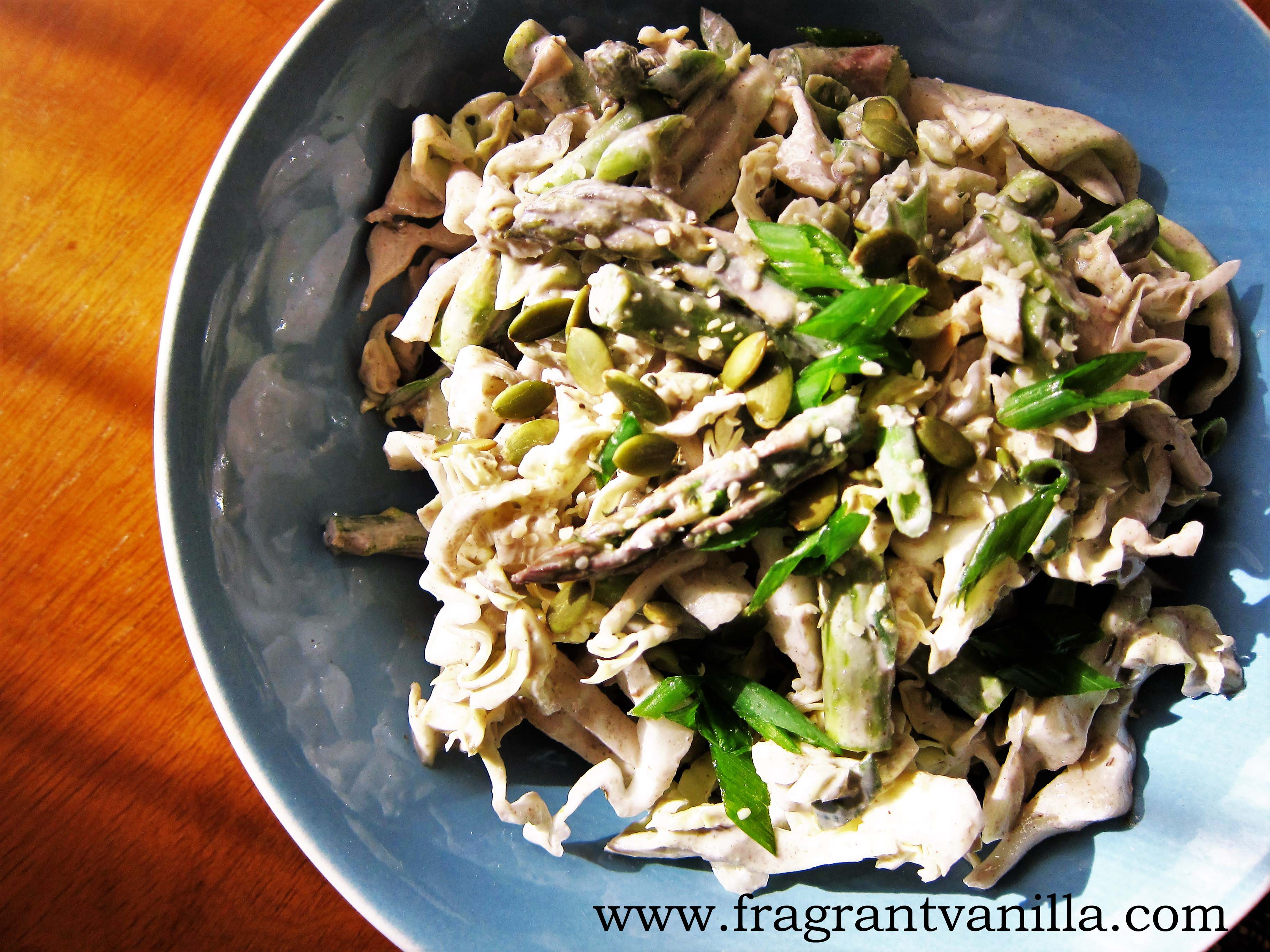 Spring Asparagus Slaw
I had leftover asparagus because I ended up buying more than I needed for an Easter pasta dish I made, so I thought I would make another meal with it.  I am pretty excited that asparagus is available again, so I don't mind having it a few times in a row. I had made a creamy pasta dish with the first of it, so I thought I would make a lighter raw dish for the last of it.  I ended up making a simple Spring Asparagus Slaw.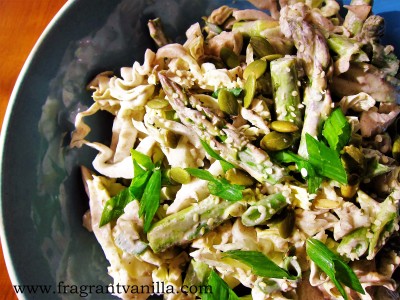 I eat slaw a lot for lunch, and turns out this was perfect for that!  I kept it simple, just asparagus, cabbage, and green onions with hemp seeds and pumpkin seeds for protein, and a creamy oil free dressing with a pumpkin seed walnut butter base.  I have pumpkin seed walnut butter on hand for just this purpose (making dressing), because it is the base for another favorite dressing I make.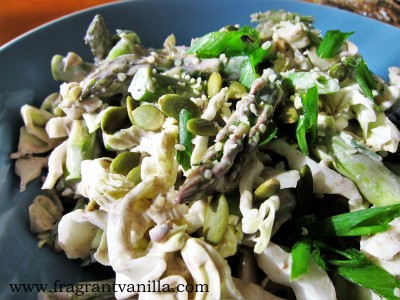 It tasted delicious!  Bright from the lemon juice I had used in the dressing, crunchy, and savory. Perfect for lunch with some grilled tempeh!  I am so happy that Spring is now here and I can have things like fresh asparagus.  I was getting a bit sick of all of the Winter produce.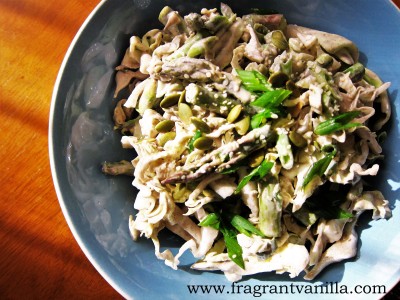 Spring Asparagus Slaw
Serves 2-3
Dressing:
1/2 cup raw pumpkin seed walnut butter*
1/4 cup plus 2 Tbsp lemon juice
2 Tbsp apple cider vinegar
2 Tbsp filtered water or as needed
1 Tbsp plus 1 tsp raw coconut nectar
sea salt to taste
Veggies:
1/2 large head green cabbage, shredded
2 cups asparagus, cut into 1 inch pieces
3 green onions, sliced
1/4 cup raw shelled hemp seeds
2 Tbsp raw pumpkin seeds
Whisk together dressing ingredients until smooth. Add the veggies to a bowl, and toss with the dressing, hemp seeds, and pumpkin seeds. Serve!
*To make raw pumpkin seed walnut butter, add 2 cups raw walnuts, and 2 cups raw pumpkin seeds to a high speed blender, along with 1/2 tsp sea salt. Blend until smooth at high speed, using the tamper to press the nuts down into the blades. Store in a jar in the refrigerator. If you do not wish to make this butter, you may use just walnut butter or raw almond butter in the recipe instead.
(Visited 36 times, 1 visits today)