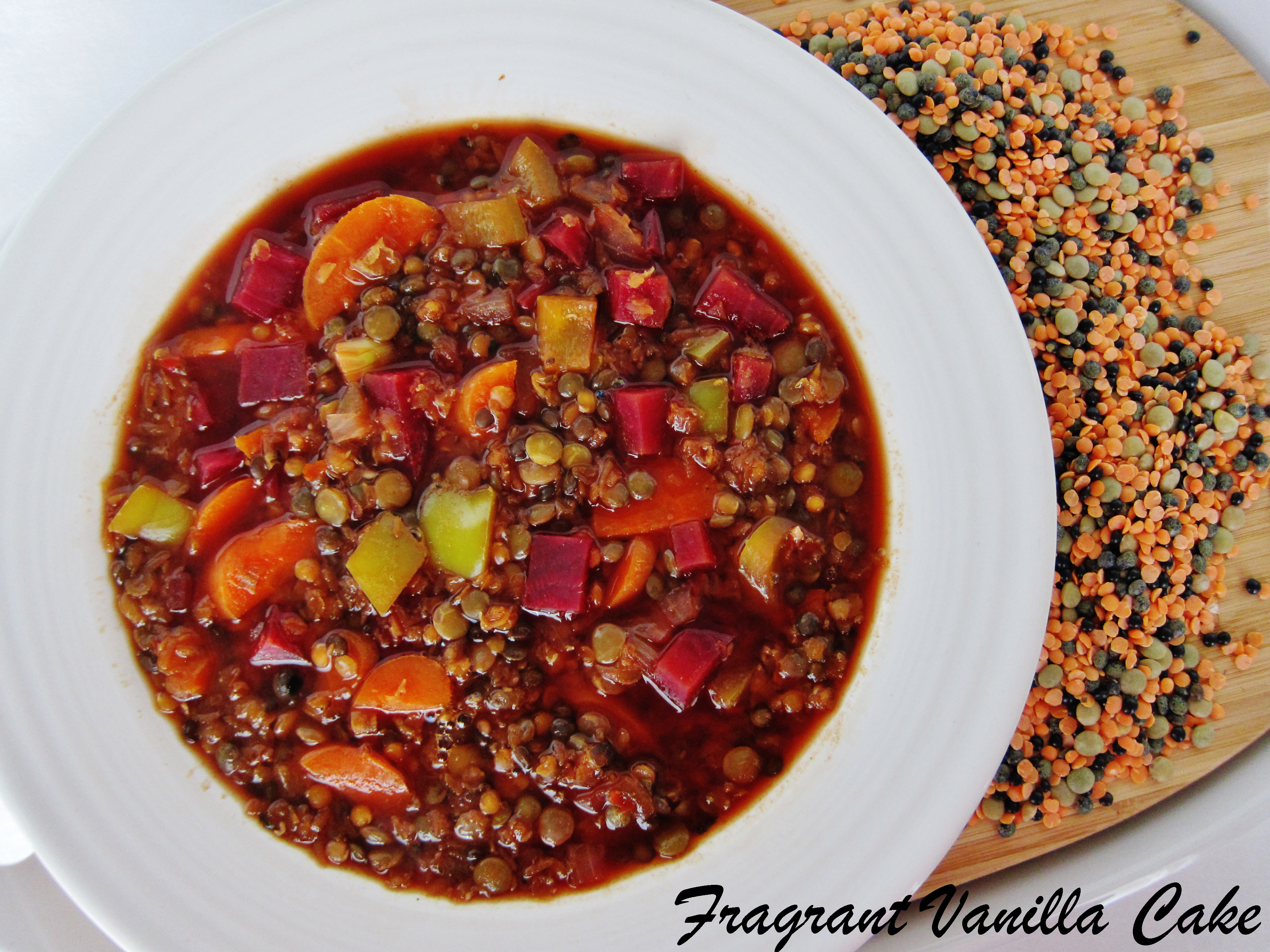 Spicy Simple Veggie Lentil Soup
I am trying to teach my Man the habit of healthy eating, showing him recipes that are delicious, easy to make and simple, so that he can make them for himself during the week when he is not working.  Things using staples like lentils for protein that require little cooking time compared to beans.  I made this simple veggie lentil soup just for him, to show him that even with only a few things you can have a delicious meal.  I know he would rather me just cook for him, but I am not always there, and nothing is sexier than a Man who can cook for himself right?!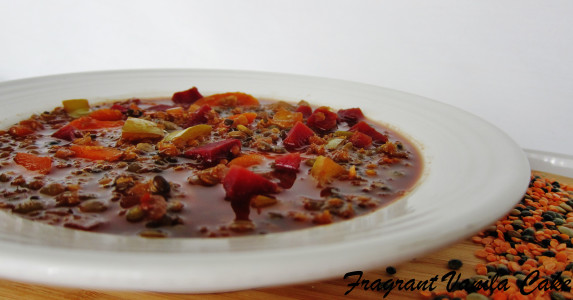 I have an organic lentil mix with beluga, red and green and it is wonderful in soups or stews so I thought this was just the soup to use it in.  I combined it with beet, carrot, celery, bell pepper and garlic, keeping it simple then added in some spice Mexican style. Although Eric likes his food smoking hot and spicy, I kept this just spicy enough so you could taste the other flavors. It ended up being delicious, and he loved it as well.  A total of 20 minutes cooking time is all you need here.  No sautéing necessary, this is a low fat dish as well if you are into that.  All that mattered to me is it was tasty and we both liked it and that is exactly how it turned out!  I thought I would share it with you all in case you need to make a quick hearty and tasty dinner sometime too.  Feel free to use the veggies you have on hand, tomatoes or sweet potatoes would be good in here as well.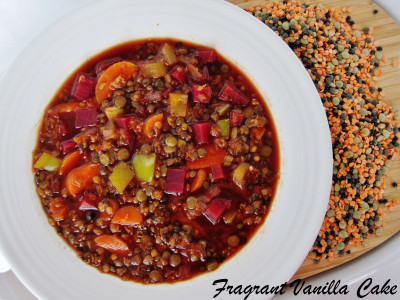 Spicy Simple Veggie Lentil Soup
Serves 3
1 cup mixed lentils (I used a mix of beluga, red, and green)
4 cups filtered water
2 garlic cloves, minced
1 medium beet, diced small
2 carrots, sliced
2 stalks celery, sliced
1 bell pepper, diced
1/4 tsp ground chipotle powder
1/2 tsp red pepper flakes
1 tsp chili powder
1 tsp ground cumin
1/2 tsp sea salt or to taste
Combine all ingredients in a medium saucepan, and bring to a boil.  Lower to a simmer and cook for about 15-20 minutes until the veggies and lentils are tender.  Serve warm.
(Visited 49 times, 1 visits today)