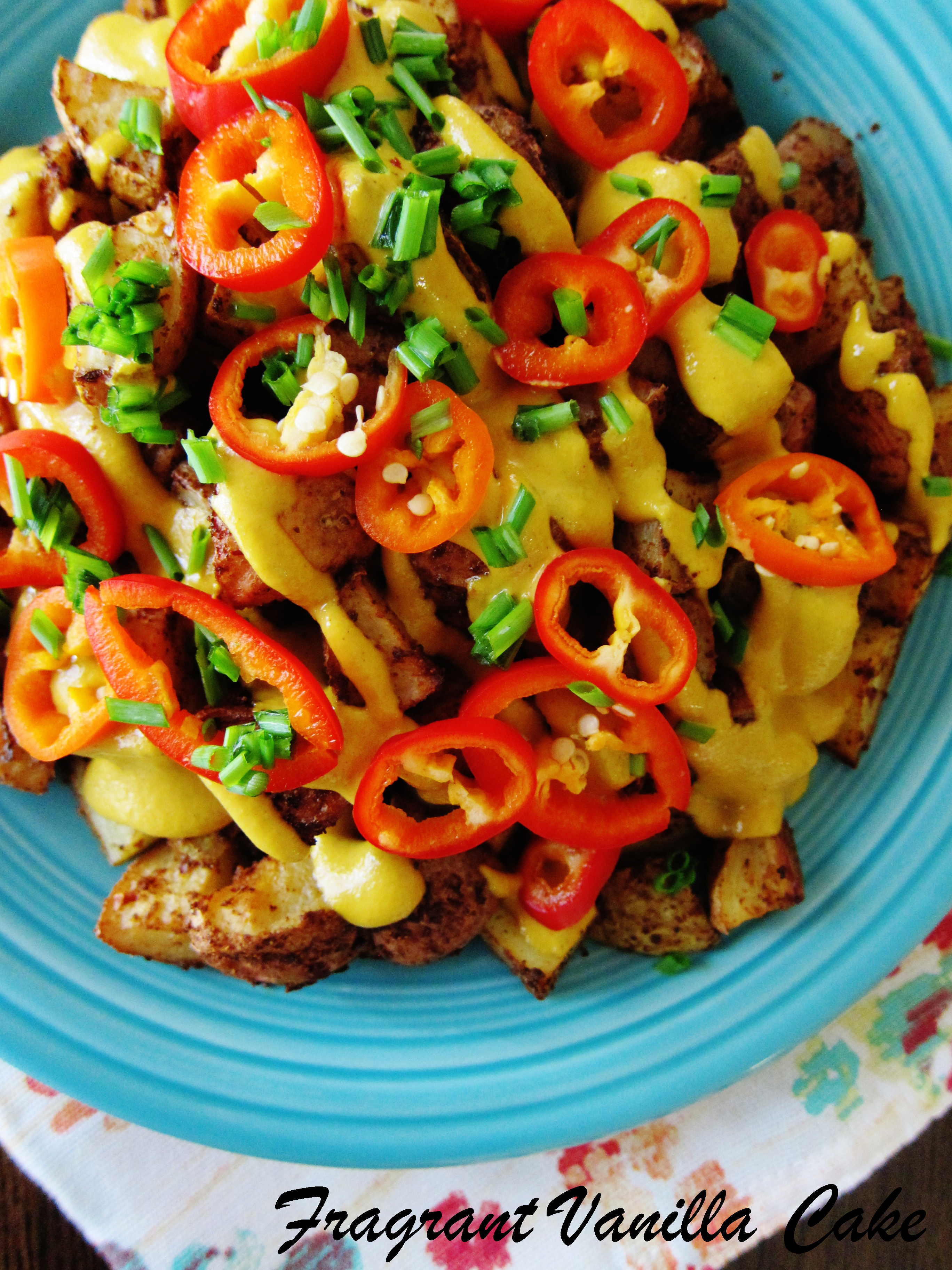 Spicy Roasted Potatoes with Tahini Cheddar Sauce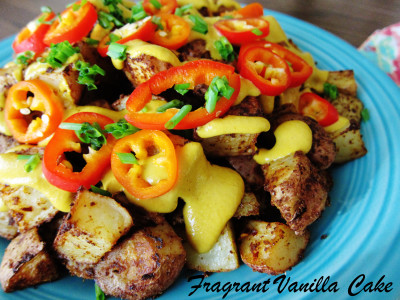 Sometimes you just need a little comfort food.  Which is exactly why I decided to make some roasted potatoes last week.  To me, roasted potatoes are comfort food. Just like mashed potatoes are to some people. But they have more texture because the middle is soft and the outside is crispy so I can not resist them. Just plain with olive oil and sea salt and I am a happy girl.  But sometimes I elaborate on that.  If I have more time and if I am in the mood.  And that is what these potatoes last week were...elaborated on.  I spiced them up and gave them a kick with chili powder and chipotle, then smothered them in a creamy and slightly spicy tahini "cheddar" sauce.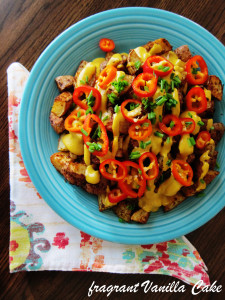 Because I was thinking nachos would be good...but potatoes would be better.  I was one of those kids who used to love nachos and cheese. Which is ok when you have vegan cheese made from real ingredients.  It was all delicious!  The crunchy spicy potatoes and the silky smooth cheese cascading over them with a little kick and some freshness from the peppers and chives I scattered over it...MMM...cloud nine! Never deprive yourself of a comfort food craving when you can make it from healthful and real ingredients.  Trust me it is worth the time making something good for yourself!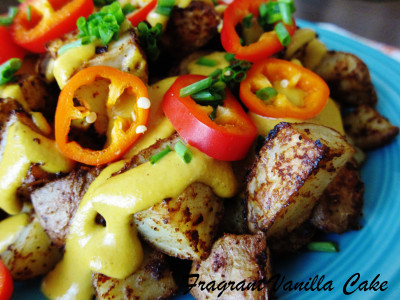 Spicy Roasted Potatoes with Tahini Cheddar Sauce
Serves 4
Potatoes:
6 cups cubed red or Yukon gold potatoes
olive oil
1 tsp cumin
1 Tbsp chili powder
1/2-1  tsp chipotle powder (depending on how spicy you want it)
1/2 tsp sea salt
Sauce:
1/2 cup raw tahini*
1/2 cup filtered water
1/2 cup chopped carrot
1/4 cup nutritional yeast
1 garlic clove
1/4 tsp sea salt or to taste
1 Tbsp white miso
1 Tbsp cider vinegar
1/4 tsp chipotle powder
Sliced hot or sweet peppers
sliced chives or scallions
Pre-heat the oven to 425F degrees. Toss the potatoes with just enough olive oil to coat in a bowl with the spices and sea salt and spread out onto an oiled sheet pan. Roast in the oven for about 20-30 minutes (depending on your oven) until starting to brown and tender when pierced with a fork.
Meanwhile, to make the sauce, combine all ingredients in the blender and blend until smooth (adding a little water if you would like it thinner, you want to be able to drizzle it).
Serve the potatoes with the cheese drizzled over and peppers and chives scattered over that.
*If you are not a fan of tahini raw cashew butter may be used
(Visited 141 times, 1 visits today)