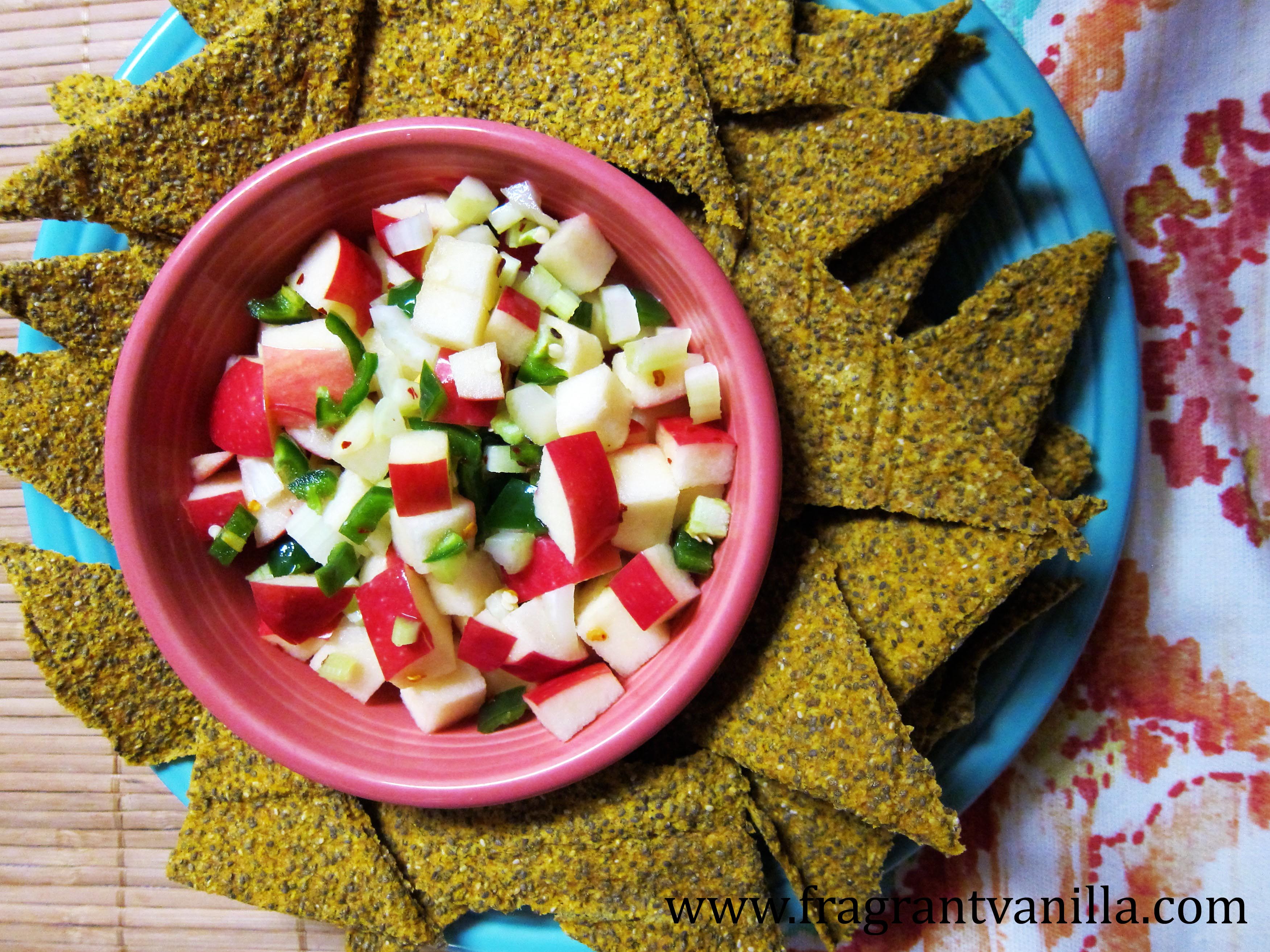 Spicy Raw Apple Salsa and Pumpkin Chia Chips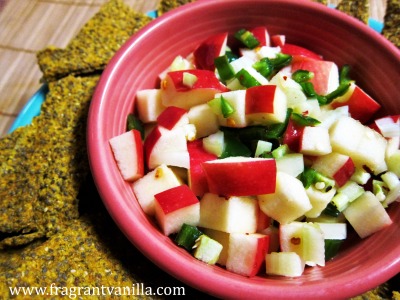 I saw an apple salsa somewhere on TV (not sure where because I can't remember now), and all I remember about it was that I wanted to make apple salsa of my own after seeing that!  I don't even remember what was in theirs, but that's ok because I had an idea of what I wanted mine to be like. Just the sweetness of the apple with a hit of spicy and plenty of crunch.  So I diced up a local honey crisp, added in some celery for crunch, jalapeno and red pepper flakes for heat and a few other things and voila!  Quick and delicious salsa!  Not traditional Mexican spices in this salsa or ingredients, but this is Minnesota salsa I guess, haha!  I served it with some pumpkin flax chips I had just made and it was the perfect post work afternoon snack.  It was the perfect balance of tart and sweet in the salsa and the chips tamed the heat nicely and were a good tool for eating the salsa with.  I love fall ingredients!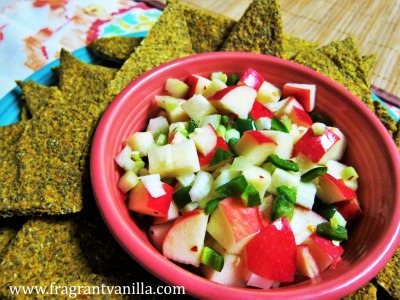 Spicy Raw Apple Salsa
Makes 2 cups
1 large sweet tart apple such as honey crisp or pink lady, cut into small dice
1 stalk celery, diced small
1 jalapeno, diced (seeded if you want this more mild
1 shallot, finely chopped
1 tsp red pepper flakes
sea salt to taste
juice of 2 limes
Combine all ingredients in a bowl, and mix until well blended.  Serve!
Raw Pumpkin Chia Chips
Makes about 2 dozen
1/2 cup whole flaxseeds
1/4 cup plus 2 Tbsp chia seeds
1 cup ground flaxseed
2 tsp cumin
1 tsp chili powder
1/4 tsp sea salt, or Himalayan salt plus additional for sprinkling
1 1/4 cups water
1/2 cup pumpkin puree (raw or cooked will work here)
In a food processor, combine all ingredients, and process for about 1 minute until blended. Spread out onto a lined dehydrator tray very thin. Sprinkle with salt. Place in the dehydrator and dry for a few hours at 115F degrees, then score with a knife into square crackers. Place back in the dehydrator and dry for about 24 hours until very crispy. Alternatively, you may use an oven at a very low temperature, but it will take less time so check it way sooner.
(Visited 37 times, 1 visits today)