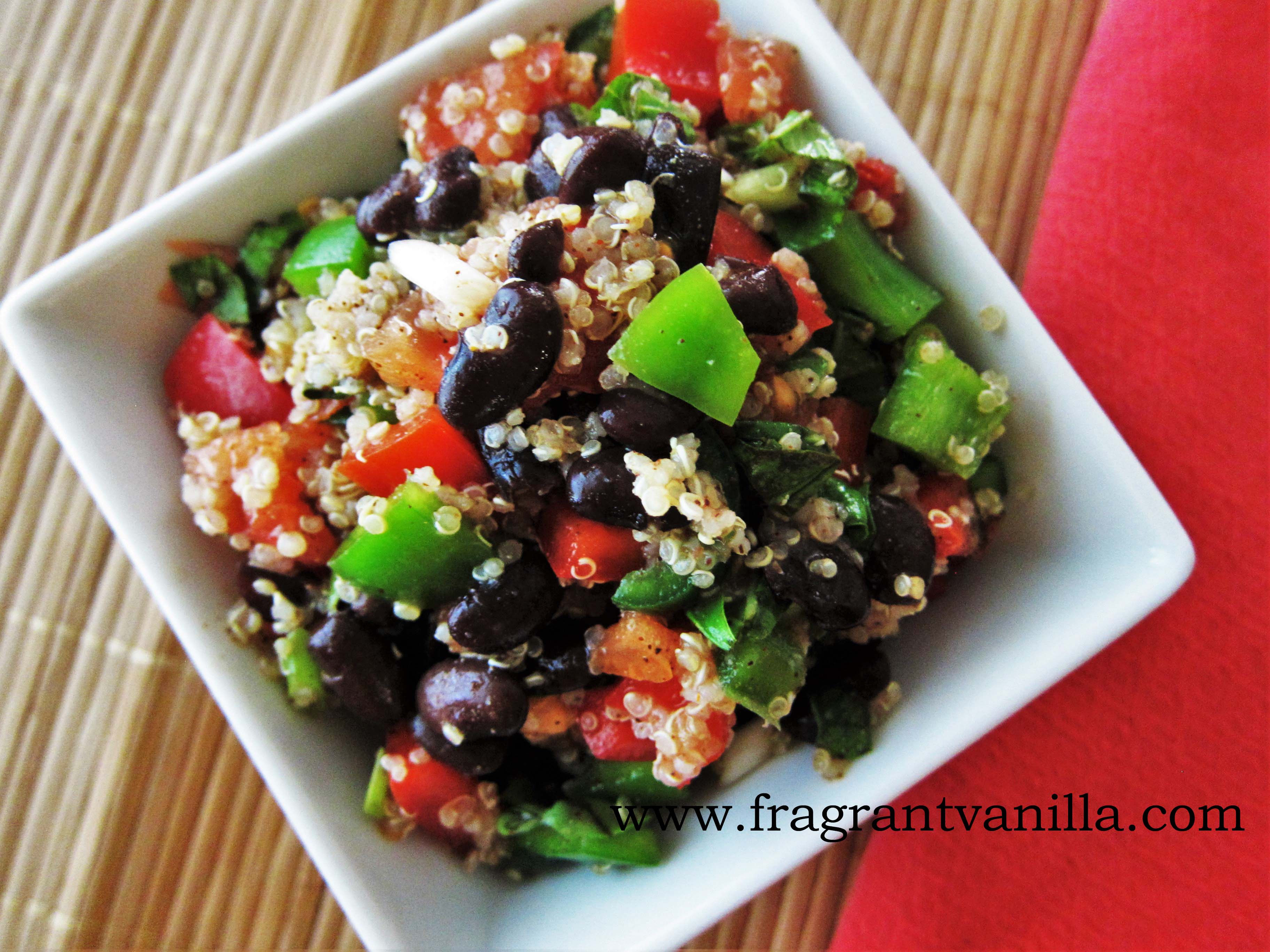 Spicy Quinoa Veggie Black Bean Salad
I had one really busy day last week where I got home late from work, was feeling stressed and didn't want to fuss over dinner.  A pre-dinner walk with Eric helped, but I was still not in the mood to cook something complicated.  It was a warm day so salad sounded awesome.  You wouldn't think I would want to make salads that require chopping things at home since that is what I make all day at work, but making salads all day makes me hungry for them sometimes.  A quinoa salad was what I was craving.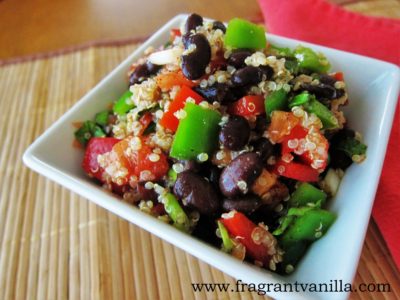 I am not a big rice fan, so quinoa is my go to thing when it comes to grain like dinners.  I had a bunch of veggies on hand that someone had given me, some tomatoes, peppers, scallions, and fresh basil, so I knew they would make this a colorful and delicious meal.  I always say, the more veggies, the better.  I can never get enough.  Yes, I even crave veggies more often than fruit.  Weird I know.  Anyways, I also had black beans, so I figured make this an extra protein rich salad.  I added in some spicy jalapenos and chipotle peppers for a kick because it just sounded good.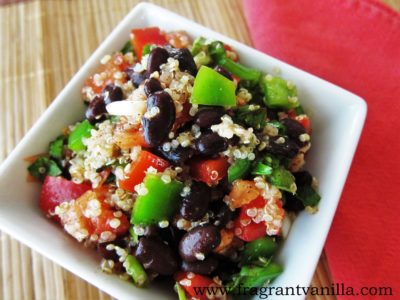 This was so refreshing and delicious, and so quick to make!  I didn't have to heat up the oven so my house stayed cool which was a bonus as well.  I have to say, eating this sort of food does lift my mood.  All of the pretty colors and delicious flavors!  Yum! If you are looking for an easy and delicious meal, try this out. It is good to make ahead of time as well if you want some for lunch the next day.  I made extra for just that reason.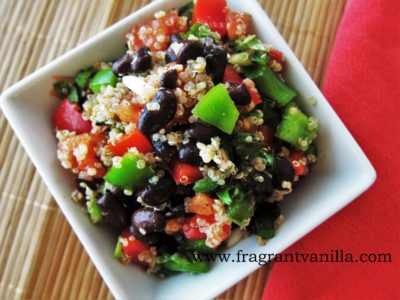 Spicy Quinoa Veggie Black Bean Salad
Serves 4
1 cup white quinoa, rinsed
2 cups filtered water
1 1/2 cups cooked black beans
2 scallions, sliced
1 large red bell pepper, diced
1 large green bell pepper, diced
2 roma tomatoes, diced
2 jalapenos, diced
1 Tbsp ground cumin
1 Tbsp chili powder
1/4 tsp chipotle powder
sea salt to taste
1 garlic clove, minced
1/4 cup lime juice
1/4 cup chopped fresh basil
To prepare the quinoa, place quinoa and water in a medium saucepan and bring to a boil. Reduce to a simmer, cover and cook until all the water is absorbed about 15 minutes, or when all the grains have turned from white to transparent, and the spiral-like germ has separated. Drain, and set aside. In a large bowl, combine the quinoa with all other ingredients and toss until well mixed. Serve at room temperature.
(Visited 41 times, 1 visits today)