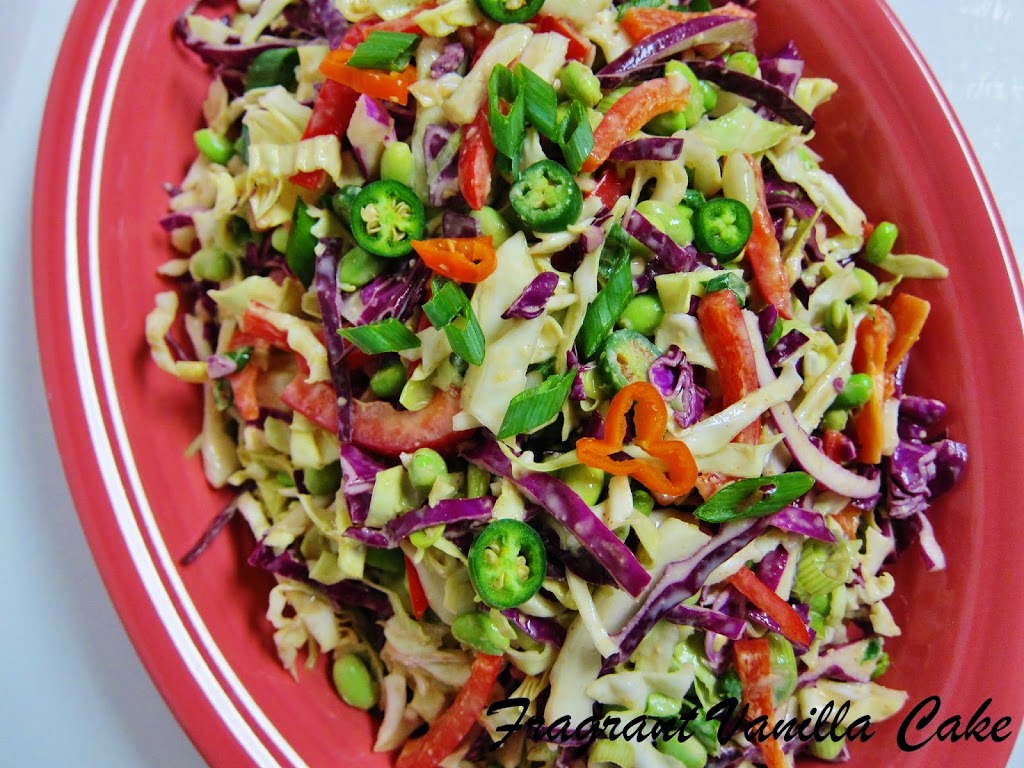 Spicy Peanut Slaw with Edamame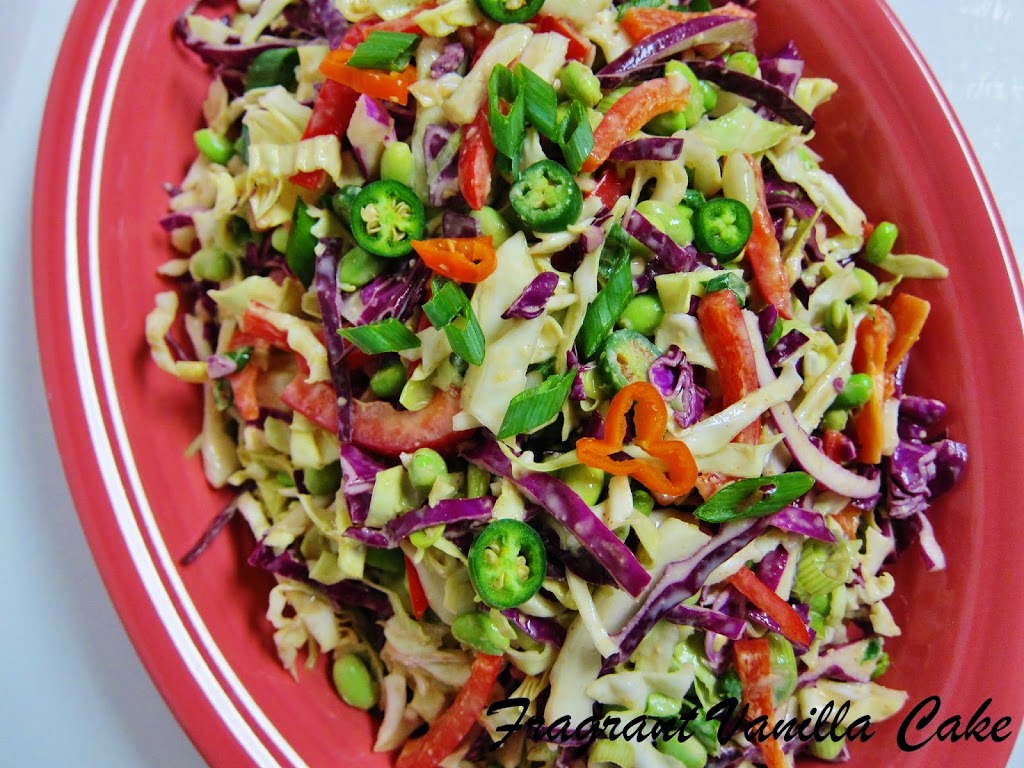 Although I tend to spend a lot of time on my desserts, I tend to keep my dinners fairly simple.  This might be because I spend my days at work in a deli making lots of savories such as soups and salads, and I get enough savory creating action.  Or, it may be because I want dinner fast and I am a bit lazy at that point.  Plus, I am on a budget, and I like to make meals that are relatively cheap.  So, last weekend when I was grabbing ingredients for dinner for Eric and I, I decided on a slaw.  Slaw is so versatile, it can be made from many things but most popular is the cabbage which is also inexpensive.  So I grabbed some heads of cabbage, and I was really craving something spicy, so also some hot peppers and ginger, and some edamame for protein,  I was thinking spicy peanut slaw, but not like I have made it in the past.  You see, this was knock your socks off spicy.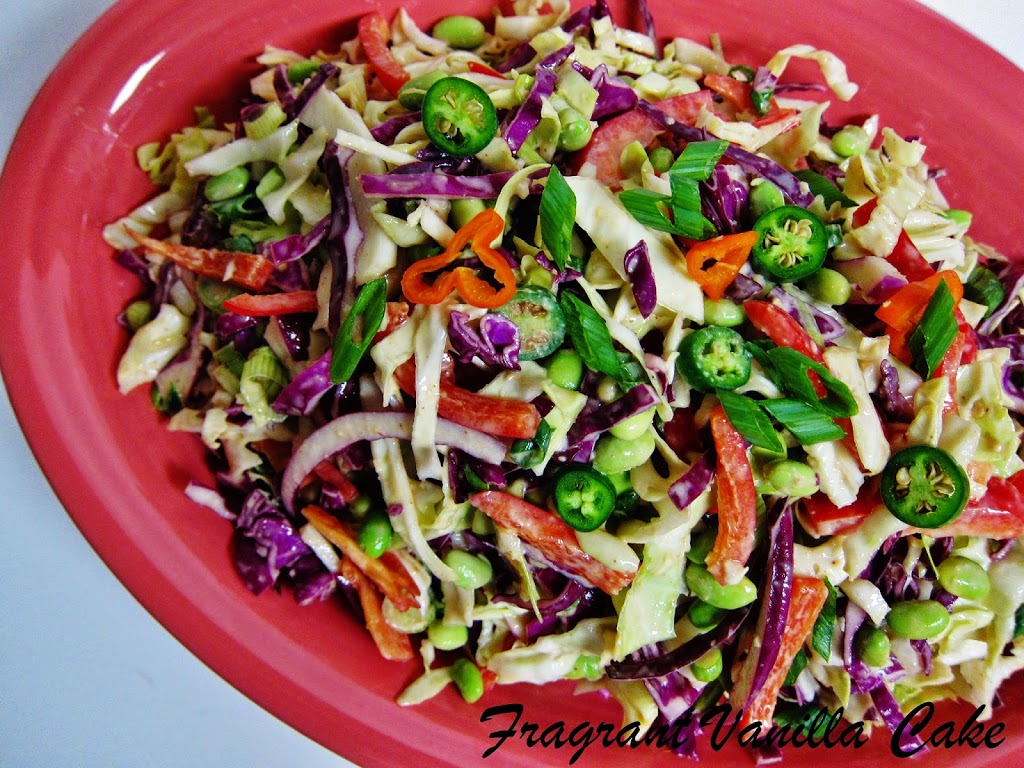 Me and my Man are both spice lovers, and this slaw had the kick of habanero, jalapeno, ginger, and chipotle powder.  But not so spicy that you could not taste the other flavors.  I scarfed down a large plate of this and it was so crave worthy good!  Not just your run of the mill peanut slaw, but party in your mouth awesome.  It was satisfying as well thanks to the extra protein in the edamame. I think I may just have to make this again next weekend, because I want some more now.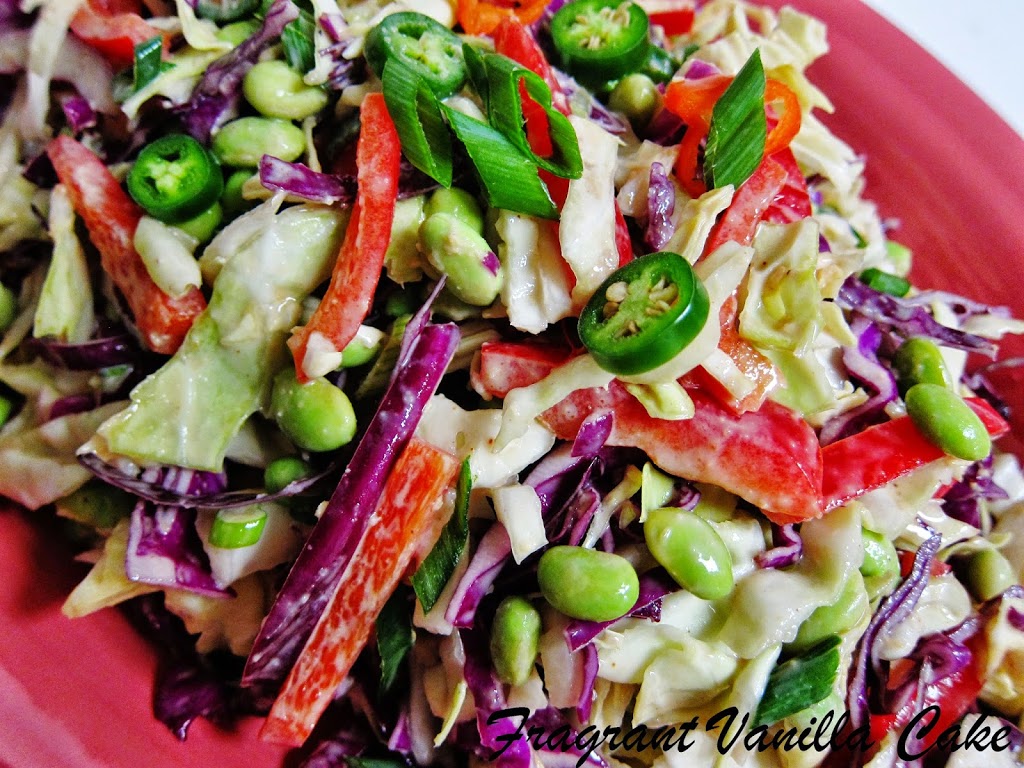 Spicy Peanut Slaw with Edamame
Serves 2-4
1/2 medium head red cabbage, thinly sliced
1/2 medium head green cabbage, thinly sliced
4 scallions, sliced
1 red bell pepper, cut julienne
1 jalapeno, sliced
1 habanero, sliced
1 1/2 cups fresh or frozen (and thawed) edamame, shelled
Dressing:
1/3 cup raw jungle peanut butter (or regular peanut butter)
1/2 inch piece ginger, minced
1 garlic clove, minced
2 Tbsp cider vinegar
1 Tbsp nama shoyu, or tamari
1 Tbsp raw coconut nectar or maple syrup
1/4 tsp ground chipotle pepper
3 Tbsp filtered water
In a large bowl, combine all of the veggies.
In a small bowl, combine all of the dressing ingredients, and whisk until smooth, adding a little more water of you would like it thinner.
Toss the dressing with the veggies until they are well coated, and serve!
(Visited 130 times, 1 visits today)