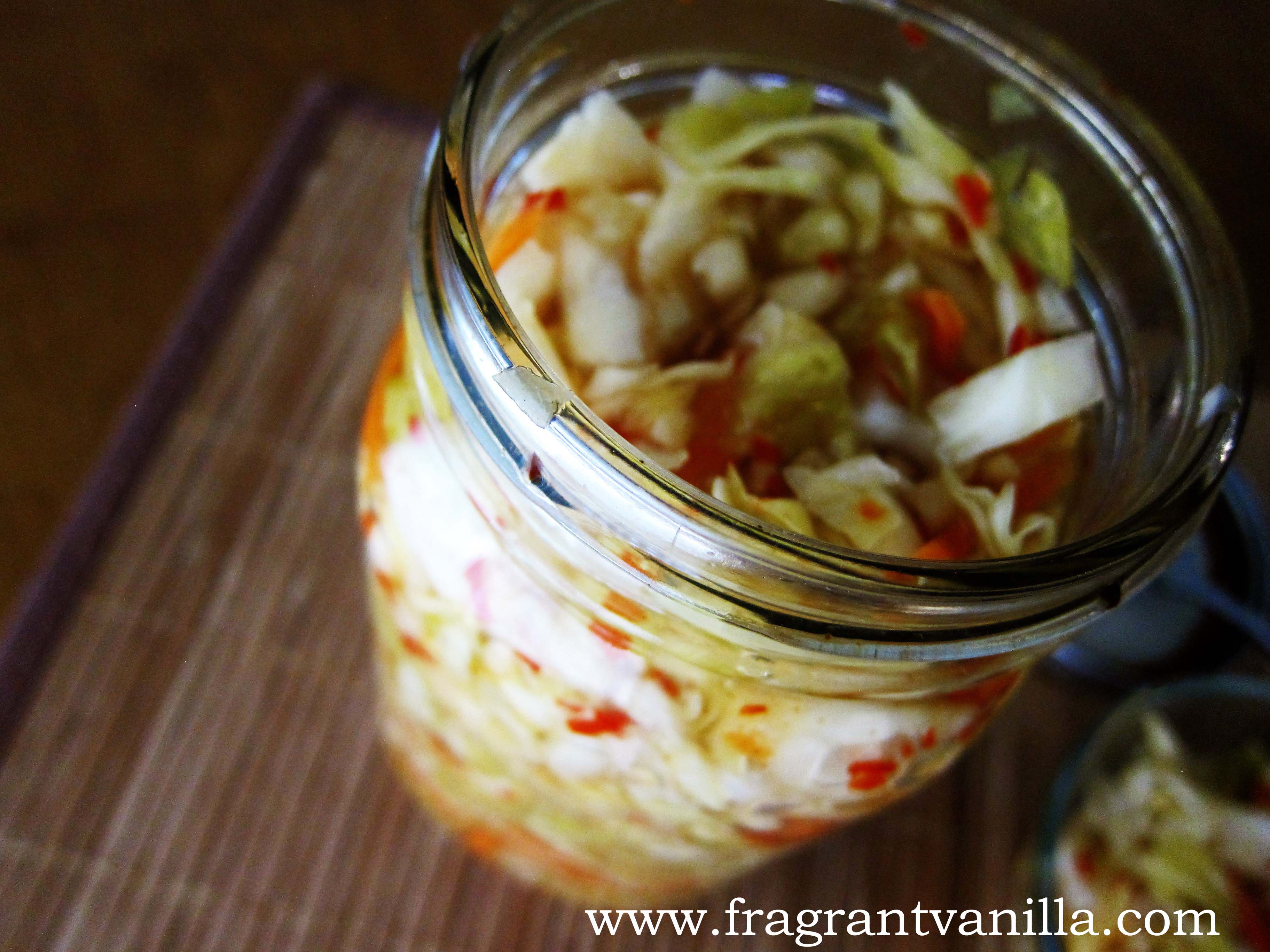 Spicy Ginger Garlic Saurkraut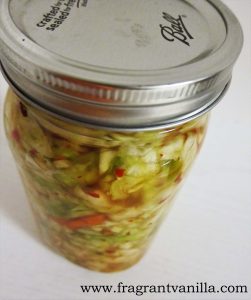 What many people don't realize is that keeping your gut healthy is important.  If it is not healthy, and does not have enough healthy bacteria in it, you might start to have problems with digestion, get sick more often (because much of your immune system is there), have skin issues, and feel tired among other things.  And those aren't even the most serious issues.  I don't want all that, so I try my best to feed myself probiotic rich foods.  You can get probiotics in pill form, but of course you have to be careful what kind.  Some are not vegan, and some do not work as well as they say that they do.  It is really best to get most of your probiotics from your diet if you can.  Things like kombucha, sauerkraut, cultured coconut yogurt, and miso are rich in probiotics.  I started out making sauerkraut thinking it would be a fun thing to do, and because I like it, but I then realized that it can be a great source of probiotics!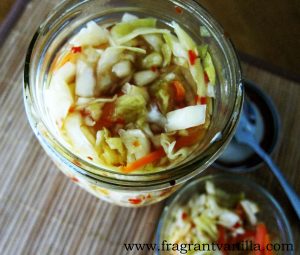 Today I am sharing with you my latest sauerkraut.  I will call it quasi kimchee, because it was inspired by some kimchee.  I bought some kimchee at the health food store I work in (vegan of course, it did not contain any fish like some of the traditional ones do), and it was so good I was hooked.  Problem is it is kind of spendy, and I knew I could make something similar at home.  So I just used the same ingredients listed in it, and came up with something that I liked just as much.  The process is different than making kimchee, so before anyone starts telling me it is not authentic, I was not trying to be.  I just wanted something that tasted good. Saurkraut is really easy to make once you get the hang of it, and so worth it to get your daily dose of probiotics in.  I love adding it to my lunch salads, or wraps to give them that extra punch of flavor!  Don't be afraid to try making your own, I have never had a batch not turn out.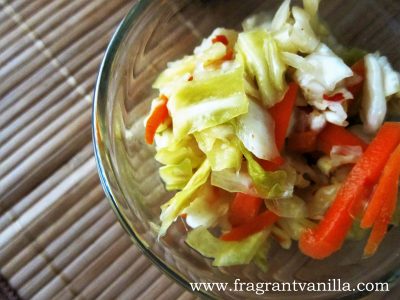 Spicy Ginger Garlic Saurkraut
Makes 2 32 oz jars
1 large head green cabbage, 3 outer leaves reserved whole, and the rest thinly sliced or shredded
1 Tbsp sea salt
1 large carrot, cut julienne
1 garlic clove, sliced
1 1/2 Tbsp fresh ginger, minced
1 1/2 tsp red pepper flakes
filtered water as needed
1 large 8 cup jar with a wide mouth
In a large bowl, combine the sliced cabbage with the sea salt. Massage with your hands, squeezing it until you get a good amount of water out of the cabbage at the bottom of the bowl and it is softened a little. Mix in the carrot, garlic, ginger, pepper flakes. Place in the 8 cup jar, pressing out any air, and pour in the extra water at the bottom of the bowl. Top with the reserved cabbage leaves. If the water does not rise above the cabbage in the jar, pour filtered water over it so it does (you want all the cabbage completely submerged). Put a weight on top of the cabbage leaves so that they stay submerged (I used a small prep bowl that fit inside the jar) you do not want the cabbage exposed to the air. Cover the jar with a towel and place it somewhere where it will not be disturbed like in a closet (and you may want to set it on a tray in case it leaks a little). Check it every few days to make sure it does not have any mold on the top, and if it does simply remove it with a spoon (the rest is ok as long as it is in the brine). After 7 days, it should be ready (or when it is fermented to your liking, I just find that mine is usually done after 7). Place in jars and store in the fridge.
(Visited 1,145 times, 1 visits today)