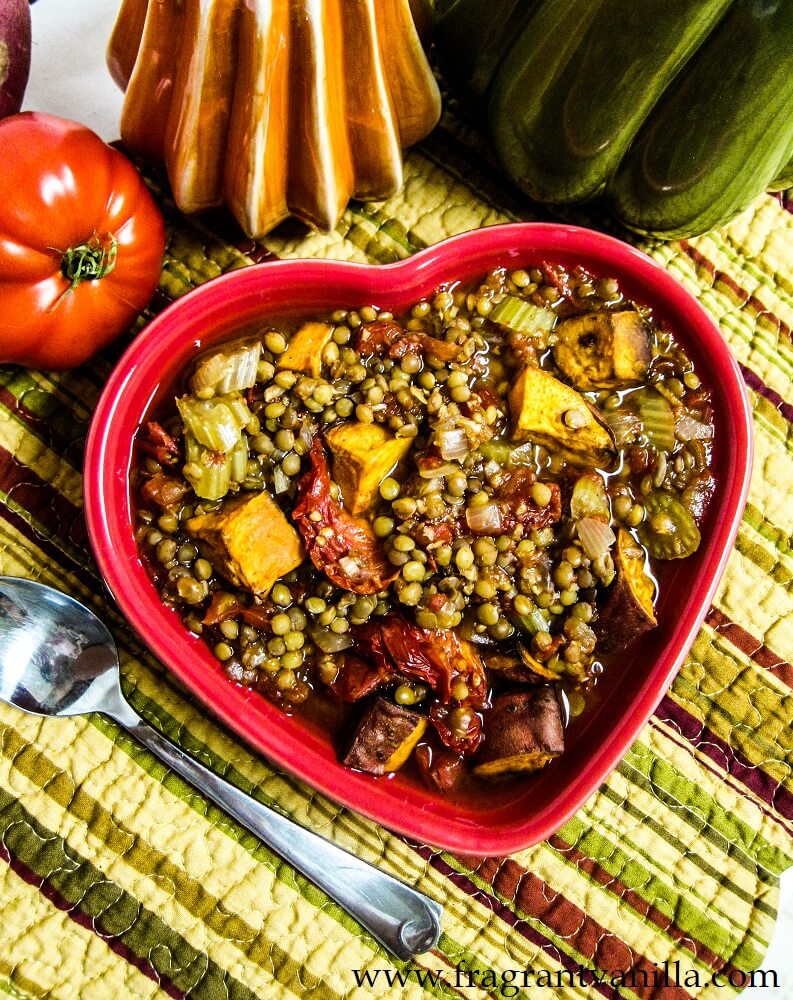 Smokey Yam and Lentil Chili
We sell so much soup in the deli I work at that it is not even funny.  4 quart pots are emptied out in no time, and we are always making soup.  You would think it would slow down a lot in the Summer, but it still sells like hotcakes! Even more of course in the Fall and Winter. Especially Fall though, as people are feeling shocked by the cooler weather and wanting something warming.  To be fair, our soups are really good, some of the best I have tried anywhere.  I tend to be disappointed when I go out to restaurants and order soup because ours is top notch.  I like to think I make good soup at home too though.  My Mom taught me how when I was younger when we got a big soup book and made about 20 different soups from it.  We hardly ever bought canned after that.  I never buy canned now because I like home made so much more. My Mom gave me an idea for a chili to make combining lentils and yams, and I had to go right home and make it!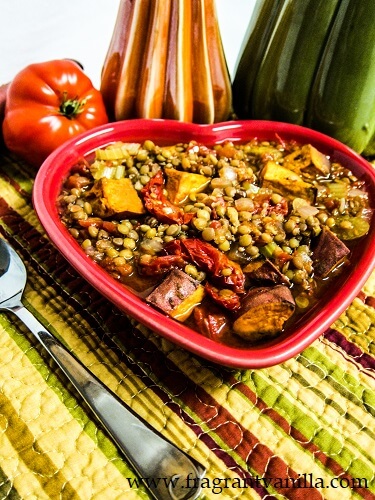 I had all of the ingredients on hand, and I was excited.  I had never actually made chili with lentils, it was always beans. But I actually prefer lentils.  This chili was really easy to make, you just throw all of the ingredients but the yams in a pot and cook it, then throw in the yams.  I used tomatoes from my Grandpa's garden instead of canned and I think that made it extra good.  I added a bit of liquid smoke to give it a little smokey flavor and make it more interesting.  It smelled so good while cooking!  Chili always reminds me of watching fall football games, or chilly fall evenings after spending the day outdoors.
It turned out really good!  The thing I didn't like so much about traditional chili growing up was always the ground beef.  I have never liked it and the smell of it turned my stomach.  But if lentils were added instead of the beef I think I would have liked it a lot more.  Because this lentil chili was awesome!  Also, they cook a lot faster than dried beans, so if you want your chili faster consider lentils.  The smokey chili was delicious with the sweet yams too!  If you are cooking for one like I was, this is even better and more flavorful the next day, so you will be excited when you have that second bowl for lunch the next day.  Or, of course you can double the recipe if you are cooking for two.  Either way, give it a try on a chilly Fall evening, you won't be disappointed!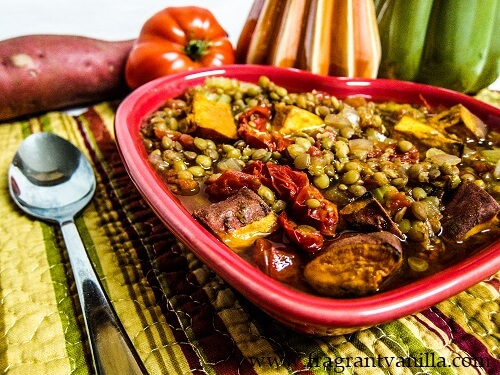 Smokey Yam and Lentil Chili
Serves 2-4
Ingredients:
2/3 cup french lentils
1/2 cup diced onion
1 carrot, cut in half  lengthwise and sliced
1 stalk celery, sliced
2 garlic cloves, minced
2 cups diced tomatoes (canned are fine)
4 cups filtered water
1 Tbsp chili powder
1 Tbsp ground cumin
1/4 tsp chipotle powder
2 tsp liquid smoke
1/2 tsp sea salt or to taste
2 small yams or sweet potatoes, diced
Instructions:
In a pot, combine all ingredients but the yams.  Bring to a boil, and lower to a simmer.  Cook on low heat for about 40 minutes or until the lentils are getting tender. Add the sweet potatoes, and cook for about 10 minutes more until they are tender.  Once everything is cooked, remove from heat, and enjoy!
(Visited 71 times, 1 visits today)