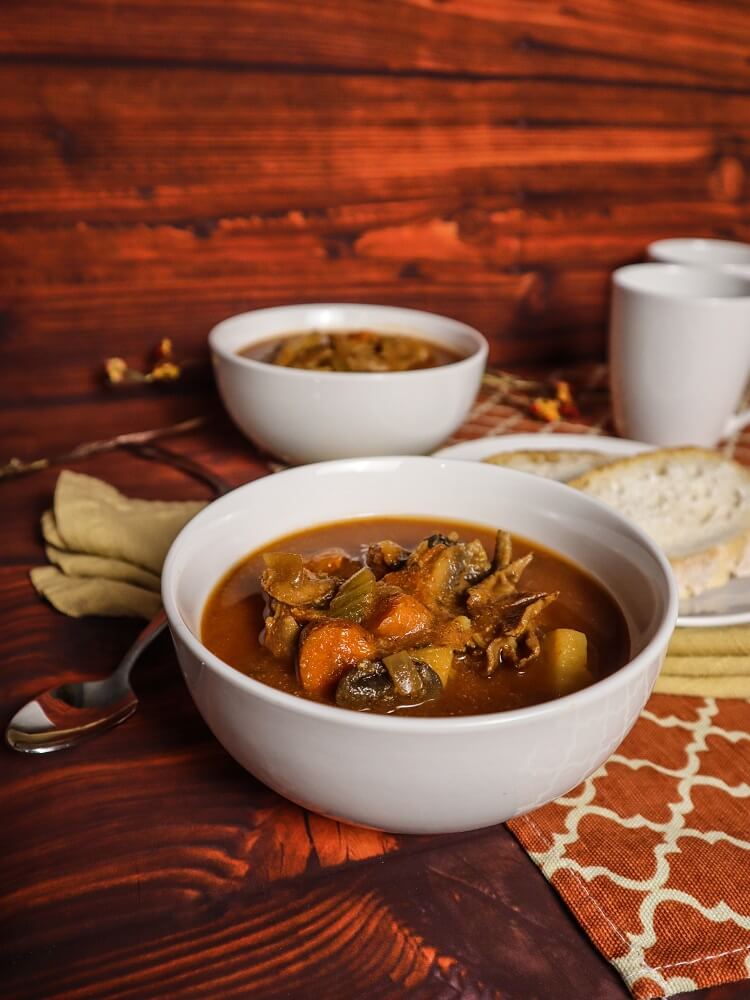 Savory Mushroom Vegetable Stew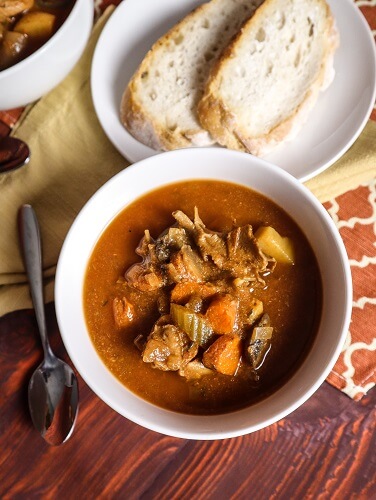 Last weekend in Minnesota it was a bit chilly with only highs in the single digits (F), and snow showers happening frequently. I don't let the cold stop me from enjoying the outdoors though, I feel that fresh air is important to enjoy year round and the snow is actually really beautiful!  It beats staring at brown grass and dead trees.  On Sunday we grabbed some hot coffee at our favorite shop, then visited a snow sculpting competition, and went for a walk outside despite the temps wearing multiple layers.   We enjoyed our time outside, since we both hate being cooped up indoors, but coming home to a warming meal was needed.  It was a good time to have something cozy for dinner, so luckily, I had whipped up a batch of Savory Mushroom Vegetable Stew the night before.  It tastes even better the next day, so it is something I like to make ahead and this time it was sooo good!  Everything tastes better when you are hungry and cold though lol.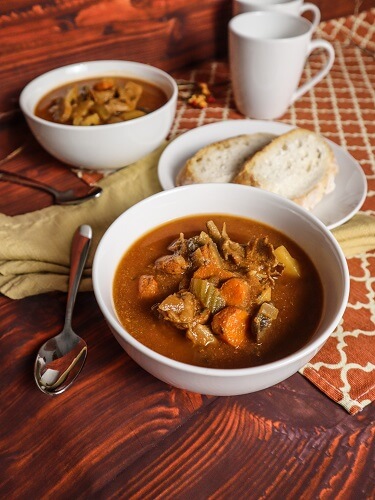 When I was little, my Mom used to make a beef stew that I really enjoyed in the cooler months, and this is loosely based off of that, the beef being replaced with mushrooms. It has a savory base with broth, tomato paste, thyme and rosemary plus a touch of red wine, and some miso and nutritional yeast to give it that umami flavor.  I used a vegetable base of celery, carrots, onions and garlic the classic combo that my Mom always used, and it actually tasted really similar to hers!  Minus of course the Lipton French onion soup packet she used to use.  I think I replicated the flavor well though and my Mom would approve of this, since she doesn't eat a lot of beef now either and more veggies.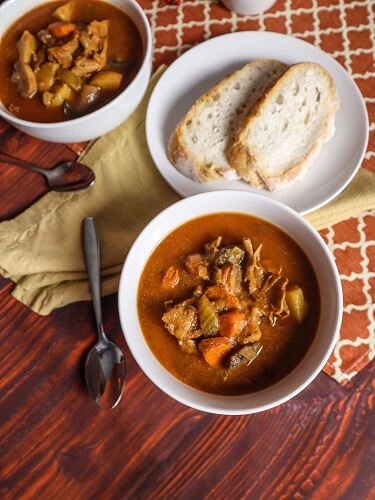 I used a mixture of crimini mushrooms, and some dried hen of the woods mushrooms that Eric and I foraged last Fall while we were on our honeymoon while visiting his Dad along the way in Michigan.  His Dad was nice enough to dehydrate them for us for later use.  We picked 3 giant ones, that probably weighed at least 10 lbs each!  So we had quite a bit of mushrooms, and I am enjoying using them in recipes like this one!  If you wanted to make this soup in the Instant Pot instead of on the stove, that is possible as well for an easier option, I have done that before.  You just throw everything in except the nutritional yeast and miso, and cook on the soup/broth setting for 40 minutes and everything cooks just right. When it has finished cooking in the Instant Pot, then add the nutritional yeast and miso mixture and voila! Soup is ready to go!  I admit I use my Instant Pot a lot during the week because I don't want to sit and watch the stove so I figured I would give you guys both options in case that is your case too!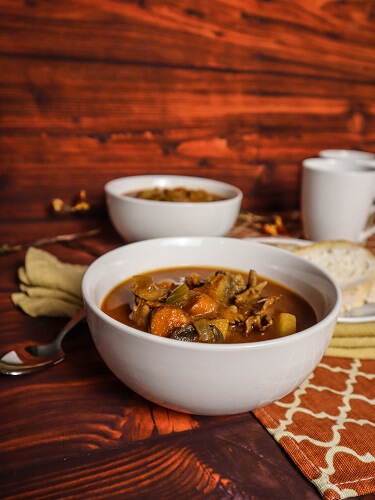 This soup turned out so yummy!  I served it with some crusty sourdough bread for dunking I was gifted by a talented coworker (she seriously makes the best bread I have ever had), and it was the perfect meal for a chilly day! I hope you are all staying warm this winter, and if you want something delicious, healthy and warming for dinner, give this Savory Mushroom Vegetable Stew a try!
Savory Mushroom Vegetable Stew
Serves 4
Ingredients:
1 yellow onion, diced
4 stalks celery, sliced
2 garlic cloves, minced
4 medium sized carrots, sliced
3 cups sliced mixed mushrooms (I used hen of the woods and crimini)
4 cups vegetable broth
1 6 oz can tomato paste
2 Tbsp red wine
1/2 tsp sea salt (or to taste)
1/4 tsp black pepper
1/2 tsp dried thyme
1/2 tsp dried rosemary
4 large yukon gold potatoes, cubed
1 Tbsp miso dissolved in 1 Tbsp filtered water
3 Tbsp nutritional yeast
Instructions:
In a large pot, combine the onion, celery, garlic, carrots, mushrooms, vegetable broth, tomato paste, red wine, salt, pepper, thyme, rosemary, and bring to a boil.  Lower to a simmer and cook for about 15 minutes.
Add the potatoes and cook until they are tender, about 10-15 minutes more.
Add the miso mixture and yeast and cook until incorporated into the soup.
Serve!
(Visited 317 times, 1 visits today)