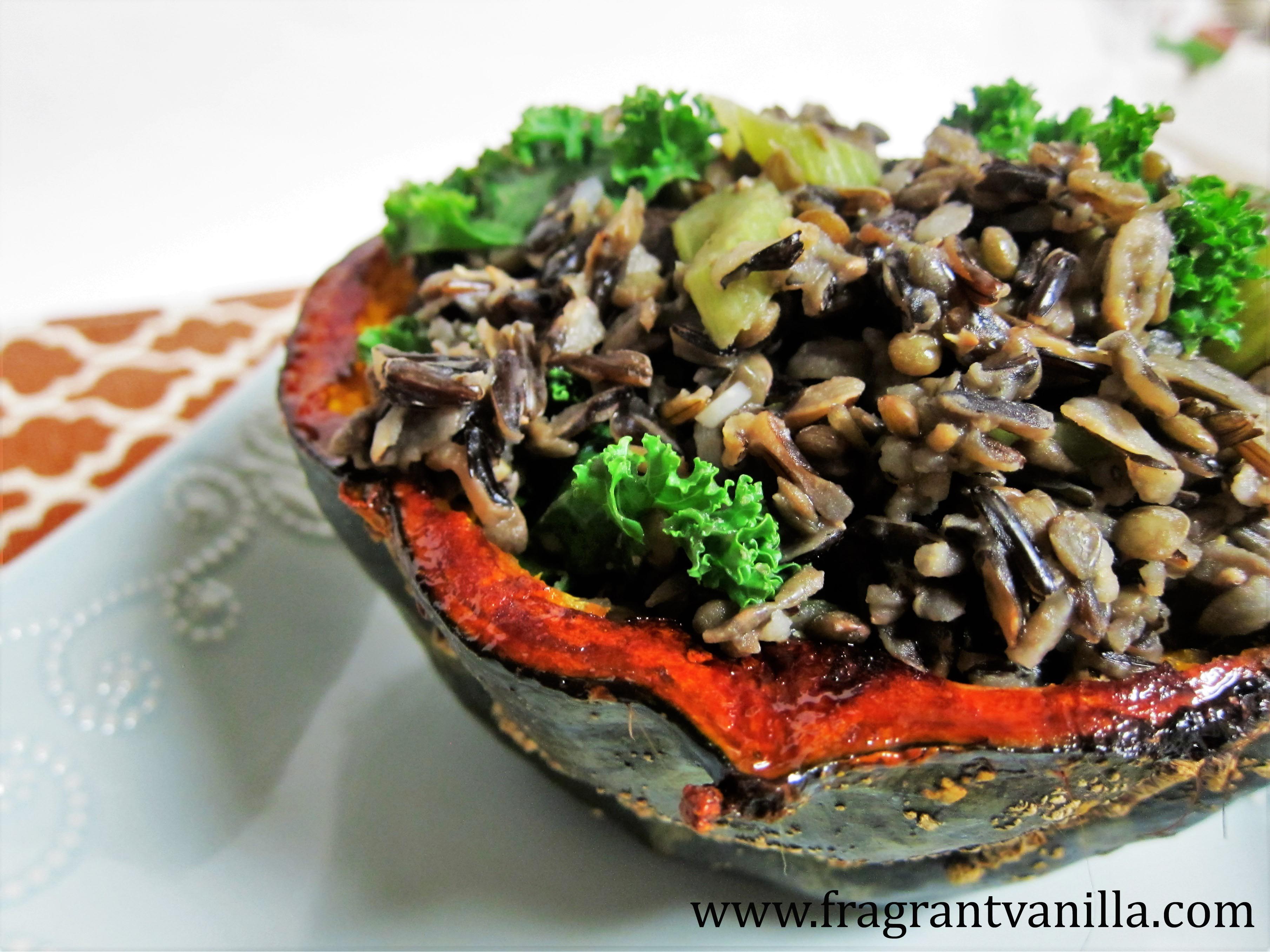 Savory Lentil and Wild Rice Stuffed Squash
I have always had a thing for squash.  It is the vegetable that I always used to get the most excited about, and when Fall rolled around, I had to have some in my kitchen at all times.  There was a point when I ate it almost every day, and my skin turned slightly orange.  My Mom called it my squash tan.  I try to branch out a little more now and eat a variety of things, but I still devour a couple of squash per week.  My favorite thing to do with them is to stuff them.  With things like soup, or savory rice or quinoa stuffings. I was in the mood for a really hearty dinner a few nights back, because it was a chilly day and I was super hungry from a big workout and working, so I made a lentil and wild rice stuffed squash.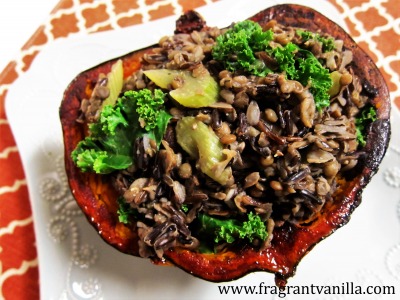 Lentils and wild rice are used often in my kitchen lately, because to me they are perfect for comfort foods like creamy wild rice soup, or lentil walnut meatloaf.  Combining them together is awesome because they have this beautiful earthy savory flavor that is perfect for this time of the year.  I kept this stuffing pretty simple, adding some mushrooms and garlic for flavor, celery for texture and saltiness, and a little thyme because it is my favorite Fall and Winter spice.  For the squash, I used buttercup, because it is my all time favorite squash, the perfect balance of sweet and starchy.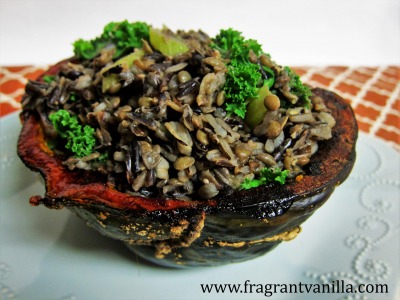 There was a time in my life when I had squash roasting in the oven almost every night, and it is always comforting to smell it roasting in the oven and warming up the house.  This recipe takes a little time to cook, but it is not difficult to make or hands on time consuming.  It is sooo worth the time though!  I made extra and served it for dinner the next night!  It is deliciously savory, like warm you up, satisfy your comfort food craving but still feel good after meal.   I think I might just be making this often this year!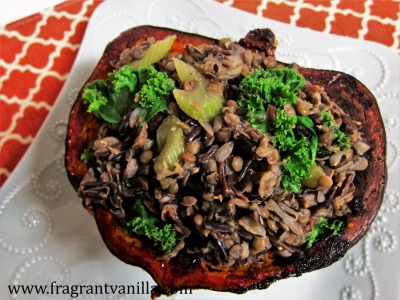 Savory Lentil and Wild Rice Stuffed Squash
Serves 4
Ingredients:
2/3 cup wild rice
2/3 cup French lentils
1 tsp olive oil
2 stalks celery
¾ cup sliced crimini mushrooms
1 clove garlic, minced
½ tsp dried thyme
Sea salt to taste
2 medium buttercup or kabocha squash, cut in half and seeds removed
Directions:
Place the wild rice in a pot with just enough water to cover by 3 inches, then bring to a boil, and lower to a simmer.  Cover and cook for about 1 hour until the rice is tender and starting to bloom.  Drain.
Meanwhile, do the same with the lentils as you did with the rice, and cook for about 40 minutes until tender.  Drain.
Meanwhile, while the rice and lentils are cooking, preheat the oven to 400F degrees.
Place the squash in the oven, cut side down on an oiled baking tray.  Bake for about 1 hour until tender.
While the squash is cooking, heat the olive oil in a pan, and add the celery and mushrooms.  Sautee for about 10 minutes over medium heat until tender, then add the garlic, thyme, the cooked lentils and wild rice.  Season to taste with salt, then stir all together.
Once the squash have finished cooking spoon the lentil and wild rice mixture into them.  Serve!
(Visited 75 times, 1 visits today)