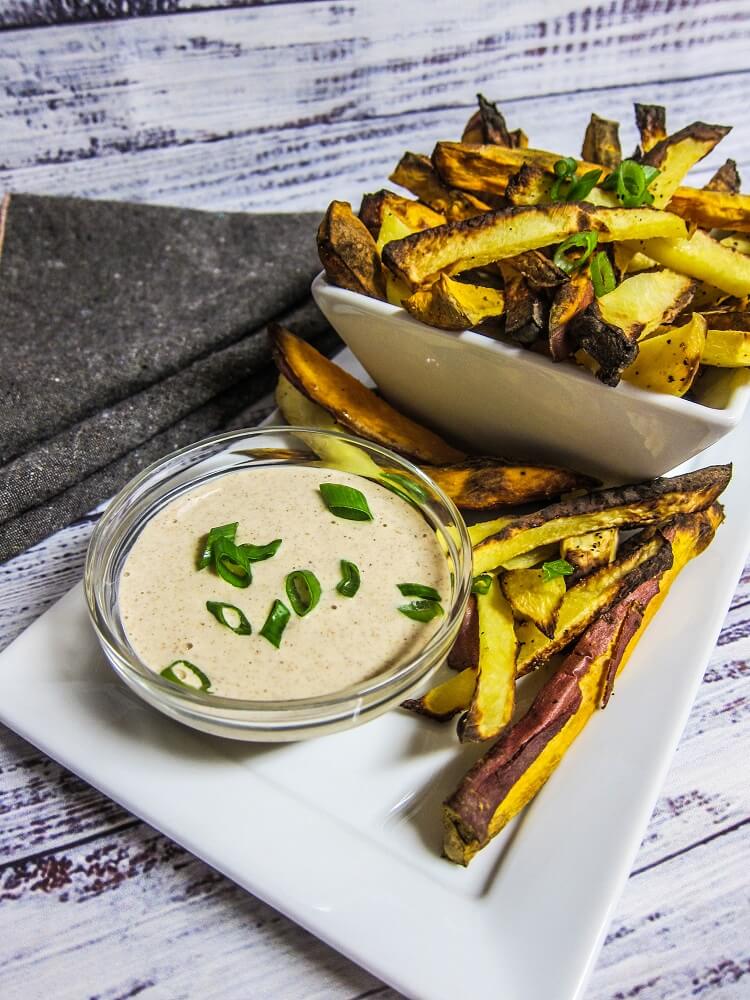 Rutabaga and Yam Fries with Garlic Dipping Sauce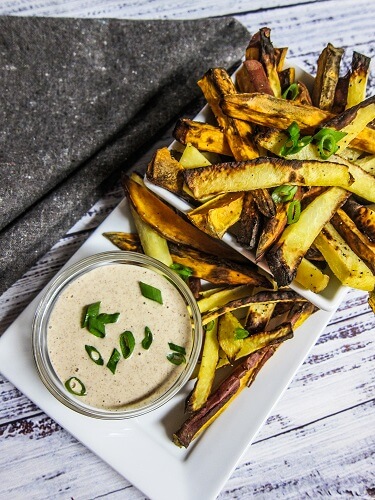 One of my all time favorite things we make at the deli I work at is sweet potato or yam fries.  They are so simple but so good.  So, often times I will make them at home.  I call them my bacon, because they are to me what bacon is to meat eaters.  Hard to stop eating and kind of addictive.  You know maybe if more people tried them they would think giving up bacon isn't so bad!  I was making a recipe for work the other day, and I got to thinking, since yam fries are good, what about other veggies as fries?  The rutabaga I was using for a recipe sounded like a good thing to test out, so I bought myself some and decided to give it a go.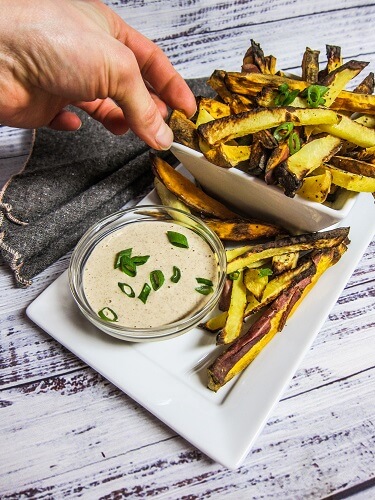 The truth is I used to hate rutabaga back in the day and my Dad would always tease me and say that is what we were going to have for dinner.  I don't know why I hated it, I think it was because it was a foreign veggie to me at the time and I had been told it was gross and maybe once my Grandma had made some and I didn't care for it.  But then when I was in college and experimenting with cooking and all sorts of new veggies I decided to try it again and ended up loving it.  The recipe that I had made the first time was a vanilla scented mashed rutabaga and it was amazing!  But it is so good roasted and in soups too I quickly discovered.  It has a sort of sweet flavor to it.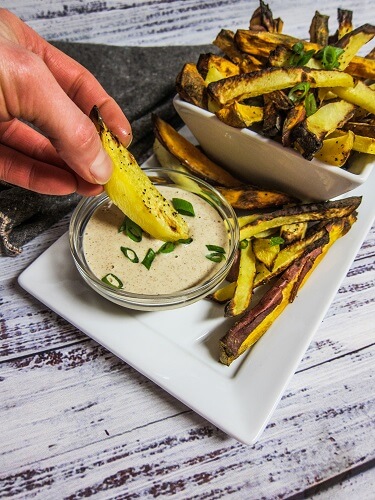 I figured it would be perfect made into fries.  I combined them with some yams I had on hand, because why not do two different veggies?  As far as I am concerned the more veggies the better when it comes to what I eat. I kept them simple, just tossing them with a bit of avocado oil, sea salt, pepper and cayenne and it was perfect to showcase the sweetness of the rutabagas and yams.  They would have been good just like that, but I decided to make a dipping sauce as well.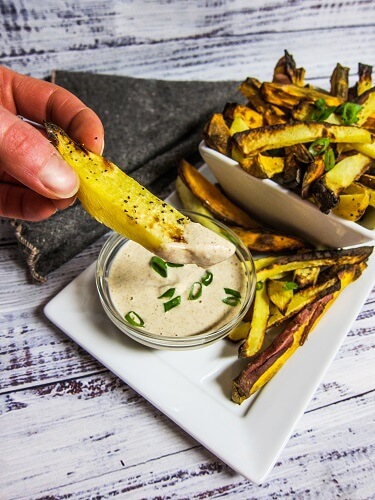 For the dipping sauce, I wanted something creamy and garlicy so I whisked together some almond butter, garlic, lemon and salt with a bit of water to thin it out and it was perfect!  You could use a different nut butter or even tahini for a nut free version if you prefer and it would be delicious as well.  The fries were sooo good!  The sweetness of the root veggies was brought out even more by roasting and the garlic sauce was the perfect partner for them!  Definitely give these a try this winter, just be warned, you may eat the whole batch they are pretty darn addictive!
Rutabaga and Yam Fries with Garlic Dipping Sauce
Serves 2-4
Ingredients:
Yams:
2 medium sized yams, cut into fries
1 large rutabaga peeled and cut into fries
1 Tbsp avocado oil
1/2 tsp sea salt (or to taste)
1/4 tsp ground black pepper
1/8 tsp ground cayenne or chipotle powder
Sauce:
1/3 cup filtered water (or as needed)
1/3 cup almond butter
1/4 tsp sea salt
1 tsp lemon juice
1 garlic clove, minced
Instructions:
To make the fries, preheat the oven to 400F degrees, and line a sheet pan with parchment.
Toss the fries with the oil, sea salt, pepper and chipotle powder until they are coated, and spread them out on the sheet pan.
Place in the oven and roast until tender and starting to brown, about 45 minutes.
Meanwhile, to make the dip, combine all ingredients in a bowl, and whisk until smooth (if you want it thinner, add more water since almond butters vary in texture sometimes).  Set aside.
When the fries are done, remove them from the oven and serve with the dip!
(Visited 403 times, 1 visits today)