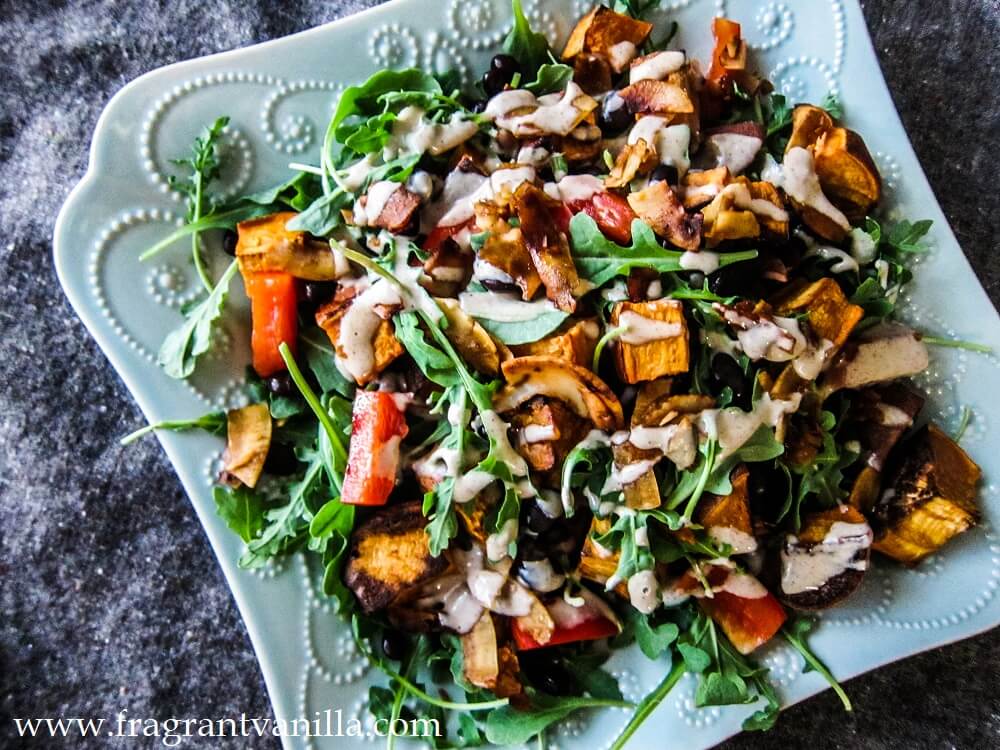 Roasted Yam, Coconut Bacon and Black Bean Salad with Miso Almond Dressing
I made a potato salad with coconut bacon over the 4th of July holiday weekend and it was really good but I thought of something that would be even better.  Yams or sweet potatoes and coconut bacon.  A match made in heaven, sweet and salty together.  I had actually been thinking about this combination and how good it would be in the past, but never made it because I didn't have a good vegan bacon substitute.  But then I discovered coconut bacon a few months back and it was perfect for such an application.  Coconut bacon is just the thing to top off salads, loaded baked potatoes and things like popcorn.  Not only that, you don't have to kill anything to make it, and it keeps better than real bacon.  It is honestly the closest thing to real bacon that I have eaten.  And I used to be a bacon lover before I went vegetarian then vegan. So anyways, back to that roasted yam and bacon combo.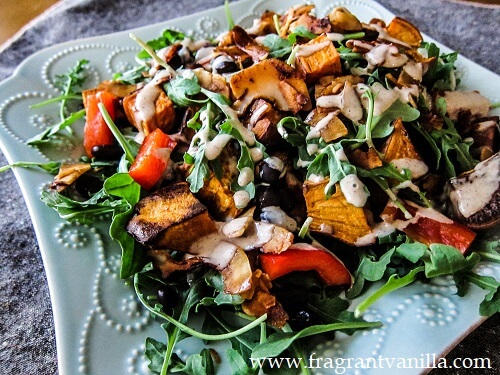 I made a super delicious salad with that combination a few nights back.  It was crave worthy.  I tossed some chunks of yam with olive oil and sea salt and roasted them to crispy perfection in the oven.  This is one of my all time favorite things to snack on anyway, and it is amazing on a salad. I made some crispy coconut bacon, which was good for snacking (I probably ate half the pan before I made the salad) and awesome with the yams. I decided to add some black beans too for protein, since I always like full meal salads. I added in some greens, and bell peppers for color, and then I needed a delicious dressing to drizzle over it.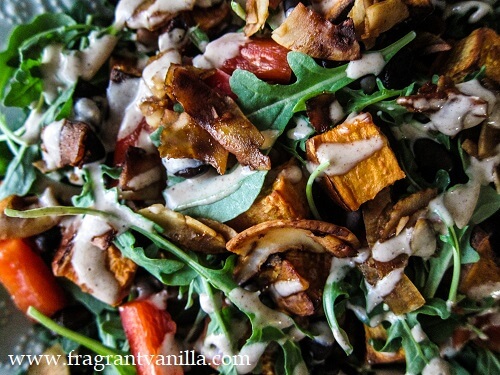 I used one of my all time favorite dressings, a creamy almond miso. This is actually something that I keep in my refrigerator at all times, and I make it weekly.  I have instructions for a smaller batch below though in case you don't want a giant jar of something, and I have also included instructions at the bottom for a large batch like I make if you become a fan. I like it served over pretty much any type of veggies, it is creamy and garlicy and just a tad sweet from the miso and it is honestly like nothing I have ever had.  It was amazing over this salad with the salty crunchy bacon and roasted yams.  A crave worthy salad may sound like an oxymoron, but it totally isn't when it comes to this.  Trust me, you need to try it.  It was so good I am going to have to make it for Eric soon too because I did not share this batch.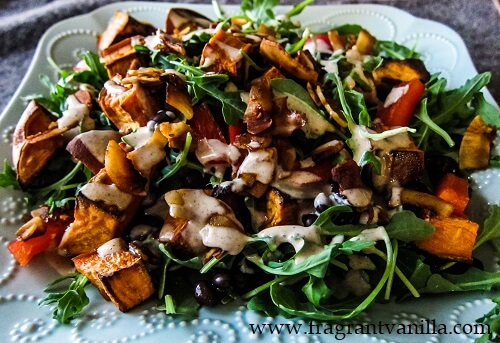 Roasted Yam and Chickpea Salad
Serves 2
Coconut Bacon:
1 1/2 cups large flake coconut
2 Tbsp tamari
2 Tbsp liquid smoke
1 Tbsp maple syrup
Yams:
1 large yam, diced
olive oil
sea salt
Dressing:
1/4 cup almond butter
1/4 cup filtered water (or as needed)
1 small garlic clove, minced
2 tsp white miso
sea salt to taste
Salad:
1 cup cooked black beans
1 red bell pepper, diced
4 cups arugula leaves
Instructions:
To make the coconut bacon, preheat the oven to 350F degrees, and line a sheet pan with parchment.
Toss the large flake coconut with the tamari, liquid smoke and maple syrup and spread out on the pan.  Place in the oven and bake for about 12-15 minutes (depending on your oven), keeping a close eye at the end and checking it in the final minutes because it burns fast.  Remove from oven and let cool.
Raise the temperature of the oven to 400F degrees.  Toss the yams with just enough olive oil to coat and sprinkle with sea salt, then spread out onto the pan.  Roast for about 20-30 minutes until softened and browning at the edges.  Once the yams have finished cooking let them cool to room temperature.
Meanwhile, to make the dressing, combine all ingredients in a bowl, and whisk together until smooth (or, I like to use an immersion blender in a tall glass measuring cup if you have that).
To assemble the salad, scatter the arugula on the bottom of the plates, then top with the beans, yams, bell pepper and some of the coconut bacon. Drizzle with the dressing and serve!
*If you want a large batch of dressing like I keep in my refrigerator:
Miso Almond Dressing:
1 cup almond butter
1 cup filtered water (or as needed)
3 small garlic cloves, minced
2 Tbsp white miso
1/4 tsp sea salt or to taste
Blend in a blender or food processor until smooth (or whisk together if you don't have one).  Keeps for 2 weeks in the refrigerator.
(Visited 86 times, 1 visits today)