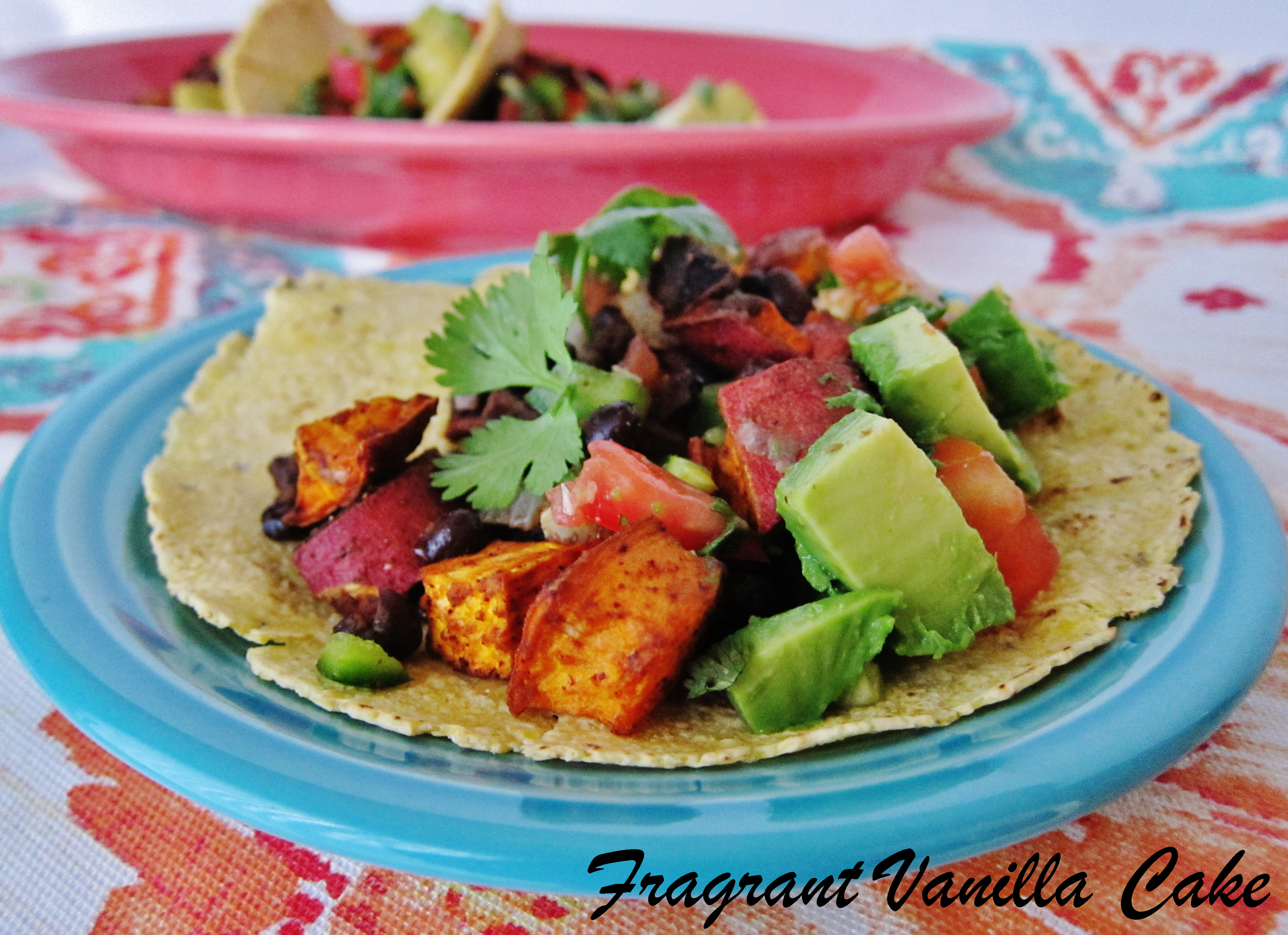 Roasted Yam and Black Bean Tacos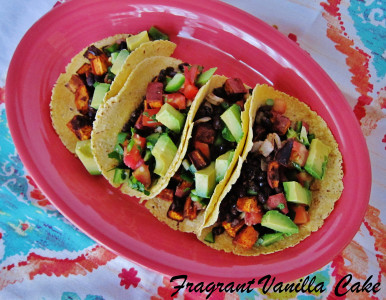 I have been craving a lot of Mexican inspired food lately.  Maybe it has something to do with the fact that Cinco de Mayo is next week, or just that the weather has been warm and perfect here lately.  Whatever the case, I made some delicious roasted yam and black bean tacos last week, that were so good, I wanted to share the recipe with you all.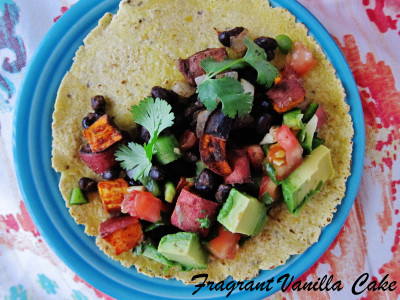 Yams are a staple in my diet lately.  They are so delicious with anything!  So I paired them with black beans, and a salsa filled with lots of fresh veggies, and some avocado for my tacos.  They were so flavorful and tasty!  My boyfriend Eric who is originally from Arizona always tells me though that none of the Mexican food in Minnesota is authentic, including my Mexican food.  But that doesn't matter to me as long as it is damn good and I like it! That said, he really enjoyed the tacos, even if they were my Mexican inspired food.  And so did I!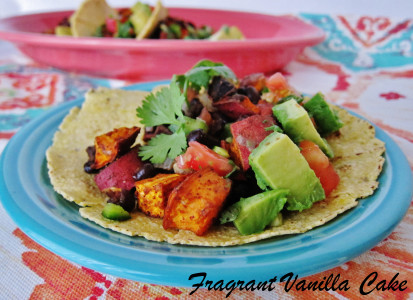 Roasted Yam and Black Bean Tacos
Makes 4, serves 2
1 medium garnet yam, diced
olive oil
1/2 small onion, diced
1 garlic clove, minced
1 cup cooked black beans
1/2 tsp cumin
1/2 tsp chili powder
1/8 tsp ground chipotle powder
sea salt to taste
Salsa:
1 medium, ripe organic tomato
4 scallions, sliced
1 bell pepper, sliced
1 jalapeno, seeded and diced
juice of one large lime
1/4 cup chopped fresh cilantro
1 garlic clove, minced
sea salt to taste
1 cup diced avocado
4 sprouted corn tortillas
Preheat the oven to 375F.  Toss the yams with just enough oil to coat, and spread them out on an oiled sheet pan.  Roast the yams for about 25 minutes until starting to brown and tender.
Meanwhile, sauté the onion in the olive oil in a medium pan over medium heat until translucent, about 5 minutes.  Add the garlic, beans, spices, and sea salt and cook a few minutes more.  When the yams have finished roasting, toss them with this mixture.
To make the salsa, mix together the tomato, scallions, bell pepper, jalapeno, lime juice, cilantro, garlic and sea salt in a bowl.
To assemble the tacos, spoon some of the yam and black bean mixture onto each shell, then some of the salsa, then some avocado.  Serve!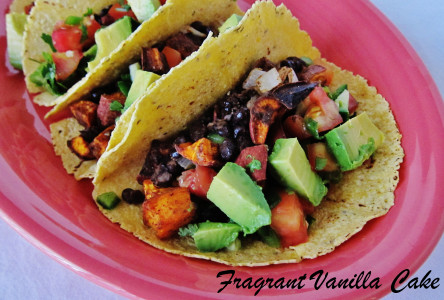 (Visited 56 times, 1 visits today)