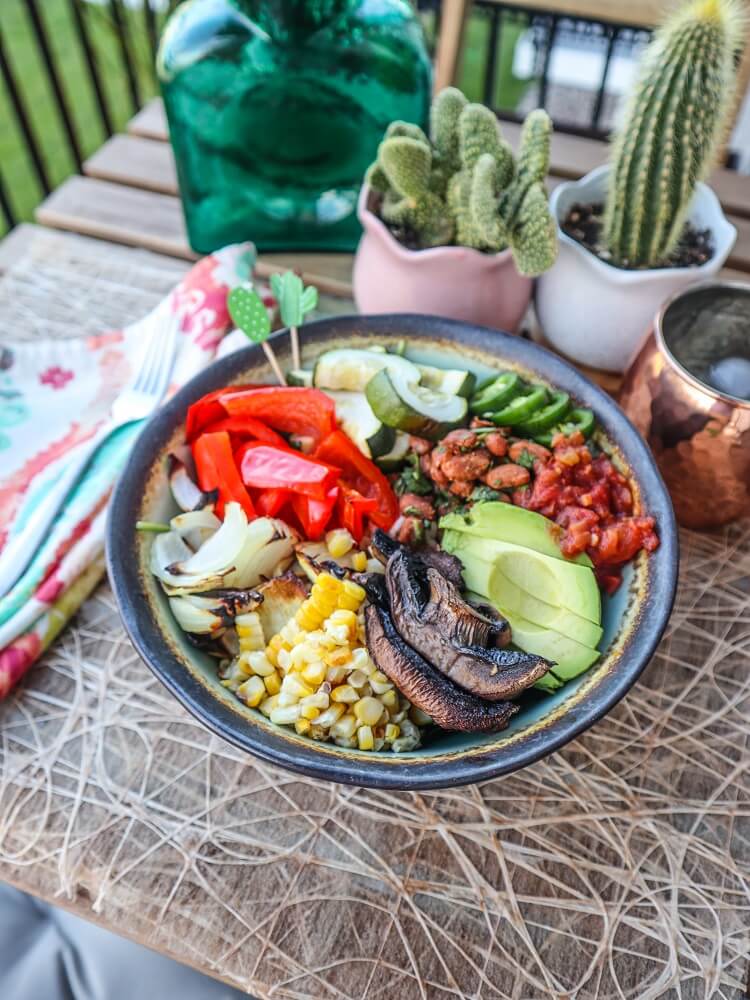 Roasted Veggie Burrito Bowl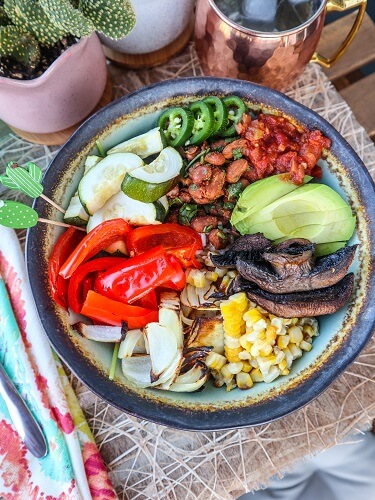 Many people think that vegan food consists of just salads, and that we go hungry a lot of the time, but that couldn't be further from the truth.  Every meal I make, I create things that will satisfy me and fill me up, especially dinner because I have more time to cook in the evening (lunches are usually stuff I make ahead of time).  One of my favorite things to make is hearty bowls.  Bowls filled with lots of veggies, grains and beans, and whatever I happen to have on hand. One specific bowl I have been making however on the days I have longer runs and I am really hungry though is this Roasted Veggie Burrito Bowl!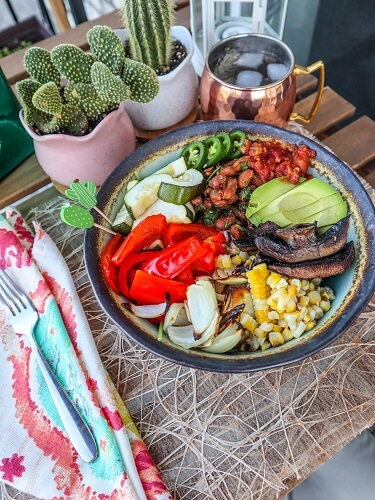 I started making it because I was craving fajita veggies from my favorite Mexican restaurant but I decided to just roast them and add them to my bowl.  This current bowl has all of my favorite veggies.  Roasted bell peppers, mushrooms, and zuccchini.  Plus avocado and jalapenos from my garden and local sweet corn.  As a side note, the corn is so freaking amazing this time of year, how could I not include it?! I also like to include a good amount of greens at the bottom. I pretty much add a bunch of greens to every lunch and dinner.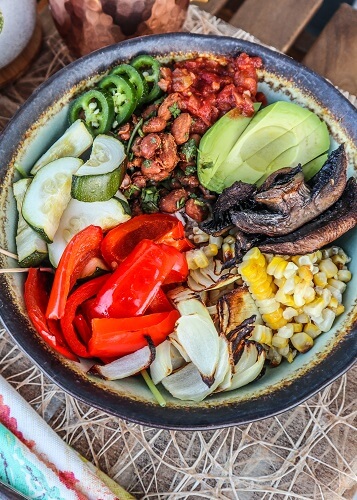 For the beans I used pinto seasoned with chili powder, cumin, garlic, lime, sea salt and cilantro and they are so good and flavorful!  If you are one of those people who hates cilantro feel free to leave it out or add a little oregano instead.  Lastly cooked brown rice is at the center of the bowl. This meal is so good and so satisfying I am not going to lie, I have made it at least once a week for a few months now.  I know you could just go to Chipotle and get a bowl, but home made is sooo much better!  If you love Mexican inspired flavors, definitely give this Roasted Vegetable Burrito Bowl a try!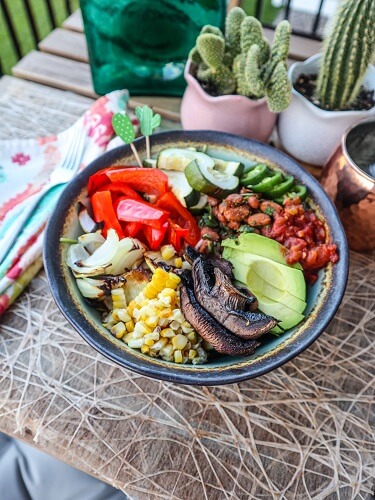 Roasted Veggie Burrito Bowl
Makes 2
Ingredients:
1 large red bell pepper, cut into 2 inch chunks
1 medium zucchini, cut in half and sliced
1 small onion, cut in half, then cut into wedges
1 large portabello mushroom, sliced 1/4 inch thick
olive oil or avocado oil spray
sea salt
1 ear organic sweet corn (alternatively you can use 3/4 cup frozen kernels)
1 1/2 cups cooked pinto beans (canned is fine, just rinse and drain them first)
1 garlic clove, minced
1/2 tsp cumin
1/2 tsp chili powder
1/4 tsp sea salt (or to taste)
juice of one lime
2 Tbsp chopped cilantro
1 cup cooked brown rice
4 large handfuls greens (romaine, spinach or arugula are my favorite)
1 sliced jalapeno (optional)
1 sliced avocado
1/2 cup salsa
hot sauce for serving (optional)
Instructions:
Preheat the oven to 375F and line a large sheet pan.
Spread out the peppers, zucchini, onions, mushrooms and corn (you can keep it on the cob if using a cob) on a sheet pan, and spritz with a little olive oil or avocado oil. Sprinkle with sea salt, and place in the oven.  Roast until the veggies are just tender and starting to brown at the edges, about 30 minutes.
Meanwhile, in a pan on the stove, add the beans, garlic, cumin, chili powder, sea salt, lime juice and cilantro and cook over low heat until heated through.
When the veggies are done roasting and the beans are hot, to assemble the bowls, add some greens to the bottom of each bowl, then add half the rice to each bowl, followed by the beans, roasted vegetables (cut the corn off of the cob first before adding it), avocado, sliced jalapenos, salsa, and then sprinkle with hot sauce if desired.
Serve!
(Visited 160 times, 1 visits today)