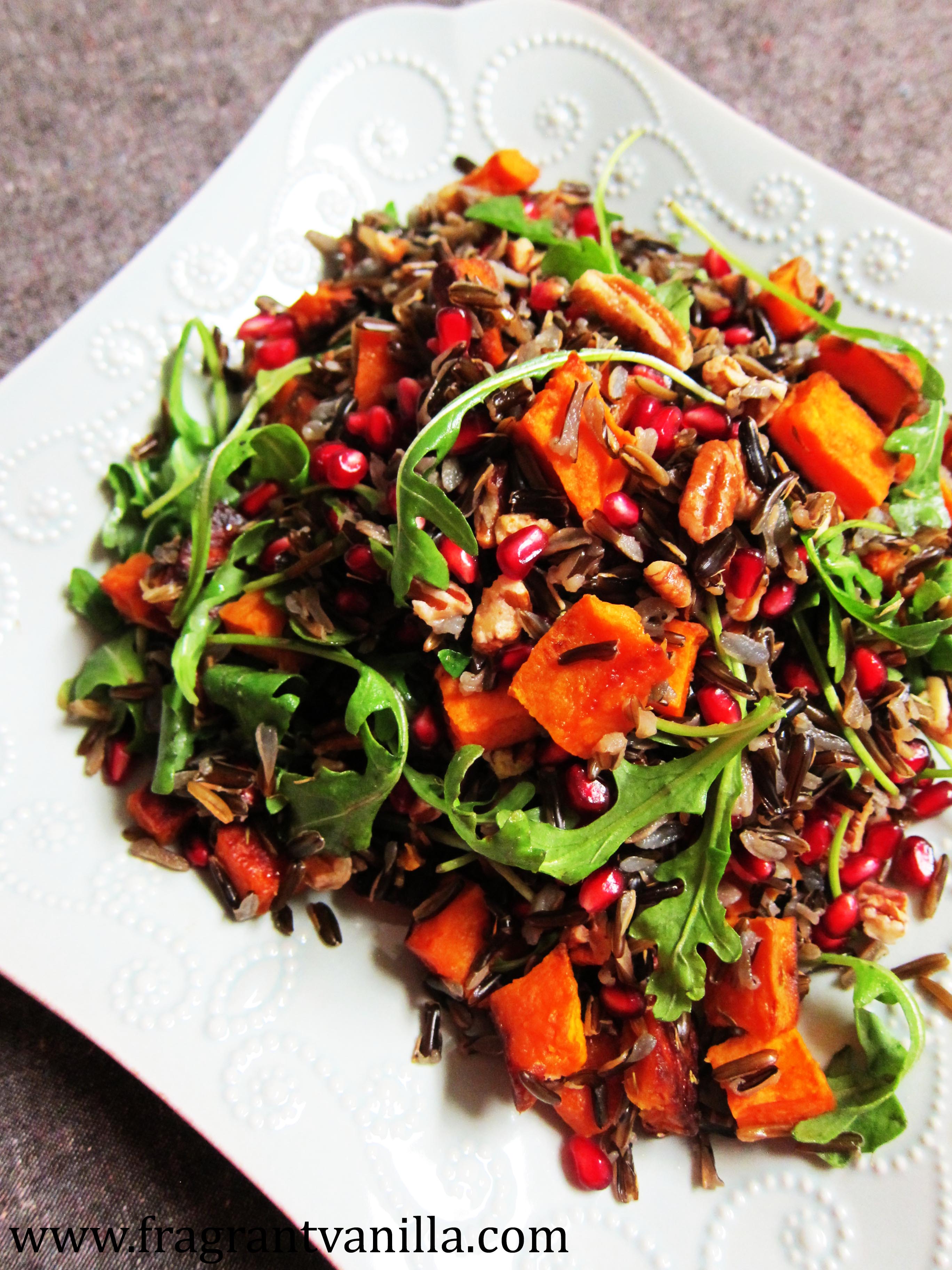 Roasted Sweet Potato Wild Rice Salad
Wild rice is a Minnesota staple.  Especially creamy wild rice soup, which we can't ever have enough pots of at work, since it flies out of the deli!  But soup is not the only way to enjoy it, hearty salads are awesome too for when you want to have something a little lighter.  I am a big fan of wild rice, but I don't like to pair it with mayonnaise like many old time church recipes do, I like mine either with a vinaigrette or even no really dressing at all, which is the direction I went with the one I am sharing with you today.  A dash of orange juice, some thyme and sea salt was enough to give it all of the flavor it needed once the other ingredients were added.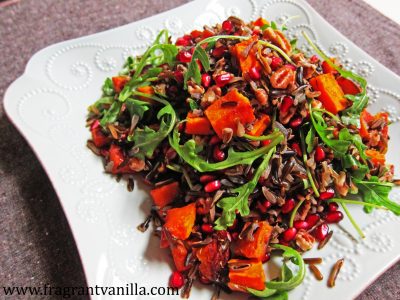 I had some sweet potatoes on hand, as well as a pomegranate and some fresh arugula, so I thought they would be tasty additions to the rice for a complete meal.  I roasted the sweet potatoes until they were all flavorful and caramelized, and they were so good with the earthy quinoa!  I have sweet potatoes in some form or another pretty much every day so it is no surprise that I decided to add them.  They are just so good!  The pomegranate seeds added little burst of sweet tart flavor and crunch, and the arugula a little bit of a peppery bite.  I love just throwing  a bit of greens into my meals, even soups at the last minute to add some extra nutrients.  Lastly, I added some toasted pecans to the salad.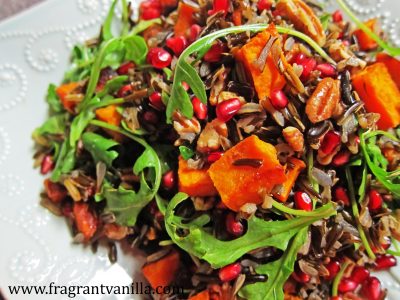 Not only was it beautiful, but delicious as well.  This keeps well, so it is perfect for making ahead and bringing for lunch the next day to work.  Now that is a lunch I would get excited about!  I bet all of your coworkers would be jealous if they saw you eating it!  It has been a bit warm for January here lately (like in the 40s (F)), so I am more in the mood for lighter things.  I hope you are all having a wonderful week!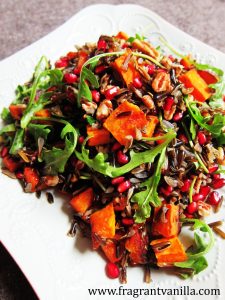 Roasted Sweet Potato Wild Rice Salad
Serves 2
Ingredients:
1/2 cup uncooked wild rice
2 cups diced sweet potatoes
olive oil
sea salt
1/2 cup pomegranate seeds
1 large handful arugula
1/2 cup toasted pecans
2 Tbsp orange juice
1/2 tsp dried thyme
sea salt to taste
Instructions:
Place the wild rice in a pot, and cover with water by 3 inches.  Bring to a boil, then lower to a simmer and cook until wild rice has flowered (the grains have split), which can be anywhere from 30 minutes to 1 hour depending on the wild rice you have (mine takes about an hour, it is the long grain Minnesota rice). So pay attention to the package or bulk directions when you buy it. Once rice has finished cooking pour it into a bowl.
Preheat the oven to 400F degrees, and line a sheet pan with parchment.  Toss the sweet potatoes with just enough oil to coat, then spread out on the sheet pan and sprinkle with sea salt.  Place in the oven and roast until tender and starting to brown at the edges, about 40 minutes or so.  Remove from oven.  Add to the bowl with the rice.
Toss rice together with all other ingredients, and serve!
(Visited 16 times, 1 visits today)