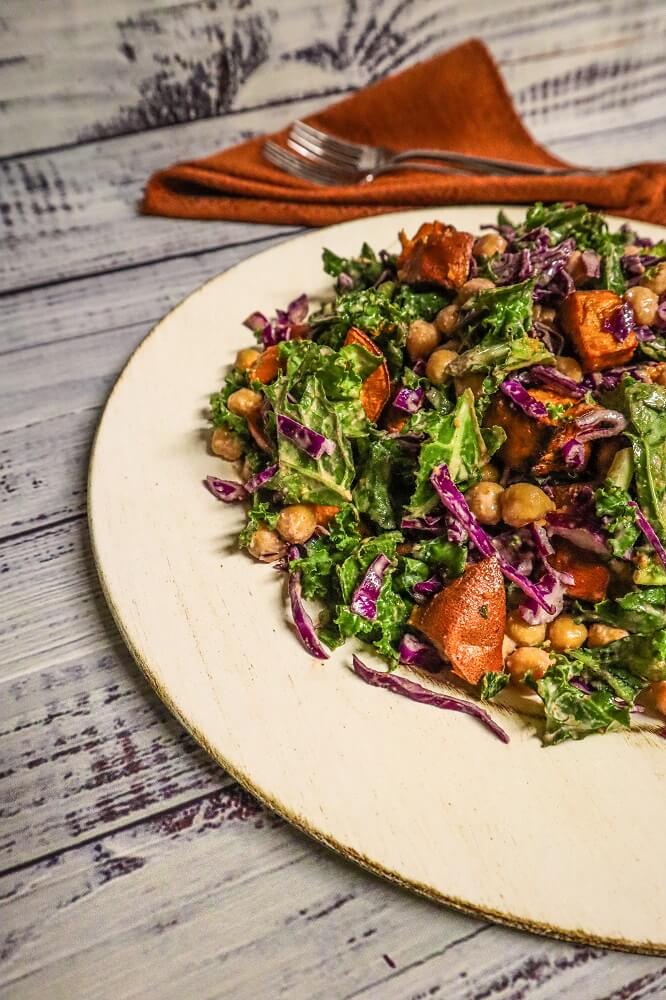 Roasted Sweet Potato Kale Salad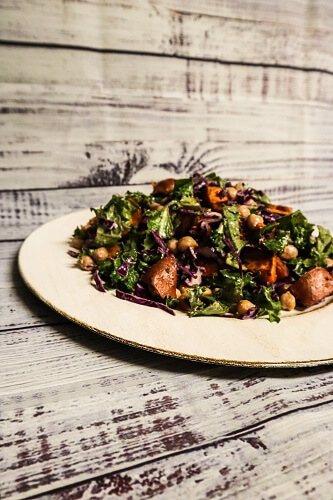 A lot of the time the recipes I make depend on what I already have on hand.  Because I hate wasting things, and I also like saving money and saving a trip to the store.  I had a leftover sweet potato on hand from making a sweet potato lasagna for Christmas, and I wanted to make something for lunch with it.  I thought about yam fries as a side for something else, or maybe roasted and mashed but then I remembered how much I like sweet potatoes roasted and in a salad.  We make a few salads at my work with roasted sweet potato salads and they are always so good!  I mean, I just love how they get all tender on the inside and crispy on the outside plus so flavorful when roasted!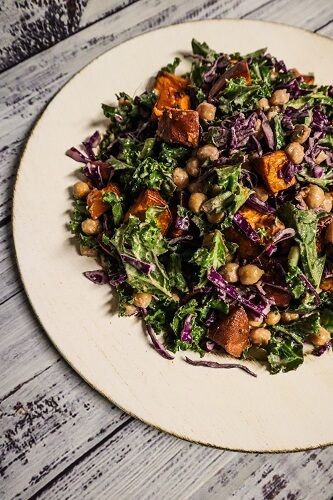 So, I made a kale salad and included them.  I had kale and cabbage on hand, so I used those as the base. My philosophy when it comes to greens is I can never have too much.  So pretty much most days for lunch I have a pile of greens (either kale, arugula, or spinach) with other veggies and some beans or tempeh mixed in.  This salad would be that way too. I also added in chickpeas for a little more protein and texture because why not.  For some reason really like chickpeas paired with sweet potatoes.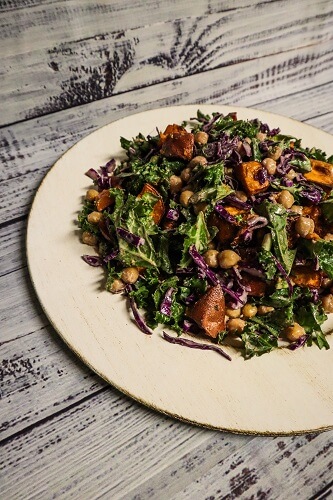 The crunchy kale and cabbage and tender sweet potatoes needed a delicious dressing to coat them.  I thought about a vinaigrette, the tangy sweetness would be good with the veggies, but then I decided on a nut butter based dressing.  This is actually what I use most often, I usually make a good sized batch then keep it in the refrigerator for my salad for the week.  But for this salad I whipped up a smaller batch.  I like it because it tastes like a traditional creamy dressing but without the dairy.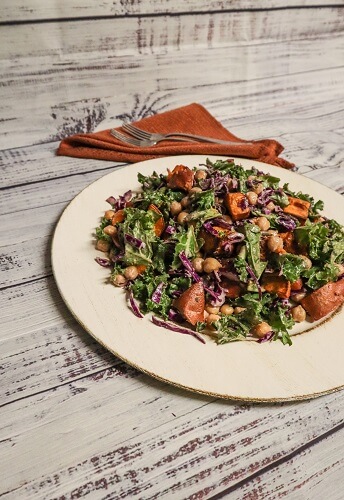 For this one I used a combination of ingredients that made it taste almost cheesy, almost like a ranch but without the herbs.  It was delicious!  Even better of course when mixed into the salad!  It was lovely with all of the different colors, but most importantly It was sooo good!  I loved the combination of textures and flavors it had!  Next time you feel like making a salad, give this a try!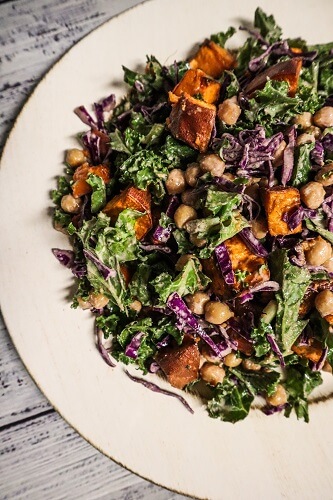 Roasted Sweet Potato Kale Salad 
Serves 2-4
Ingredients:
1 medium sweet potato, cut into 1 inch cubes
2 tsp olive oil
sea salt
1 large bunch kale, washed and torn into bite sized pieces
1 cup shredded purple cabbage
3/4 cup cooked chickpeas (canned is fine, just rinse them well and drain well)
1/2 cup cashew butter or almond butter (tahini will also work for nut free)
1/4 cup lemon juice
1/4 cup filtered water (or as needed)
3 Tbsp nutritional yeast
2 tsp white miso
1 garlic clove, minced
1/2 tsp sea salt (or to taste)
1/4 tsp pepper
Instructions:
Preheat the oven to 375F degrees, and oil a sheet pan.
Toss the sweet potatoes with the olive oil, spread out on the sheet pan and sprinkle with sea salt.
Place in the oven and roast for about 30-45 minutes until tender (depending on your oven).  Remove from the oven and let cool to room temperature.
In a large bowl, combine the kale, red cabbage, chickpeas and sweet potatoes.
In a smaller bowl whisk together cashew butter, lemon juice, water, yeast, miso, garlic, sea salt and pepper until smooth (adding a little more water if it seems too thick to pour).
Pour the dressing over the salad, and toss to coat.
Serve!
(Visited 744 times, 1 visits today)