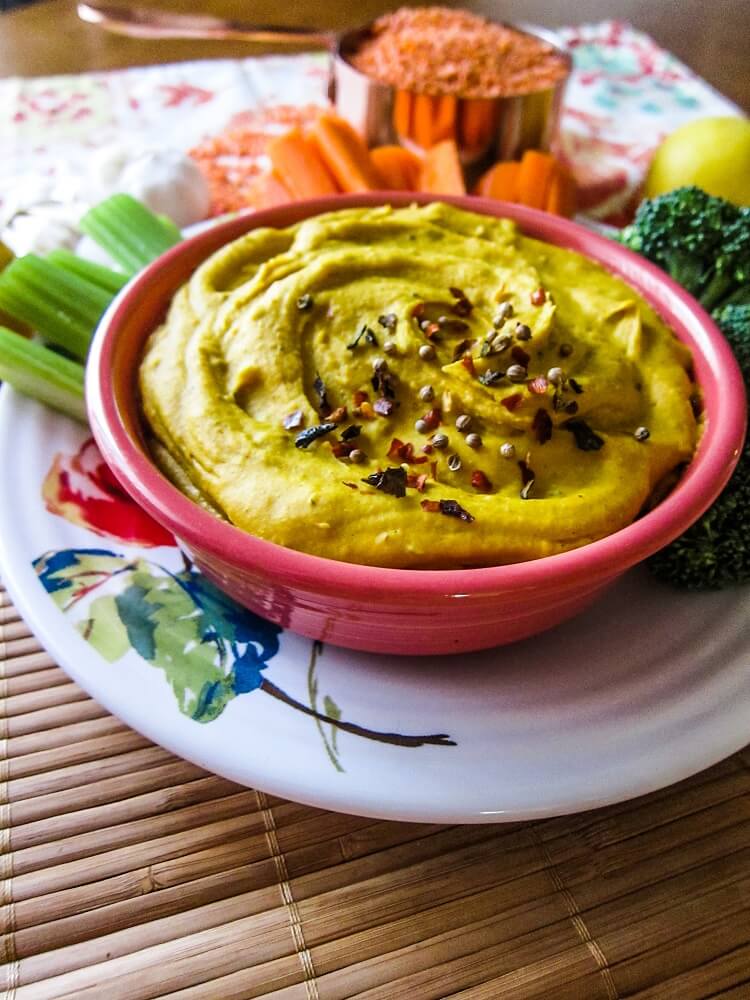 Roasted Sweet Potato Red Lentil Hummus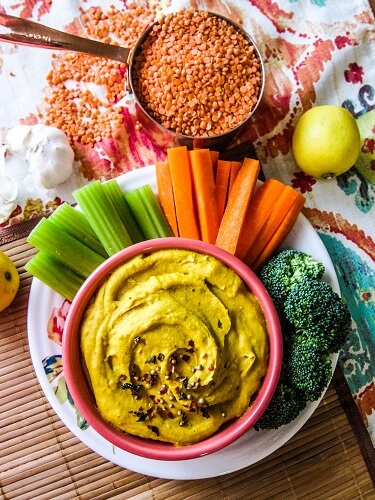 We make giant batches of hummus in the deli where I work. We are talking like gallons. It is such good hummus too! I think the trick to delicious classic hummus is plenty of lemon juice and sea salt. Of course it has to have a good amount of tahini to make it rich and some cumin as well, then it is perfect. One of my coworkers was making a batch of hummus last week and it made me crave hummus all of a sudden. I decided that I needed to make a batch at home.
I usually stray away from classic hummus when I make it at home though since I can get the classic stuff at work. So I decided to make a roasted sweet potato hummus! I already had some leftover roasted sweet potatoes on hand since they are something that I make often, so it was perfect! I am always trying to come up with recipes that use things I already have so I don't need to spend extra money or go to the store. It is a good feeling using up leftovers too!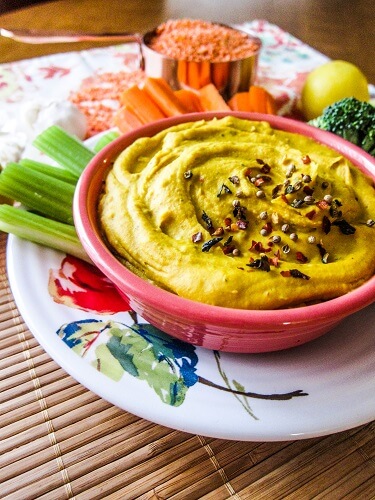 I had some cooked red lentils on hand as well, from making another recipe. I always keep portions of cooked beans and lentils (or lefotvers such as the lentils since I hate wasting food). Here is a tip to save time and money. Cook a big batch of beans or lentils, then let them cool and portion them out for whatever you will need them for. I use mine in salads as well as hummus, and I need them a few times a week usually so it saves me a lot of time. I do this with all of my beans. It has been years since I have bought canned ones.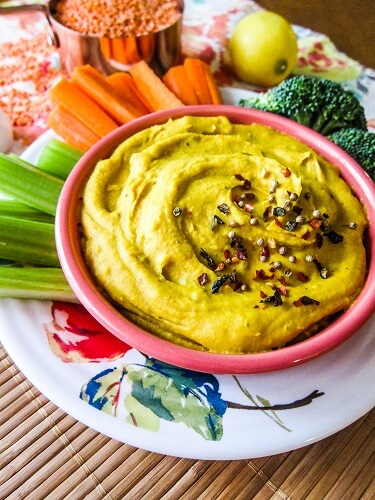 Back to the hummus though, it turned out super delicious! I used red lentils as the base (because I have loads of them in my pantry), combined them with the flavorful sweet potato, some tahini to make it silky smooth, lime juice to give it a bit of tartness, some cumin, coriander and chipotle for spice. It was a delicious combination! I like this as a veggie dip, but of course you could use it as a sandwich spread or with crackers if those are more your thing!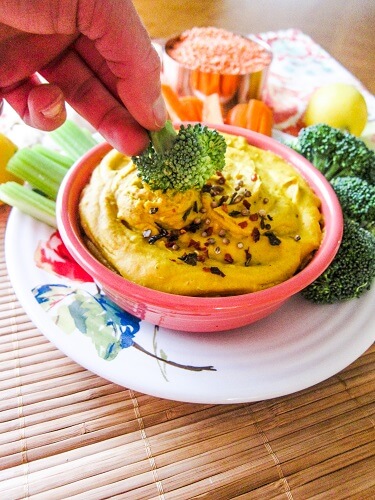 Roasted Sweet Potato Red Lentil Hummus
Makes about 3 cups
1 cup dried red lentils
1 cup roasted sweet potatoes*
1/4 cup sesame tahini
1/4 cup lime juice
1 tsp cumin seed
1/2 tsp coriander seed
1/4 tsp ground chipotle
sea salt to taste
Instructions:
To cook the lentils, place them in a pot with 3 cups of water, and bring to a boil. Lower to a simmer, and cook until the lentils are tender, about 20 minutes. Drain any excess water, and set aside to cool.
For the hummus, combine all remaining ingredients plus the lentils in a food processor and process until smooth. Store in the refrigerator for up to 2 weeks in a sealed container.
*If you don't happen to have leftover roasted sweet potatoes, you can make one: For the roasted sweet potatoes, preheat the oven to 400F degrees, and place a sweet potato cut in half lengthwise cut side down on a lined tray. Roast until the sweet potato is tender, about 45 minutes to an hour. Remove from the oven and let cool for the recipe.
(Visited 304 times, 1 visits today)