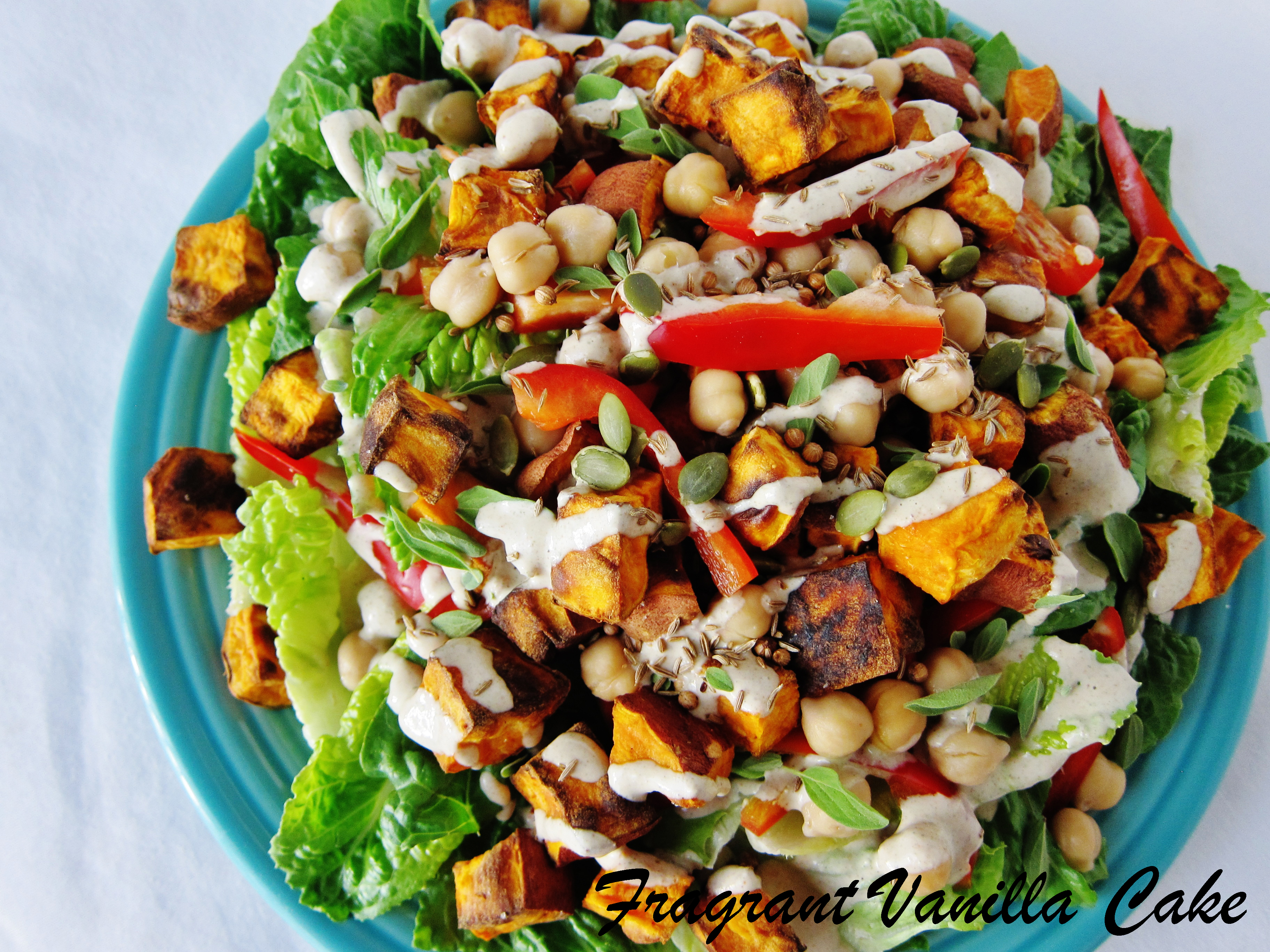 Roasted Sweet Potato and Chickpea Salad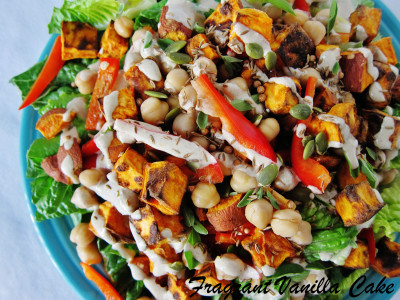 Since it is Earth Day, I thought sharing a beautiful salad was in order.  Why a salad?  Well, eating lots of veggies and going vegan instead of consuming lots of meat is good for the planet.  Did you know plant based food production uses a lot less land and water?  Or that is produces less pollution and feeds more people with less resources?  Well it does, and not only that you are leaving the animals of the world in peace to live their lives because they deserve to be happy too.  If people reduced their meat consumption it would make a huge difference for the planet.  So, even if you are not ready to go full fledged plant based, why not try it a few days a week.  And why not celebrate Earth Day with a delicious salad?!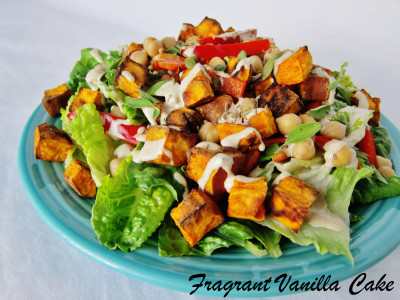 This salad I am sharing with you was actually my dinner last night.  I had no intention of sharing it when I started making it, but it ended up being so good I just had to.  I was going to make some yam fries, but I wanted a salad, so I decided to cube up the yams and put them on my salad.  Along with some chickpeas for protein, red bell peppers, romaine lettuce, pumpkin seeds, toasted aromatic seeds, and marjoram.  All drizzled with a creamy pumpkin seed dressing that is a staple in my fridge at all times.  OMG...was it ever delicious!  The sweet yams, briny chickpeas, savory spices and garlicky dressing were a party in my mouth. Not to mention all of the wonderful textures.  I am a textural person and this was wonderful!  I hope you try it so you can enjoy it too!  Happy Earth Day!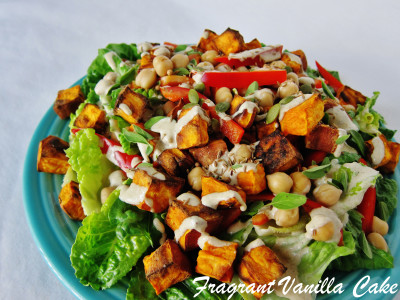 Roasted Yam and Chickpea Salad
Serves 2
1 large yam, diced
olive oil
sea salt
Dressing:
3 Tbsp pumpkin seed butter
3 Tbsp filtered water (or as needed)
1 small garlic clove, minced
1/2 tsp cumin
1/8 tsp ground chipotle pepper or cayenne pepper
sea salt to taste
Salad:
1 cup cooked chickpeas
1 red bell pepper, diced
1/4 cup raw pumpkin seeds
toasted cumin seeds and coriander seeds
fresh marjoram leaves
Preheat the oven to 400F degrees.  Toss the yams with just enough olive oil to coat and sprinkle with sea salt, then spread out onto the pan.  Roast for about 20-30 minutes until softened and browning at the edges.  Once the yams have finished cooking let them cool to room temperature.
Meanwhile, to make the dressing, combine all ingredients in a bowl, and whisk together until smooth (or, I like to use an immersion blender in a tall glass measuring cup if you have that).
To assemble the salad, scatter the greens on the bottom of the plates, then top with the chickpeas, yams, bell pepper. Drizzle with the dressing, then sprinkle with the pumpkin seeds, cumin, coriander and marjoram.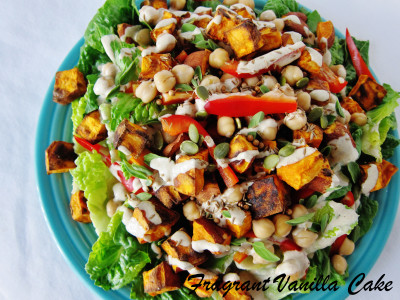 (Visited 481 times, 1 visits today)