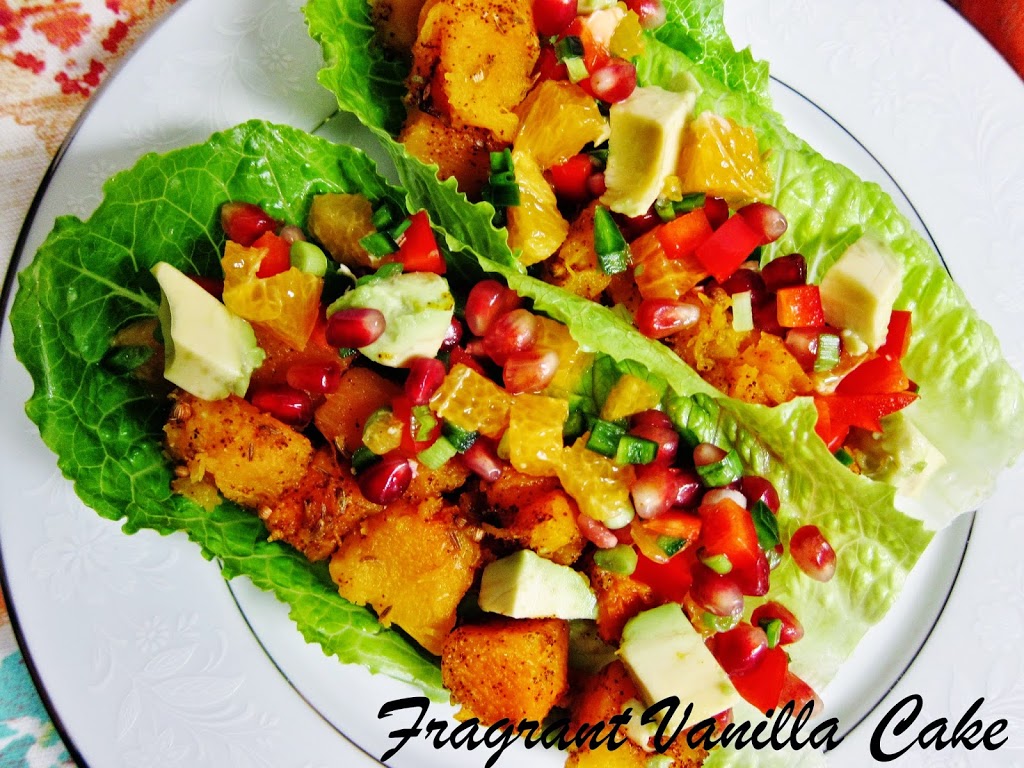 Roasted Squash Tacos with Orange Pomegranate Salsa
One day last week we had a windchill of -40 degrees Fahrenheit here in Minnesota. It was one of those days where I was not willing to go outside for my run so I showed the treadmill some love. 8 miles of it. And I was feeling pretty tropical by the time I was done. I don't glisten or glitter when I work out, I sweat buckets. Needless to say I was in the mood for something for dinner that would fill me up because I was hungry after that! Plus I wanted to forget all about that yucky cold weather outside even if I was only out in it long enough to drive my car to work and back. So, something kind of tropical and warming was in order.
What I ended up making was a sort of kitchen sink kind of a deal. But in my opinion, those are the best meals! I had some squash, a pomegranate, orange, peppers, avocado, and lettuce. Tacos...that was what I would make! I roasted the squash until it was all caramelized and yummy, then tossed it with some spices, then served it with one of the most delicious salsas I have ever made featuring the pomegranate and orange. It was all freaking delicious! I was all like...what 40 below degrees outside? It is summertime in here and I am happy!
Roasted Squash Tacos with Orange Pomegranate Salsa
Serves 2-4
Squash:
4 cups sweet winter squash (such as kabocha or butternut), cut into cubes
olive oil
2 tsp chili powder
1 tsp cumin seed
1 tsp coriander seed
sea salt to taste
1 garlic clove, minced
Salsa:
Seeds of 1 pomegranate
1 large orange, peeled and diced
1 red bell pepper, diced
4 scallions, sliced
1 garlic clove, minced
1 jalapeno, seeded and minced
sea salt to taste
3 Tbsp lime juice
1 perfectly ripe avocado, diced
Large romaine or butter lettuce leaves (for the taco shells)
Pre heat the oven to 375F, and line a sheet pan with foil. Toss the squash with just enough olive oil to coat, and spread out on the sheet pan. Roast until tender, about 20-30 minutes. Remove from the oven, cool slightly and toss into a bowl with the spices, garlic, sea salt and a little more olive oil if needed. Set aside.
For the salsa, combine all ingredients in a bowl, and mix well.
To serve, spoon some of the squash into each lettuce leaf, as well as some of the salsa, and enjoy!
(Visited 23 times, 1 visits today)