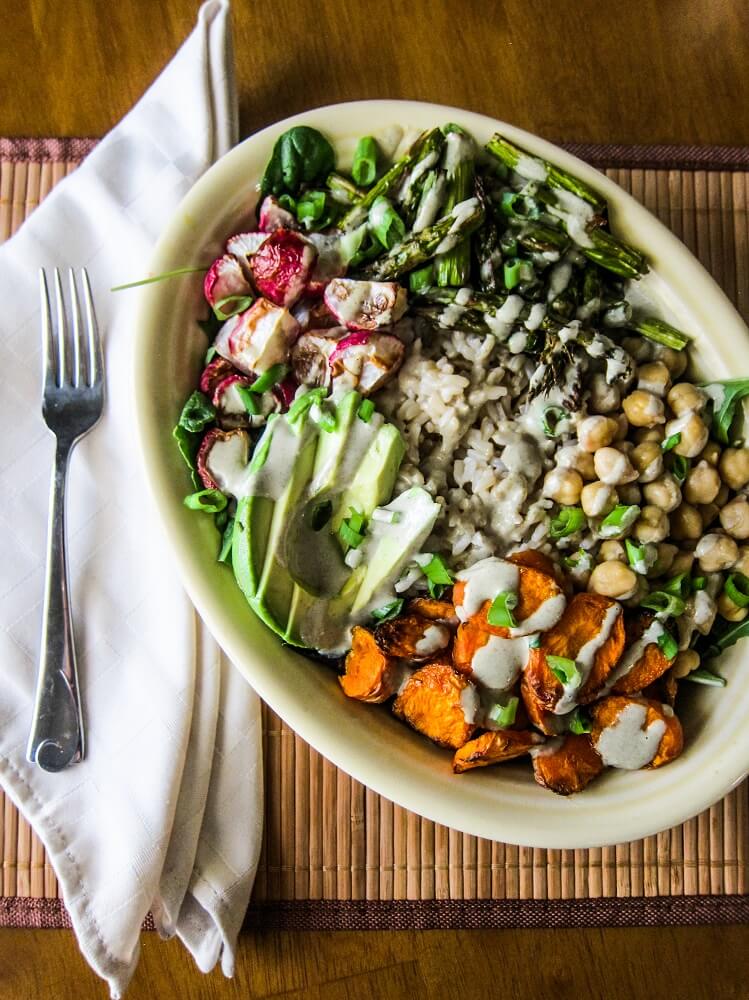 Roasted Spring Vegetable Buddha Bowl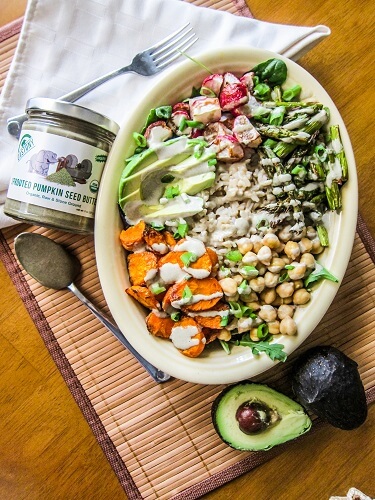 I tend to eat the same 4 things every week for dinner. Unless I am creating a new recipe then I will vary what I make. But the rest of the time when I make the same things it is mostly just because I know what I like, and because it ends up being a no brainer to make those recipes once I do it so many times. One of those items I make all the time is buddha bowls. I sometimes use different vegetable ingredients based off of what time of the year it is and what is in season or what I have on hand. I switch off quinoa and brown rice for the grain usually. But my current favorite is this one involving Spring vegetables.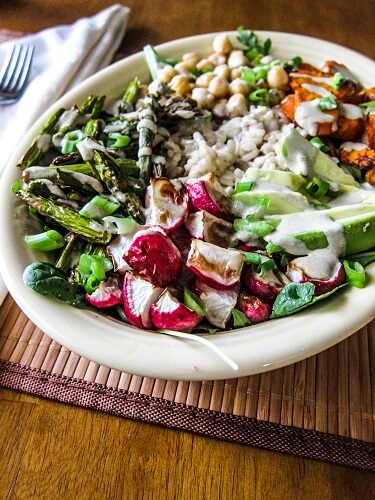 I get kind of excited about the different types of produce that can be found in the store in the Spring, Summer and Fall. But in the Spring I feel like I have been kind of deprived for a while of all of the super fresh vegetable type stuff since here in Minnesota we can't really grow anything unless it is indoors. So it is awesome to see things like asparagus and radishes. I like to eat radishes raw but the other day when I made this bowl I thought to myself, how would they be roasted? The answer to that is super delicious. They kind of lose that peppery bite that they have and become a bit sweeter, kind of similar to roasting turnips.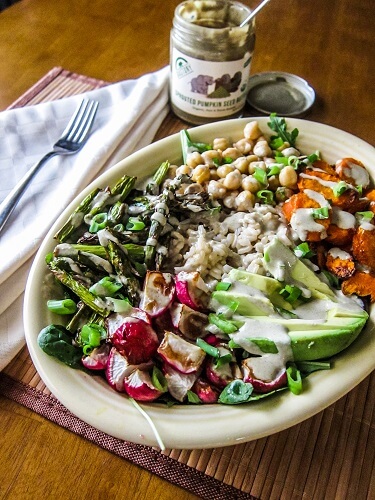 I combined them with asparagus, which I could not resist buying since it is so springy. As well as carrots, chickpeas and avocado in my bowl over brown rice and it was sooo good! But the part that made it really all come together was the creamy pumpkin seed butter sauce that I put over it all. I made it with Dastony Pumpkin Seed Butter from Raw Guru and you would swear it had dairy or cream or something in it it is nice and rich tasting.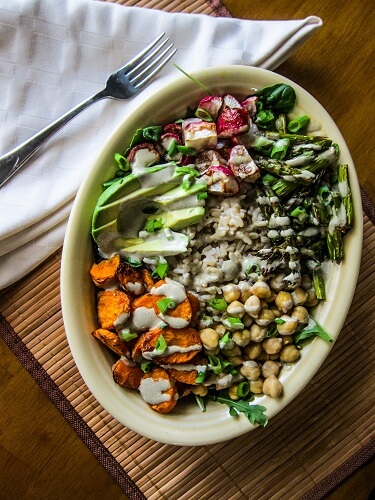 I added a little cumin, chipotle, lemon garlic and salt to it so that it was similar to a classic tahini dressing, but it was even more delicious since the pumpkin seeds don't have that bitterness that tahini sometimes has. This bowl was so good I will probably be making it for the rest of Spring. If you are in need of a hearty healthy dinner that tastes like comfort food, give this a try!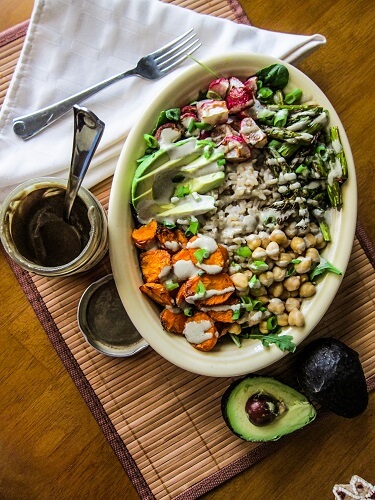 Roasted Spring Vegetable Buddha Bowl
Serves 2-3
2/3 cup brown jasmine rice
1 1/3 cups filtered water
2 cups sliced carrots
2 cups asparagus, cut into 2 inch pieces
2 cups radishes, quartered
avocado oil
sea salt
Sauce:
1/2 cup Dastony pumpkin seed butter
1/4 cup lemon juice

1/4 cup filtered water (or as needed)

1 garlic clove, minced

1 tsp ground cumin

1/8 tsp dried chipotle pepper

1/4 tsp sea salt or to taste
To assemble:
organic greens, such as arugula, spinach or spring mix
1 1/2 cups cooked chickpeas
1 avocado, diced
Instructions:
Place rice and water in a medium saucepan and bring to a simmer. Reduce to a low simmer, cover and cook until all the water is absorbed about 25-30 minutes, or when the rice is tender.
Meanwhile, to cook the veggies, preheat the oven to 400F degrees. Toss the veggies with just enough oil to coat them lightly, then spread out on a sheet pan and sprinkle with sea salt Place in the over and roast until they are tender and starting to brown, about 25-30 minutes. Remove from the oven.
Whisk together the sauce ingredients, adding water to achieve your desired consistency.
To assemble, put some greens into the bottom of each bowl, then top with the rice, the chickpeas, the veggies, and avocado. Drizzle the sauce over the contents of the bowl. Serve!
(Visited 5,726 times, 1 visits today)